Sen. Dick Roeding Remembered by Friends and Colleagues
Mon, 10/09/2017 - 07:37
RCN Newsdesk
Former State Senator Dick Roeding has died.
He passed away Friday at age 86.
Roeding, a Lakeside Park Republican, represented the 11th District, encompassing Boone County and parts of Kenton and Gallatin Counties, from 1991 to 2009.
Senator Mitch McConnell released a statement honoring Roeding:
"Elaine and I were saddened to hear about the passing of our dear friend, Senator Dick Roeding. He was a respected legislator and one the great leaders of our party. I join the people of Kentucky in honoring Dick, and he will be missed. Elaine and I send our condolences and prayers to his wife, Nancy, and his family in their time of loss."
Others connected to the senator, including Governor Matt Bevin, also expressed their sympathies.
Former KY Sen. Dick Roeding was the epitome of a public servant...Always putting others ahead of self...He will be missed by many #WeAreKY

— Matt Bevin (@MattBevin) October 9, 2017
--
So sorry to hear of the passing of a great Nky statesman & friend yesterday Former Kentucky state senator Dick Roeding Arrangements pending

— John Schickel (@SenatorSchickel) October 8, 2017
Senator John Schickel succeeded Roeding in the 11th district.
--
We've lost another NKY conservative stalwart. So sad to hear that the "Senator from Kenton 11" Richard "Dick" Roeding has passed away.

— damon thayer (@damon_thayer) October 8, 2017
--
Saddened about the loss of a good friend, great Ky Senator and even better statesman Sen. Dick Roeding. He paved the path for many in @KYGOP https://t.co/a87GyDozaE

— Ryan Quarles (@RyanQuarlesKY) October 8, 2017
--
Ky State Senator Dick Roeding was always so kind and gracious. I will miss him. Prayers for his family. https://t.co/dlUrRpEGfd

— Thomas Massie (@RepThomasMassie) October 8, 2017
--
Roeding was a staunch conservative who served in the U.S. Army during the Korean War.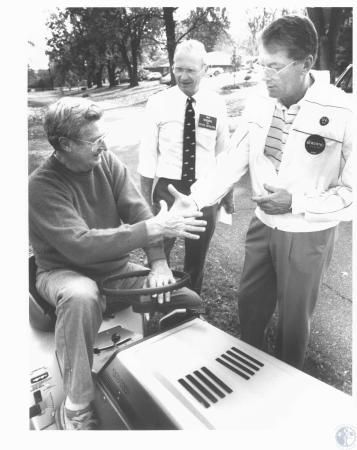 Roeding (center) campaigns with Jim Bunning (via Kenton Co. Public Library)
There were calls for his resignation in the 2000s after he referred to gays as "the wrong kind of people" and the Log Cabin Republicans, a gay conservative group, "a bunch of queers". In the 1990s, he cosponsored legislation that would have made sodomy in Kentucky illegal again. He cosponsored the 2004 constitutional amendment banning same-sex marriage in the Commonwealth and by 2015, as the nation saw gay marriage become the law of the land, his position had not shifted at all.
"I think Northern Kentuckians are still opposed," Roeding told the Cincinnati Enquirer at the time. "When I go out with my friends, it's never even discussed."
-Staff report