Premium Content
In Amazon Sweepstakes, Newport Emerges as NKY's Biggest Hope
Mon, 10/23/2017 - 14:33
RCN Newsdesk
Cincinnati Mayor John Cranley hosted a brief press conference at the Banks, with the Roebling Suspension Bridge as his backdrop, offering as symbolism, Cincinnati and Northern Kentucky being connected and working together to lure Amazon's second headquarters and estimated 50,000 new jobs.
Greater Cincinnati is just one of many U.S. cities and regions putting on their best face to lure the online giant with promises of lucrative incentives and a strong quality of life.
The proposals were sent in last Thursday, the day before Cranley's press conference.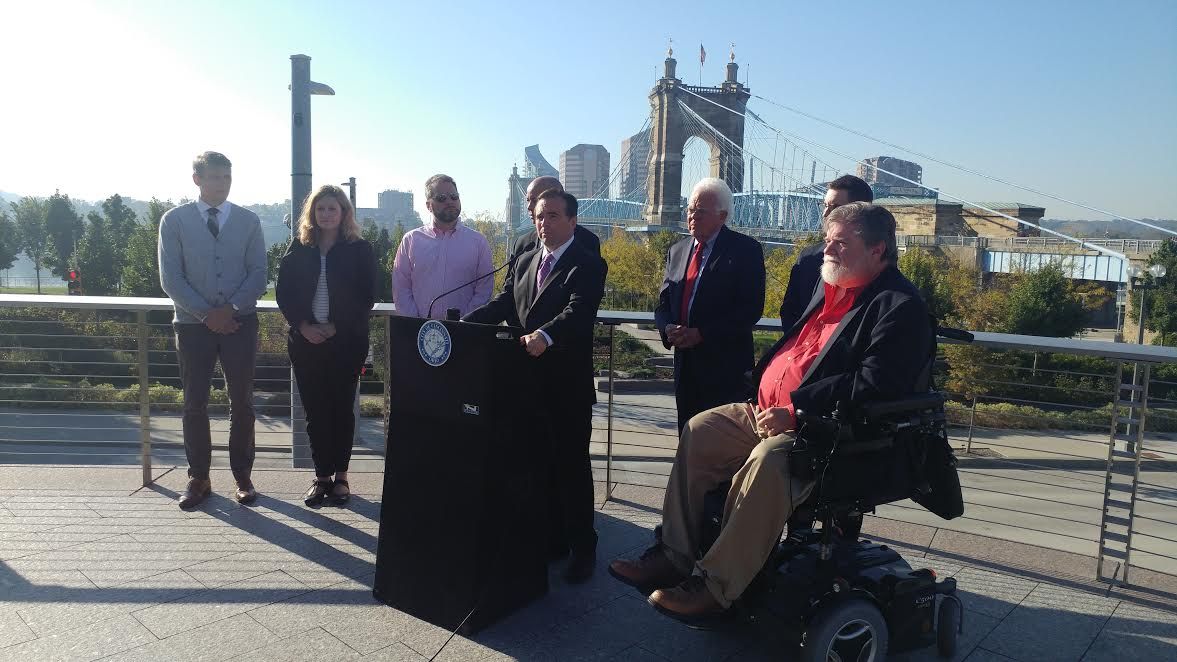 John Cranley talks about why Cincinnati (or NKY) should be home to Amazon's second headquarters (RCN)
Few details are known about the region is offering Amazon. It has been a curious topic and the process has been highly secretive with REDI Cincinnati leading the Ohio efforts and Tri-County Economic Development Corporation (Tri-ED) taking on Kentucky's. Nearly every media outlet in town showed up for Cranley's presser, and the conversation between reporters beforehand speculated on whether anything new would be learned.
The answer turned out to be, not exactly. 
Instead, Cranley, flanked by supportive members of his city's council, the city manager, and some Chamber and Convention & Visitors Bureau people, led a cheerleading campaign for the cameras.
He rattled off a top-ten list of reasons why Cincinnati (and its southern side, known as Northern Kentucky) should be the tech giant's new home. Those reasons included things like arts offerings, quality of life, educational institutions, and other items one would find on a municipal brag sheet.
But, while Cranley also appeared to be mostly in the dark on the specifics of the region's proposal, he noted that Amazon is looking for shovel-ready land in an urban setting, and that there were really just two options: the Banks, where he was standing, and a large swath of land across the Ohio River, in Newport.
Ovation.
For ten years, Ovation has sat empty, a grassy reminder of big dreams that never came about. Some blame the Great Recession, other blame the lack of connectivity, and people point to a lack of interest. The large Ovation billboard loomed large over the riverfront acreage, filled with nothing.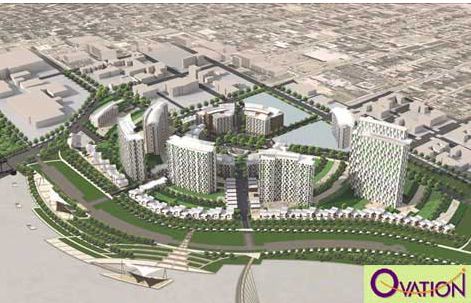 Early rendering of Ovation site possibilities
But for an empty, grassy field, Ovation has sure emerged as the belle of the ball in speculative, top-dollar local development possibilities.
If the Cincinnati Streetcar were to connect to Northern Kentucky, proponents suggest a connector at Ovation.
IF FC Cincinnati can't get a soccer stadium deal in Hamilton County, it will reportedly look to Ovation. In fact, the team's initial renderings bucked Cincinnati locations in favor of Newport.
And now, if Amazon wants to come to the region, but prefers to be the main attraction, rather than share a street with the likes of GE, it may just land at Ovation.
And why not? All of the issues that people cited as why it didn't work the first time around have all but evaporated. The economy is doing well, Kentucky Route 9 is in the second half of its massive widening project to lead drivers directly to the site's door, and there is interest flowing from every corner.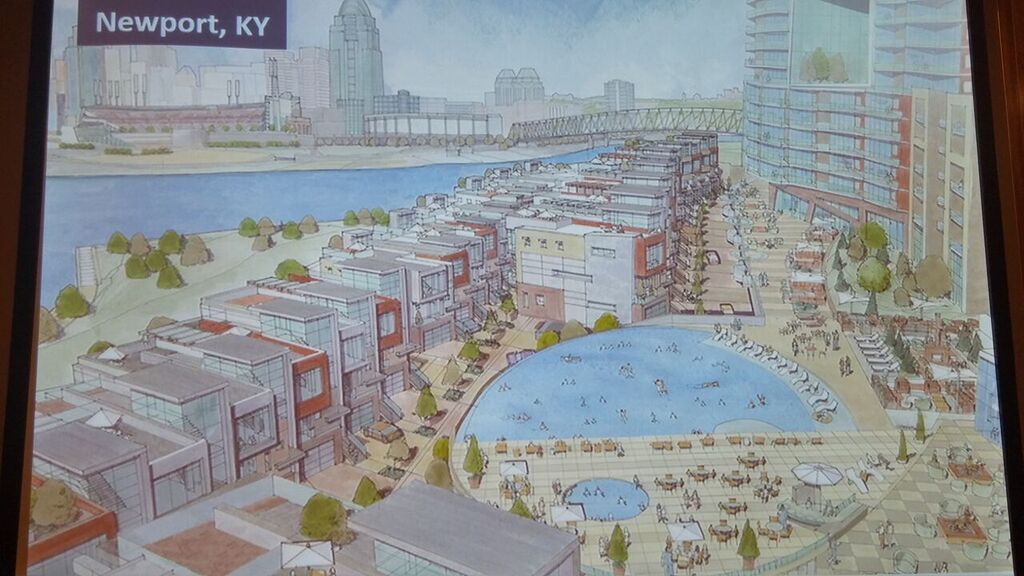 Newer rendering of Ovation site possibilities
But whatever was offered to Amazon is unclear. Tri-ED has been relatively quiet on specifics.
The City of Newport was involved.
"I just know the Ovation site is one," said City Manager Tom Fromme, when asked about Cranley's press conference. He said everyone involved in the preparation of the Amazon plan was asked to make a confidentiality pledge, so there wasn't a whole lot that could be said. The city's involvement was solely peripheral, he said.
"(REDI Cincinnati and Tri-ED) made up a proposal that they submitted to Amazon and we are on board with that," Fromme said. 
Northern Kentucky Chamber of Commerce president Brent Cooper was also mostly quiet about specifics. He was more open to talk about the regional collaboration.
"In the time I've been in this role, I have seen regional cooperation like I have never heard of in years," Cooper said. "I personally saw businesses and business groups on both sides of the river going after joint opportunities, whether that be airlines like Southwest, or Amazon. Both sides of the river recognize now that these kinds of opportunities can only be achieved if we work together."
Cranley also noted that. Just beyond the Suspension Bridge in the backdrop of his press conference, three Covington office towers are only now just rebounding following Cincinnati's raid on them, luring Omnicare and A.C. Nielsen companies from the southbank to shiny, incentivized office space in downtown Cincinnati. Then-Mayor Mark Mallory joined Ohio Governor John Kasich at the time to celebrate the scalping of Covington, and the attraction of two of the city's largest employers who opted to move merely hundreds of feet away at the promise of better corporate welfare. 
But, like Cooper, Cranley believes things have changed in the past six years since.
"I like to think of it as the collaborative nature and personalities of these wonderful people that you see up here in that we reach out our hand," Cranley said, referencing those who joined him at the press conference. He said Kenton County Judge/Executive Kris Knochelmann was expected to be present for the press conference but had to cancel due to family matters. Though Newport is in Campbell County, the Kenton judge/executive's presence would also speak to regionalism. Covington, in Kenton County, was also mentioned in early, speculative conversations since it has a large piece of land near the river currently occupied by a sprawling, one-level office building currently filled by the IRS. But the IRS is leaving in 2019 and the City of Covington will see another hole blown in its budget, though it is getting an early start on preparing for that departure. On Tuesday it will authorize a request for proposals for redevelopment of the site.
But that will be a few days after the Amazon proposal was due.
Instead, Newport has emerged as Northern Kentucky's best bet. 
"I think I've gone out of my way to mention that Kentucky would be part of that winning bid and I'm not ashamed of that fact," Cranley said. "I think it's something to be excited about."
The region may also have a leg up on competition because it recently lured $1.5 billion air hub to the Cincinnati/Northern Kentucky International Airport (CVG). The company will add 10,000 jobs in the coming years at that site in Hebron. 
"As we considered places for the long-term home for our air hub operations, Hebron quickly rose to the top of the list with a large, skilled workforce, centralized location with great connectivity to our nearby fulfillment locations and an excellent quality of living for employees," said Dave Clark, Amazon's senior vice president of worldwide operations, in a news release at the time. "We feel strongly that with these qualities as a place to do business, our investments will support Amazon and customers well into the future."
The Commonwealth of Kentucky awarded Amazon $40 million in payroll tax incentives, and the airport vowed to invest $5 million in infrastructure improvements as part of the deal.
Kentucky is still poised, apparently, to dig even deeper to bring tens of thousands more Amazon jobs to the region.
And Ovation is already poised to deliver. When it was created, state incentives were included and the city created a tax increment finance (TIF) district around, all attractive to corporate tenants.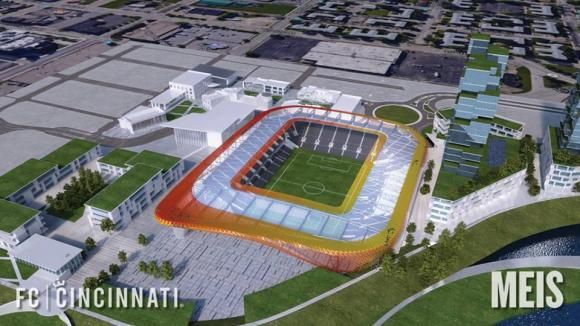 Rendering of FC Cincinnati stadium in Newport
"I think, personally, in the Greater Cincinnati region, that we have a good shot," Frome said. "I think there's a lot of things the Cincinnati region has to offer: quality of life, cost of living is very low, the airport is a really good airport and only ten to fifteen minutes from downtown here. The downtown region is close to highways. 
"I think with Cincinnati being centrally located, you're within a hundred miles of a lot of the population bases and there are a lot of schools and colleges in that couple-hundred-mile radius."
Cranley talks up Newport, and Fromme talks up Cincinnati, and Cooper recognizes that the region is starting to blur that long-troubling river boundary.
"I had seen it on the business side with businesses like Citi and DHL and now Amazon, and with CTI, which just came to Covington - half their employees live in Ohio," Cooper said, noting a company that was lured to Covington from Blue Ash, north of Cincinnati, with the promise of big incentives. "We are truly a big region where the opportunities and amenities are on both sides of the river and that recognition is not only apparent by the leaders I'm involved with and see, but those leaders of the businesses involved as well."
If this regional collaboration succeeds and fifty thousand Amazon jobs locate here, Newport's Ovation may finally get the applause that its name suggests it should. 
Fromme said that that will happen with or without Amazon.
"We have had ongoing meetings with (Ovation owner, Covington-based) Corporex officials for several years, so it's not like they have been sitting back twirling their thumbs," Fromme said. Maybe a streetcar, maybe a major league soccer team, maybe Amazon... but even without one or all of those big-ticket items, progress continues to favor Ovation. Route 9 will be finished next year and then the race is on.
"I just think everything is coming together and that is why you're seeing this movement right now," Fromme said. "FC Cincinnati or Amazon, you're going to see some sort of development at the Ovation site, I have no doubt about that at all."
Written by Michael Monks, editor & publisher