Premium Content
Anatomy of a Deal: Alligators, Late Night Calls from the Governor Land CTI in Covington
Wed, 11/01/2017 - 16:34
RCN Newsdesk
For more than a year, we knew that CTI Clinical Trials and Consulting was relocating from Blue Ash, Oh. to Covington's RiverCenter towers in eight newly renovated floors, the latest win for the resurgent buildings.
But it was just last week - in a ceremony that included remarks from Gov. Matt Bevin - that we learned just how this city landed the growing firm.
CTI was looking all over the region - as far west as Dearborn County, In., and as far north as Mason, Oh., and as east as Glen Este, Oh.
But Covington won out after an all-hands push that included a private event at the home of Jeanne Schroer, CEO of the Catalytic Fund, during which alligators from the Newport Aquarium paid a visit, and even a late Friday night phone call from Gov. Bevin to Bill Butler, chairman of Corporex, the developer of the RiverCenter towers that just five years ago watched its fortunes shrink when Omnicare bolted for downtown Cincinnati.
Last week, many of the regional leaders who were crestfallen at the departure of Omnicare from RiverCenter and AC Nielsen, at the same time, from neighboring Madiosn Place, another Corporex property, were now gathered around the steps leading to the proud towers that have three new ground-level restaurants (with three more on the way) and a mix of new enterprises operating upstairs, along with an expanded gym and juice bar. 
Dan Tobergte, president & CEO of the Northern Kentucky Tri-County Economic Development Corporation (Tri-ED), called the occasion one of the top five deals in his organization's history. He cited the cooperation between the City of Covington, Kenton County, the Commonwealth of Kentucky, and others as the key.
"I think all of us can be proud of the work put forth to get a great new corporate citizen in CTI," Tobergte told the crowd gathered outside on the chilly fall day.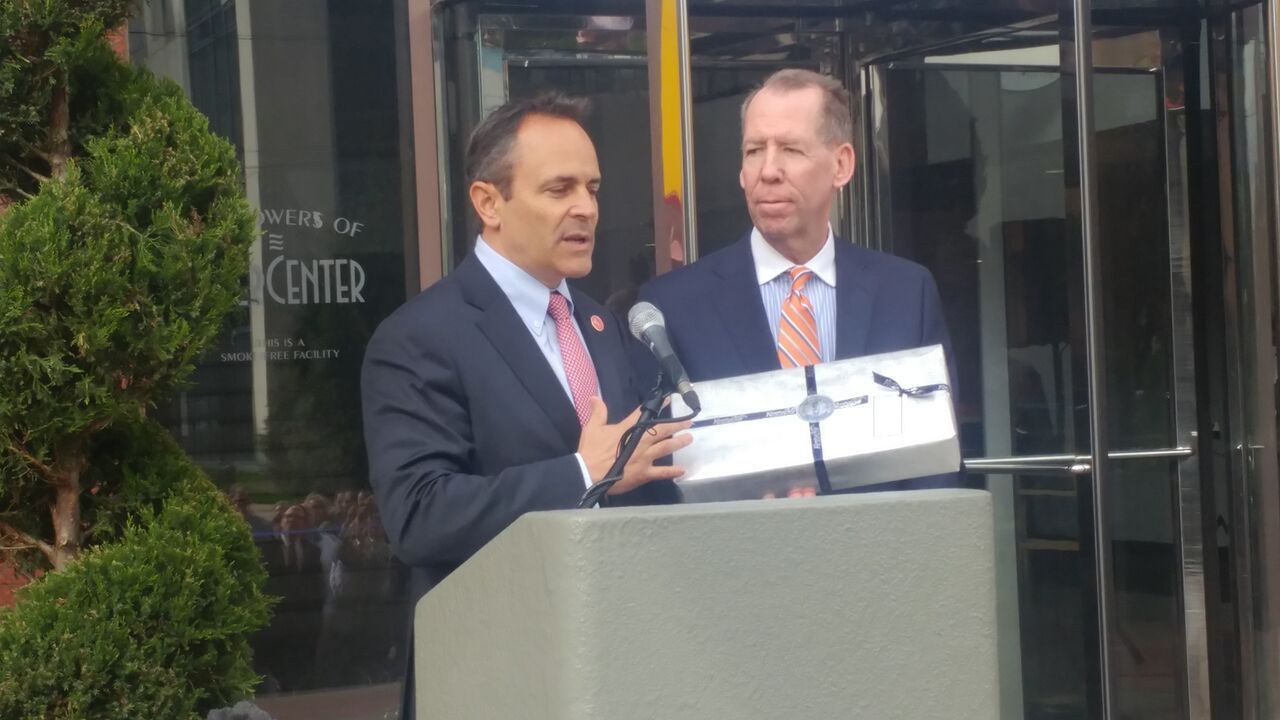 But it was more than the usual incentive package that lured CTI to Kentucky.
Of course, those were nice to have, too. 
CTI was awarded state and local tax incentives for up to $14 million on its $36.4 million investment and hiring of up to 500 Kentucky residents. Those jobs will be added over the agreement's 10-year span at an average salary of $40 per hour including benefits.
CTI CEO Tim Schroeder said that his employees wanted to be an urban setting with improved quality of life, so the employees who occupy the 125,000 sq. ft. in RiverCenter will enjoy the newly updated plaza and restaurants and the under-construction Riverfront Commons walking trail, as well as the short trot to downtown Covington's popular new hangouts and residences.
At last week's ribbon cutting, speakers cited their own alphabet-inspired mantras that shape their business philosophy. Kenton Co. Judge/Executive Kris Knochelmann talked about "the 3 Ps", place, people, and passion. He said Schroeder's passion was evident at the Northern Kentucky Chamber of Commerce event earlier in the day when the CEO's remarks were met with a rare standing ovation.
Bevin cited his "three Cs" that he used to evaluate the people he added to his staff and cabinet posts in Frankfort when he was elected governor: character, competence, and commitment. "This is the embodiment of all of them," the governor said of the CTI project.
But really, in a rare glimpse inside the exclusive world of the region's high rollers and movers and shakers - all willingly shared at the podium by the joyful participants, it came down to A, B, and C: Alligators, Bevin/Butler, and Covington.
Schroeder shared a couple of important stories about how all this played out.
It started with a conversation with then-Mayor Chuck Scheper, who is also chairman of Bexion Pharmaceuticals, which is developing a drug to fight cancer (it just launched into the second phase of in-human testing, a significant milestone). The two were at the Metropolitan Club discussing business and Scheper said, as paraphrased by Schroeder, "We need to move CTI closer to Bexion."
The two organizations are working together on testing this ambitious new drug.
Schroeder said that planted the seed.
Then, as the courting process ramped up, Schroer hosted her event. Schroeder said the people in attendance each shared their personal reasons why they loved Northern Kentucky and believed it was the right choice for CTI. They had also gotten wind that Schroeder had exotic pets as a child, and invited the alligators from Newport Aquarium to visit the event.
That charming move was recalled in a gift from Tobergte at the ribbon cutting, a plush alligator presented to the CTI CEO.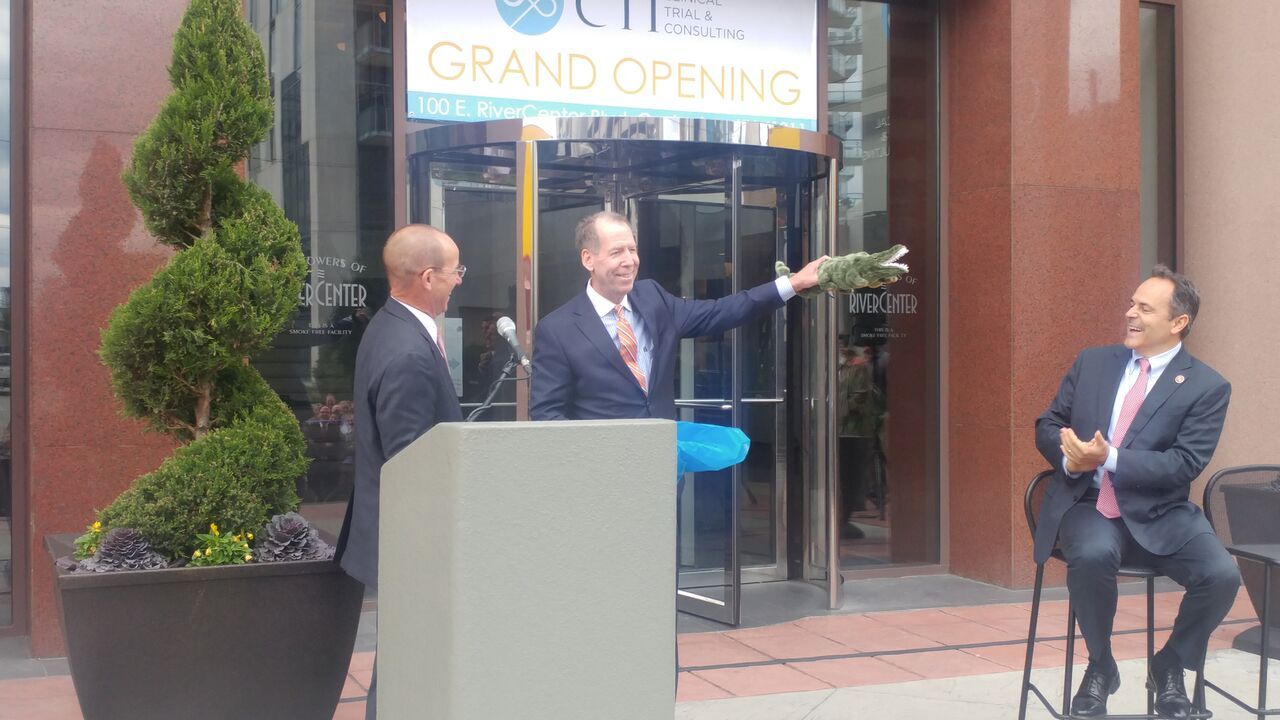 Bevin also came with a gift, a Kentucky-themed bread plate that invites Schroeder to recall the state each time it's used. But Bevin offered a more important gift earlier in the process, Butler said. The Corporex chairman said that Bevin is the best governor he's ever worked with and that Bevin worked closely on this project, and even called him once at 9:30 on a Friday night, fully knowledgeable of the details of the project.
"This happened because of our governor," Butler said. "I was amazed at his determination to win."
Covington also played its own role. 
The comeback city "kept popping up" as Schroeder and his team narrowed its site selection, he said. Thousands of hours were spent on that process, he said. "It was a unanimous decision," Schroeder said, noting his search team. "We were wowed by the people coming in."
Already, the company is having an impact and is becoming part of the new Northern Kentucky fabric. It has partnered with the Northern Kentucky Convention Center to have a large classroom-type area to allow students and employees to communicate and participate globally, and to host training programs. Managed by the convention center, it is known as the Northern Kentucky Life Sciences Training Center.
Northern Kentucky University, it was announced last year, would also partner to offer training initiatives for future CTI employees.
And CTI is leading the clinical trial for Bexion's cancer drug.
250 employees came with the company and precede the planned 500 new jobs over the next 10 years.
"We grew ten times in twelve years in Blue Ash," Schroeder said. He wants to see that same type of growth in Covington over the next fifteen years, he said.
Written by Michael Monks, editor & publisher