Premium Content
Theatre: Five Shows to Check Out for the Holidays
Wed, 11/22/2017 - 07:08
RCN Newsdesk
Cincinnati and Northern Kentucky stages are filled with holiday cheer and we invite you to partake with these five suggestions, some for families, some for grown-ups, some traditional, and some outside-the-box, listed in alphabetical order. Make theater part of your holidays!
A Christmas Carol, through Dec. 30. Playhouse in the Park, Eden Park.  7 p.m. Tuesday-Sunday, 2 p.m. matinees. Check performance dates. No performances on Christmas Eve or Christmas Day. Tickets $45-$91 (including fees) children and students $35-$50 (including fees). 513-421-3888, (toll-free in Ohio, Kentucky and Indiana at 800-582-3208) or visit www.cincyplay.com. Call 513-345-2248 for telecommunications device for the deaf accessibility.
It isn't the holidays in Cincinnati without Playhouse's wonderful rendition of Carol. Charles Dickens' timeless cautionary tale of the dangers of man's inhumanity to man, of letting "ignorance and want" go unchecked, is as real today as it was almost 200 years ago. Happily it's all wrapped up in one of the great ghost stories that promises there can be redemption, even for cold-hearted Ebenezer Scrooge, with terrific Bruce Cromer playing Ebenezer for the 13th time. God bless us, every one! 
A Christmas Story the Musical, Dec. 5-10. Broadway in Cincinnati, Aronoff Center for the Arts, 650 Walnut St., Downtown Cincinnati. 7:30 p.m. Tuesday-Thursday, 8 p.m. Friday, 2 and 8 p.m. Saturday, 1 and 6:30 p.m. Sunday. Tickets $30 ($9.25 ticket fee)to $103 ($14.10 ticket fee). 513-621-2787 and here.
Ralphie Parker wants only one thing for Christmas: an official Red Ryder® Carbine-Actions 200-shot Range Model Air Rifle. The 1983 movie based on stories by legendary radio humorist Jean Shepherd is a holiday classic. Now the characters sing and dance on stage at the Aronoff as Ralphie pursues his desperate quest to ensure that this most perfect of gifts ends up under his tree this Christmas.
The Dancing Princesses, Nov. 29-Dec. 30. Ensemble Theatre Cincinnati, 1127 Vine St., Over-the-Rhine. 7 p.m. Tuesday-Frday, 2 and 7 p.m. Saturday, 2 and 6 p.m. Sunday. Additional matinees Dec. 20 and Dec. 27. No performances Christmas Eve and Christmas Day.  Tickets $57, students $31, children $27. 513-421-3555 and www.ensemblecincinnati.org.

Joseph McDonough and David Kisor have been delighting ETC audiences for years with their fractured fairytale family musicals for the holidays. This year, they offer a whimsical adaptation of the classic fairy tale about a kingdom where an enchanting mystery is afoot! Wanting the best for his five daughters, an overprotective king locks the castle doors each night. Yet, each morning, the princesses' shoes have been curiously worn to tatters. Keen to cobble together the mystery of the frayed footwear, the King resorts to drastic measures. We won't tell you the ending, we will tell you the moral of the story:  understanding, acceptance, and love.
Neil Gaiman's Neverwhere, through Dec. 17. Know Theatre, 1120 Jackson St., Over-the-Rhine. 8 p.m. Wednesday-Saturday, 3 p.m. Sunday. Tickets $20; $10 rush seats 10 minutes before curtain when available (cash only). 513-300-5669 and knowtheatre.com.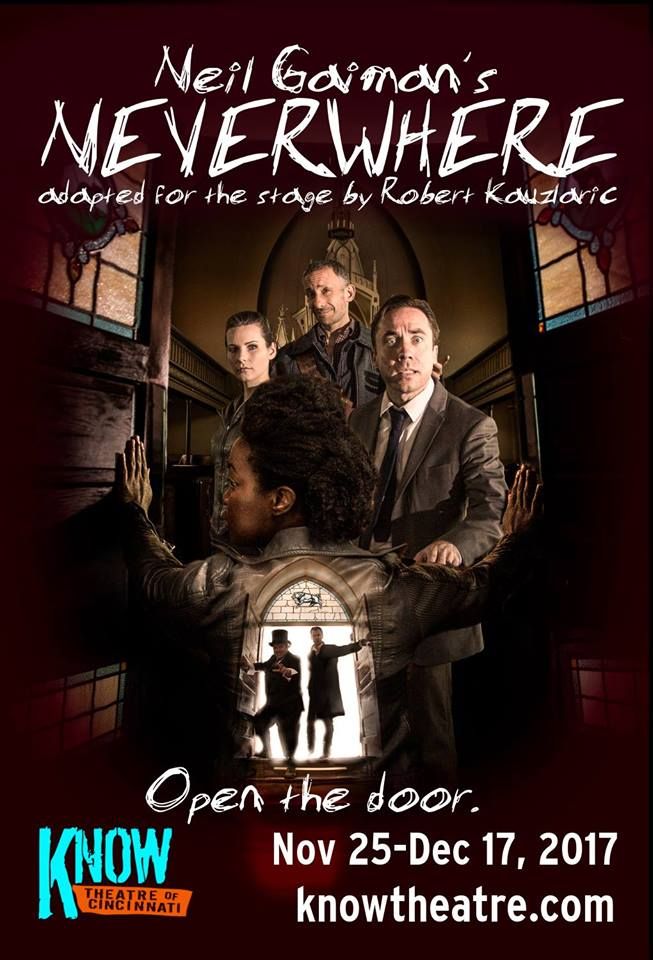 And now for something completely different…an applauded stage adaptation of the modern fantasy classic. When Richard Mayhew stops to care for an injured girl on the street, he is drawn into a nightmare shadow world beneath the city of London. To return to his normal life, Richard must brave countless trials, uncover the truth behind a dark conspiracy, and face the indomitable Great Beast. Journey to London Below with a rogues' gallery of liars, outcasts and assassins, on a treacherous voyage to awaken the hero within.
BONUS: Free quiz with questions by Neil Gaiman. Click here for that.
A Very Merry Christmas with No Promises Vocal Band, 7 p.m. Dec. 7. The Carnegie, 1028 Scott Blvd., Covington. Tickets $25-$40 (which includes catered food and open bar from 5-7 p.m.) Reservations required, call 859-957-1940. All profits benefit I Have Wings Breast Cancer Foundation.
Join the top-notch local a cappella troupe for a program featuring the ensemble's signature blend of jazz-infused seasonal favorites and everyday classics, including original arrangements and selections by The Manhattan Transfer, John Coltrane, Blondie, Joni Mitchell, Alicia Keys and Harry Connick, Jr. With special guest Nat Comisar. Also featuring the Northern Kentucky Youth Sinfonia. Promises to be a holiday entertainment highlight.
Check them out here:
Written by Jackie Demaline, RCN Arts