Premium Content
Lawyer Accuses Former Covington City Manager, Mayor of Election Violations
Tue, 12/12/2017 - 22:45
RCN Newsdesk
---
UPDATE: The attorney general's office and the firefighters' union have both responded to this story. For that part, click here.
---
When Attorney General Andy Beshear's office and the Kentucky Registry of Election Finance concluded last year that City Manager Larry Klein had not violated election laws in preparing documents for incumbent members of the city commission in last year's race, the investigation was not thorough enough, according to Scott White, the attorney hired by the current city commission to look at the issue once again.
White offered a two-hour presentation at Tuesday night's meeting, suggesting that Klein and former Mayor Sherry Carran may have violate state law, committing felonies in Carran's quest to be reelected.
She was defeated by Joe Meyer in November of last year and Klein was pressured to resign shortly after Meyer and the new commission took office.
"I was able to conclude fairly quickly that the office of the attorney general had not interviewed any of the witnesses who had any of the information, had not reviewed or had access to any of the email accounts, had not consulted with Commonwealth's Attorney Rob Sanders about using the then-existing grand jury to obtain witness testimony or issue subpoenas," said White, a former deputy attorney general under Democrat Ben Chandler who is now in private practice in Lexington. "But yet, they had rendered an opinion that there had been no wrongdoing by Klein." 
White, however, did not interview Klein or Carran for the purpose of his investigation, the second part of a look at the goings-on at City Hall. Earlier in the fall, an examination of the code enforcement concluded that the department had been mismanaged and ultimately led to the resignation of longtime city engineer Mike Yeager.
On Tuesday, White offered a series of emails, some of which had been reported on previously last year, that he alleged indicate a willful violation of election law because Klein feared losing his job should Meyer beat Carran. But, White said, he obtained access to the email accounts of Klein and Carran and other city employees and looked at more than what was originally presented to Beshear's office and KREF.
He is convinced that he has uncovered illegal behavior that could result in criminal prosecution, should the matter be turned over to the Kenton County Attorney or the Commonwealth's Attorney, depending on the issue. One issue raised was the disappearance of an unknown number of emails, allegedly deleted from the city's servers, and unable to be retrieved by C-Forward, the Covington-based information technology firm contracted by the city. 
Another issue, White claimed, is that in her election finance reports, Carran failed to include what he said amounted to an in-kind contribution from Klein after he and other city staff members prepared information she requested ahead of candidate forums. Klein included in one email that candidates could make the information available to other candidates because it was all public information.
Neither the attorney general nor KREF found issue with that, though an attorney for KREF said at the time that she could not determine whether local ethics rules had been violated.
White disagreed.
"If you read, as I have, that same email that appeared in numerous email exchange accounts in city government, forwarded to many members of the press, friends and cronies of Mr. Klein not employed by the city," White said, "it is, I could suggest, absurd to think that having been general counsel in several elections - both statewide, local, and nonpartisan elections, for a city manager, someone sophisticated in government in which people are elected and have supervisory control over you, to think that a candidate would share positive information with another candidate, is a somewhat unreasonable expectation."
Another of Klein's emails highlighted by White was one that the former city manager sent to himself from an iPhone to his city account: a 1993 Courier-Journal article from 1993 about one of Meyer's drunk driving arrests.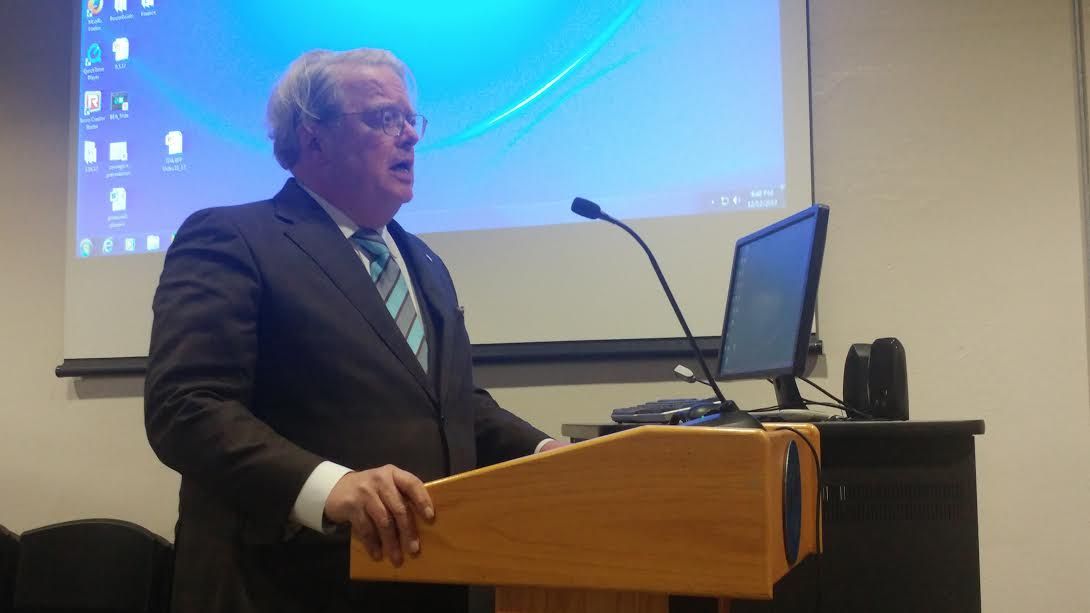 White said that only Commissioner Bill Wells, who was reelected last year, shared the information with another candidate. He also complimented city solicitor Frank Warnock who, he said, cautioned Klein against some of the requests for reports to present to incumbent candidates to be used as information on the campaign trail. Klein responded that the work was OK to perform because it would be made available to any candidate and was all public information.
The issue was looked over by state agencies last year after the International Association of Firefighters (IAFF) Local 38, which represents members of the Covington Fire Department, filed a complaint.
---
The Office of Kentucky Attorney General Andy Beshear said that Covington City Manager Larry Klein did not violate state law when he directed City Hall staff to gather information for incumbent candidates in last November's election.
A complaint from Covington Professional Firefighters Union Local 38 made to Kenton County Commonwealth's Attorney Rob Sanders, who turned the issue over to Beshear's office, was the source of the decision. 
In a December 29 letter to Sanders, Assistant Deputy Attorney General Michael Wright said that the office would not pursue any action regarding the complaint. The Kentucky Registry of Election Finance (KREF) also determined that nothing untoward took place. 
Local 38 accused Klein of violating state law by using his city position to assist certain candidates for office, but Klein maintained that the information he asked staff to gather ahead of a candidates forum last fall was to be made available to all candidates running for Covington mayor and city commission.
"I am very pleased but not at all surprised that two separate state agencies, the Election Finance Registry, and the Attorney General's office, found nothing worth further investigation in the original claim made by Local 38. I believe this was a baseless claim from the start," Klein said in a statement to The River City News.
Local 38 expressed its disappointment in a statement to RCN.
"The Covington Professional Firefighters Local 38 are disappointed in the Attorney General's letter regarding city resources being used for the benefit of private individuals in the 2016 campaign for Covington's elected offices," the statement said. "Essentially, the Attorney General's office did no investigation we are aware of. The union will issue a more detailed response at a later date."
Sanders said that there may be more to come, though. 
"I am aware of the letter from the (attorney general), however, subsequent to that letter, more emails from the City of Covington's server have been produced to the Commonwealth's Attorney Office which raise additional questions about city employees campaigning on city time," Sanders said in a statement. "This investigation is on-going. Thus, I have no further comment."
Klein maintains that he did nothing wrong.
"Throughout the 2016 city commission election campaign, the city Manager's office and other city staff routinely responded to requests for information from political candidates, providing thousands of pages of data, reports, and other information to all candidates including incumbents and challengers, and to the general public, the media, and even to Local 38, and the specific request that Local 38 took exception to,  was no different than those other examples," Klein said.
---
That story came a month after The River City News reported that the attorney general's office determined that the City of Covington acted appropriately in handling Local 38's open records request.
Neither Carran nor Klein had seen White's newest report as of Tuesday night. Both denied that they had deleted emails from the city server and each seprately referred to the investigation as a "witch hunt".
"I haven't read the report so I don't know what it says," Klein told The River City News. "I don't have much confidence in Scott White doing the report. His report on Mike Yeager, he missed all (Yeager's) performance evaluations, didn't interview his supervisors of the past eight years, it wasn't very comprehensive.
"I think it's just an ongoing witch hunt paid for by tax dollars."
"The information I sent, I made it clear in that email that this is public information you can make available to any candidate," Klein said. He added that he and city staff members met multiple times with Meyer when he was a candidate for mayor seeking information about city functions and data.
Carran said that she would have more to say after reading the report.
"I haven't had a chance to review the report, especially the appendix and backup information which is very important, and if it is anything like his first report related to code enforcement, his backup information is superficial," Carran said. "He makes assumptions in his final report and they are assumptions that appear to be geared to the scope of work that Joe Meyer wanted.
"This second report is basically the same, a witch hunt."
On Tuesday night, comments from members of the city commission were short as each wanted to further review the report that they had received only a couple hours before the meeting. 
Meyer spoke on the matter.
"There is no doubt that there were public resources used for political reasons, for campaign reasons during the campaign last year, and under the law, the use of public resources for campaigns is fundamentally wrong. It's illegal," the mayor said. "Mr. White pointed out properly in his report that when we are having our public employees engage in illegal conduct, it does substantial damage.
"Plus, it erodes the public trust in government."
The attorney general's office was not immediately available to comment on White's assertion that its investigation was inadequate. This story may be updated.
Written by Michael Monks, editor & publisher