River Haus Project Looks to Add to Covington's Urban Renaissance
Tue, 12/12/2017 - 06:25
RCN Newsdesk
Ground will be broken Wednesday on the $50 million River Haus apartment project in Covington's Mainstrasse Village.
Indianapolis-based Flaherty & Collins Properties is constructing a mixed-use, high-end residential project on what was the site of the 501 Main building and the Fifth Street parking lot.
The groundbreaking is set for noon, December 13.
"The River Haus project at 501 Main is another outstanding economic development success for Covington," said Covington city manager David Johnston, in a news release. "River Haus will create much needed, quality market-rate housing, which will bring people to the city who want to live here. This project, and many others you will hear about over the next few months, are focused to revitalize our city's urban core, bringing opportunities that will bring more people to our downtown, resulting in new customers to our existing businesses. It may also lead to new business ventures locating in the area due to the increased customer base.
"Finally, this project will help increase the supply of parking in the Mainstrasse area that is sorely needed."
River Haus will consist of 192 upscale market-rate apartment homes and 3,100 square feet of retail. Comprised of studios, one, and two-bedroom apartment homes, the development will boast the finest amenities in the Northern Kentucky market, a news release said.
"We are very excited to partner with the City of Covington on this fantastic new mixed-use development, which we believe will be the destination for luxury urban living in Covington," said Deron Kintner, general counsel and lead project developer for Flaherty & Collins Properties.
Amenities include a courtyard with fire pits, a bar, lounge areas, grilling station, and a saltwater pool with a large wet deck. A sky deck will give residents views of the Covington and Cincinnati skylines. Other features include a coffee lounge, club room, conference room, pet wash, bike storage and repair, gaming and study lounge, and 24-hour fitness center featuring Fitness OnDemand.
The project includes a guest suite and concierge services.
Apartments will include polished quartz kitchen countertops, cultured marble vanity tops with integral sinks, tile backsplash in kitchen, stainless steel appliances, undermount faucets and sinks, LED lighting in the entries, kitchens, bathrooms, and closets.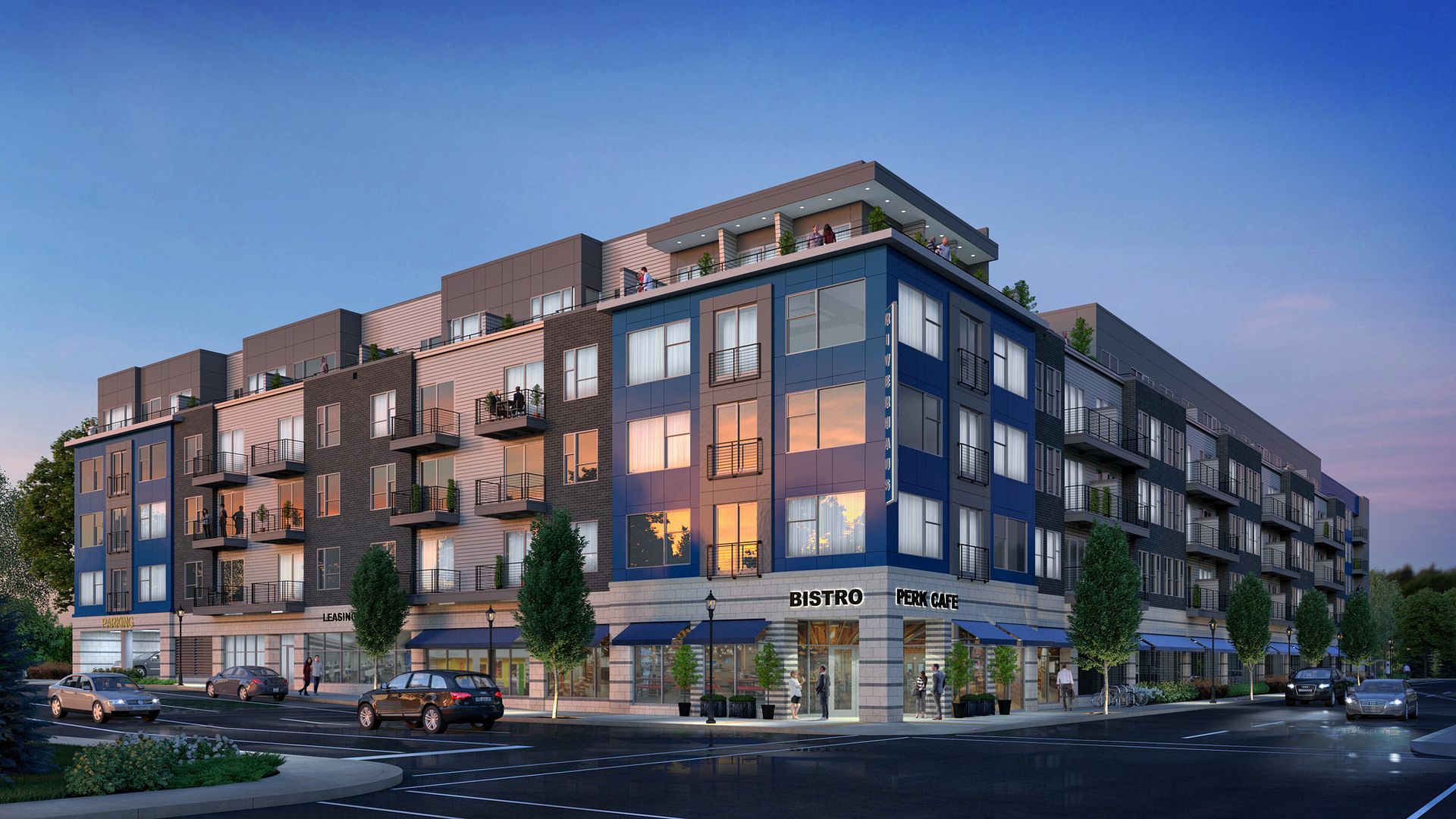 TCF Bank is providing the construction loan for the project. Core Real Estate Capital provided additional financial support of the development.
PACE Equity, the leading project developer and funder of CPACE (Commercial PACE) projects on a national basis, is providing approximately 10 percent of total development funding, at $4.4 million for River Haus.
The project represents the largest PACE multifamily new construction project in the nation.
"This project is the largest new construction multifamily project on a national basis to utilize PACE financing, which is very exciting," Beau Engman, PACE Equity Founder & President. "It's always great to see PACE utilized to transform a vacant lot into such a fantastic project for the area."
Additional project partners include PDT/SFA Architects, Civil & Environmental Consultants, Inc., and Harrison Lynch & Brumlee. Flaherty & Collins Construction is the general contractor.
The project, at 341,925 square feet, is expected to be completed in 2019.
-Staff report