Missing Covington Woman FOUND, is Safe
Wed, 12/27/2017 - 10:08
RCN Newsdesk
UPDATE (Dec 27): Covington Police reported that Donnelly was found and is safe. Further details were not released.
---
UPDATE: The Covington Police issued an update to this report on Wednesday, Dec. 20.
Donnelly was last seen in Hebron withdrawing money from a 5/3 Bank branch. She was wearing a black coat and gray or tan athletic pants. She was captured on surveillance video just an hour after she was reported missing.
Police are still looking for her.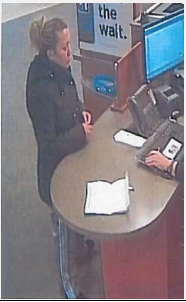 ---
Covington Police are looking for a missing woman prone to increasingly erratic behavior, according to a news release.
Kristin Carroll Donnelly, 42, went missing at around 5:30 a.m. Monday and was last seen by her mother at her residence. She is 5'5", 175 pounds, with blonde/brown hair, and hazel eyes.
Police said that Donnelly had been exhibiting increasingly erratic behavior over the past two months which required intervention by multiple public safety agencies across the region, including the Covington Police Department.
Police said that there is sufficient reason to believe that Donnelly is a credible danger to herself.
She left her home this morning with only her dog, leaving behind the keys to the home and all communication devices.
This behavior is consistent with her previous actions which have required emergency services response, police said.
Donnelly is believe to be operating a White 1998 Mercury Mountaineer 4-door with Kentucky license plate 765-APH. The image below is of a similar vehicle, and not the actual one.
She is with a brown and black Yorkshire terrier.
Anyone seeing the vehicle or Donnelly is asked to dial 911 immediately and provide first responders with a location.
Anyone with information regarding Donnelly's potential whereabouts is asked to call Detective Jess Hamblin at 859.292.2375.
-Staff report
Images provided