Simpson Won't Seek Reelection to Kentucky House in 2018
Mon, 01/01/2018 - 09:44
RCN Newsdesk
State Rep. Arnold Simpson won't seek reelection in 2018.
The Covington Democrat made an announcement on Facebook late Sunday night as the start of his twenty-fifth year in Frankfort is set to begin.
"After much reflection, I have decided not to seek re-election in 2018. I appreciate the support received during my tenure and know that there are numerous individuals in the district who have the talent, capacity and vision to represent our community in an admirably manner," Simpson wrote. "It is my hope that making my intentions known at this time will afford those who may have interest in pursuing the seat an adequate opportunity to discuss the matter with family and friends as well gauging community support prior to reaching their decision."
Simpson is one of just two Democrats in the Northern Kentucky legislative caucus, with the other being Rep. Dennis Keene (D-Wilder).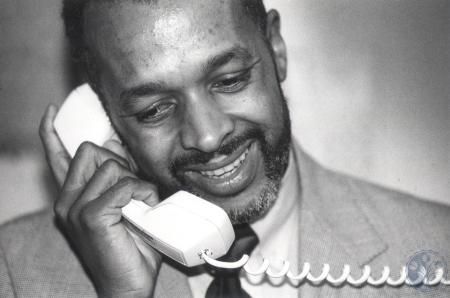 Simpson takes calls after winning election in 1994 (via Kenton Co. Public Library)
House District 65 is situated in northern Kenton County and includes the northern part of Covington, and the cities of Park Hills, Ludlow, and Bromley.
Simpson was first elected in 1994 after serving as Covington city manager. 
The comments on Simpson's post were supportive and from all sides of the political spectrum.
"A true gentleman and public servant," wrote Kenton Circuit Clerk John Middletown, a Republican.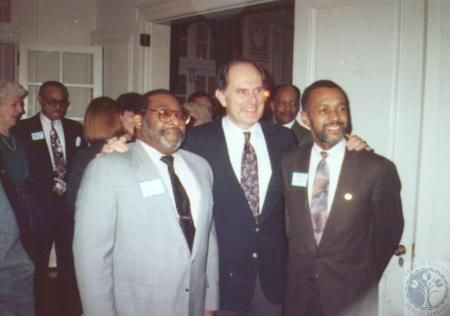 Simpson, right, with Gov. Brereton Jones, center, and Ted Harris, left, in 1994 (Kenton County Public Library)
"Thanks for your tremendous service to Covington, your district, and the Commonwealth," wrote Chuck Eilerman, a Democrat and former Covington city commissioner. "You have been a fierce, tireless, and effective advocate for principled positions. You'll be greatly missed."
"You are an inspiration to many. Best wishes for your future pursuits," Republican attorney Marcus Carey wrote. "The Commonwealth would be fortunate to have a man or woman of your character and integrity follow you into office."
"Frankfort won't be the same without you but I know you'll be the same without Frankfort," Republican Kenton County Commonwealth's Attorney Rob Sanders said.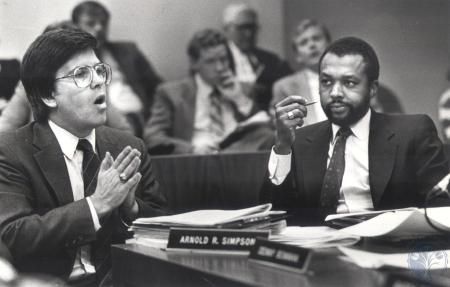 City Manager Arnold Simpson listens as City Planner Robert Horines speaks (Kenton Co. Public Library)
"Brother, you know I respect and honor your decision; and yet I am personally taken aback at the prospect of no longer having your wise counsel just down the hallway to rely on," wrote Rep. Reginald Meeks (D-Louisville). "I'm certain I speak for our entire Caucus when I say you have been an exemplary public servant for your district, for the cities in Northern Kentucky and for our entire Commonwealth!
"We have learned much from your considerable experience weighing public policy and articulating the many nuanced considerations thoughtfully and effectively. Thank you and thank your family for giving us your time and talent over the years to make our Democrat Party and House of Representatives more of what they truly are supposed to be — the People's Party and House! Thank and Bless you."
"I love serving with you Arnold! I respect your decision. Congratulations," wrote Rep. Phil Moffett (R-Louisville).
"It is truly an honor to serve with you Arnold. I appreciate your thoughtful leadership, calm presence and class," said Rep. Kimberly Poore Moser (R-Taylor Mill), who represents the south end of Covington. "You have served your district well and will be missed. Thank you for your service."
Comments came from the mayors of Ft. Wright and Ludlow and other local civic and political leaders.
According to election records, Simpson had filed to run for reelection. No one else has filed to run.
-Michael Monks, editor & publisher