Premium Content
Removing the Stigma: Former Inmates Seek Clean Slate for Tattoos
Tue, 01/09/2018 - 09:13
RCN Newsdesk
When someone with a tattoo begins to regret that artistic choice, whether from a youthful impulse or a stint behind bars, Jo Francis Martin is here to help remove it.
At a crossroads in her own life following the death of her husband and retirement after 30 years in the business world, Martin was asked to help tutor inmates at a local jail. The Erlanger resident was completely sure about the decision even when she said, yes.
There, she found a new passion.
As Martin continued to meet and tutor inmates, she was struck by the number of visible tattoos - on faces, necks, and arms, and she wondered about these inmates would find employment once they were released from jail. She noted that many employers object to visible tattoos.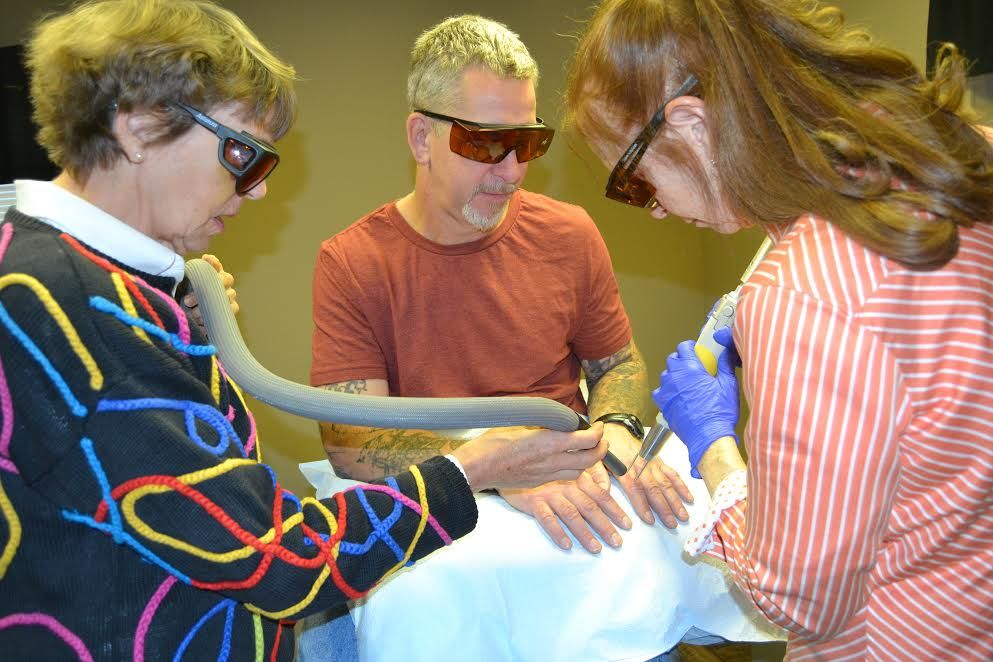 Martin met Father Greg Boyle, a Jesuit priest who leads Homeboy Industries, when he spoke at a college. She was inspired by the priest's organization and became devoted to the idea that she could create her own initiative, one with a purpose of removing tattoos on men and women looking for a new start after incarceration.
"I happened to meet Randy Ballard, who was in the Department of Corrections, and he wanted to put a laser in La Grange, but that seemed far down the road from the program I was developing," said Martin. "We did the paperwork to start a 501(c)(3), then we talked two friends into being the doctors for the program, and bought a laser from Astanza Laser with a discount. They had a technician come up and train us for two days on how to work the laser. It was all fairly quick and we were in business."
And Tattoo Removal Ink was born.
Now, Martin has learned a lot over the past eleven months. She knows that her laser works best on tattoos that use black or gray ink, and that yellow and turquoise are the most difficult colors to remove.
She also learned that inmates do a lot of their own tattoo work while behind bars. Some methods include the melting of chess pieces and other plastic items that can be used as ink. Those types of tattoos are not always successfully removed by Martin's laser.
Regardless of the tattoo method, inmates looking for a literal clean slate will seek out Martin's services.
Matt Hayhow was released from prison in the middle of last year after more than twenty-six years behind bars. His sister encouraged him to go to Martin. He had a tattoo on his neck that read, Death Squad. There were letters marked on his fingers, and his arm featured a skull and swastika.
"I knew right after I got the tattoo that it wasn't right for me," he said. "It isn't me, it isn't who I am. When I found out about this service, that was the first one I wanted removed."
Hayhow visited Martin four months ago.
"I have a job in construction right now, so I feel good that I am working," he said. "But I feel that if I want to go any higher in responsibility, or get raises or anything, I have a better chance if I can get rid of a few tattoos."
All of his tattoos are lightening up.
"The treatment does hurt, more than getting the tattoos done originally, but then afterwards the tattoos keep hurting, and you have to do some upkeep on them," Hayhow said. "The pain from the treatment goes away pretty quickly."
Joan Linhardt, a retired pediatrician, and Steven Payne, a retired internist, are two doctors who work with Martin to ensure the process goes well.
For Hayhow, Linhardt was attending, and she had to chill the area, because the laser superheats the ink.  Martin explained that the globules of ink are big, and that keeps the body's white blood cells from clearing the ink out of the area, a process called macrophage. The laser breaks up the large ink globules into tiny little pieces, that the white blood cells are able to carry away.
"Just think of it as a bruise," said Martin. "The white blood cells get in there and clear all the blood and damage away. That is basically the same thing that happens with the laser treatment."
Questionnaires are filled out every time a person receives a treatment. Pictures are also taken, so that the lightening process can be documented. Martin and the doctors are very careful that every safety item is checked, such as, patients can't be on an antibiotic when they do a treatment. Allergies have to be taken into consideration, too.
Martin offers her service at no cost to former felons and said that about a quarter of her customers are not former prisoners, and they pay to have their tattoos removed.
Martin hasn't forgotten Ballard's dream of putting the laser into the jail where she tutors inmates
Through grants and donations, Martin wants to have lasers in all three Northern Kentucky counties. She also would like to have a GED program set up in the building at 6900 Dixie Highway in Florence where her business is located.
Martin was recently honored by the City of Erlanger, which gave her a proclamation and named a day in her honor for all the good work she does.
"I really like meeting all the new people," she said. "And I feel that I am doing God's work."
Story & photos by Patricia A. Scheyer, RCN contributor