Premium Content
In Death, Covington Custodian Donates $175,000 to Child Advocacy Group
Tue, 05/08/2018 - 11:29
RCN Newsdesk
Alvin Luther Randlett had only a fifth grade education, but he spent most of his life in a school.
The longtime custodian at Sixth District School in Covington passed away in December 2015 in the 75-year old's obituary, his family suggested that donations be made to Kentucky's Child Victims' Trust Fund, operated by the Office of the Attorney General.
Randlett may have given the biggest donation of all.
He bequeathed his home, life savings, and entire estate to the fund, in an amount that exceeded $175,000. The money is used to protect kids from child abuse.
Randlett was remembered Tuesday in a ceremony at his beloved Sixth District in an event that brought Attorney General Andy Beshear to town, joining Randlett's family and friends, school district officials, and students in celebrating the gift.
"What a proud day for Alvin," said longtime friend Jeff Siska, who recalled that Randlett was hired by Covington Schools in 1968 "on a handshake" and came to Sixth District in 1970 where he became head custodian. He never drove a car, relying on the bus or rides from friends, or enjoying life in close proximity of the school building, living nearby.
He even liked the food at school.
"Alvin enjoyed eating," Siska said. "He took care of the cafeteria staff and in return they fed him very well."
When a massive blizzard rolled into town in the late 1970s, shutting down schools for weeks, Randlett, Siska recalled, would go to Sixth District to make sure the coal-fired burners were operational and that the pipes didn't freeze. As he neared retirement in 2000, Randlett was consulted by engineers who were to oversee a remodel, his intricate knowledge of the inner workings of the historic schoolhouse in Austinburg proving to be invaluable.
"It was his swan song. He left this building in the best possible shape he could," Siska said of his friend. "The kids here at Sixth District became his kids."
The pair once estimated that six to seven thousand kids attended school there during Randlett's tenure. They all learned a message from Randlett: finish high school.
"It was Alvin's last wish to help children," Siska said.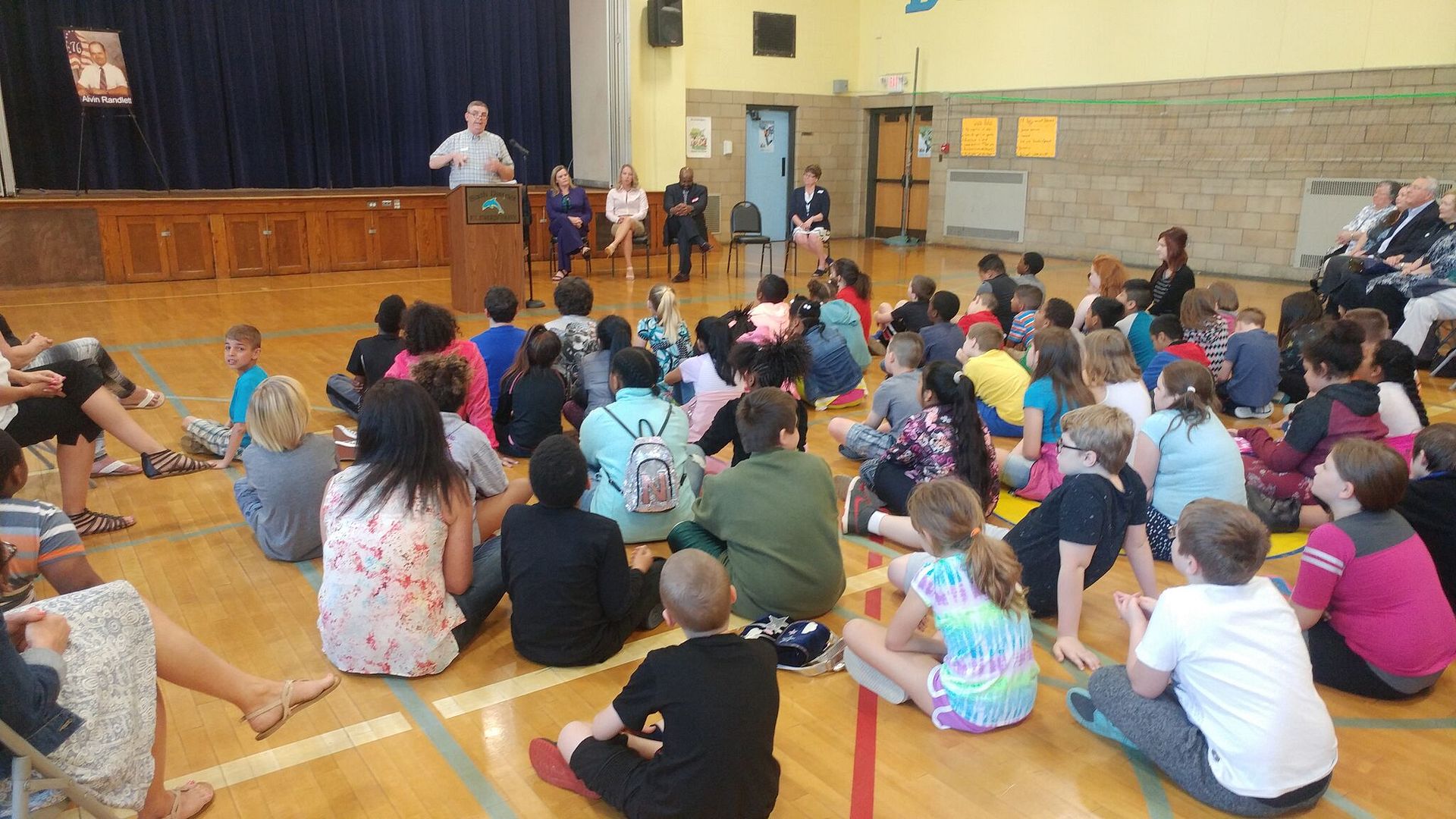 Students listen as Jeff Siska talks about his friend Alvin Randlett (RCN)
"He lived his beliefs," Beshear said in remarks to the students, "and when it was time for him to pass, he literally left everything he had to children."
Beshear, who was also joined by members of the Child Sexual Abuse and Exploitation Prevention Board, presented a plaque to the school to go on display as a permanent reminder of Randlett's contributions and true compassion for Kentucky's children.
"The generous bequest from Mr. Randlett deserves never-ending remembrance and appreciation," said Beshear. "Mr. Randlett's act allows the Child Victims' Trust Fund to protect more Kentucky children from abuse and make a positive difference in the lives of thousands of Kentuckians for years to come."
The letter from the estate said Randlett believed he could lift a child's spirits with a smile, a kind word, or a joke and upon realizing the unfortunate circumstance of many of the children he served, he developed a passion for protecting children.
"Mr. Randlett was a wonderful man who not only looked out for the students at school, but he also lived in our neighborhood and would do anything to help us out," said former student and current instructional assistant Renee Fuson. "I remember seeing him walking home from work on a daily basis and he would always say, hi, and ask if everything was OK."  
"Henri-Dominique Lacordaire once stated, it is not genius, nor glory, nor love that reflects the greatness of the human soul; it is kindness," said Covington Independent Schools Superintendent Alvin Garrison. "Through Mr. Randlett's act of kindness, he exemplifies how great the human soul can be."
Created in 1984, the Child Victims' Trust Fund provides financial support to help reduce the incidence and impact of child sexual abuse in Kentucky.
The fund supports organizations with educational and promotional programs that help inform Kentuckians on how to identify and report the crime and how to access preventative resources in each community.
Beshear said every donation to the trust fund goes directly toward fighting child abuse in Kentucky.
Each year, the Child Sexual Abuse and Exploitation Prevention Board, within the Office of the Attorney General, announces the availability of Child Victims' Trust Fund grants and selects regional and statewide recipients.
Over the past two years, the trust fund has provided $260,000 to support statewide and regional child abuse prevention programs and organizations.
Recently trainings were conducted in partnership with Prevent Child Abuse Kentucky to help youth-serving organizations like daycares, summer camps and churches to evaluate their programs and implement an action plan that will strengthen protocols and policies to safeguard children from sexual abuse.
The trust fund also supported the training of more than 1,200 prosecutors, social workers and community advocates on how to protect Kentucky's children from sexual abuse.
More than $160,000 in funding also went to support the state's Children's Advocacy Centers, helping pay the costs of hundreds of child sexual abuse medical exams.
The trust fund's prevention activities and child advocacy programs are funded through private donations, proceeds from the purchase of "I Care About Kids" license plates and donations made through the state income tax refund check-off program.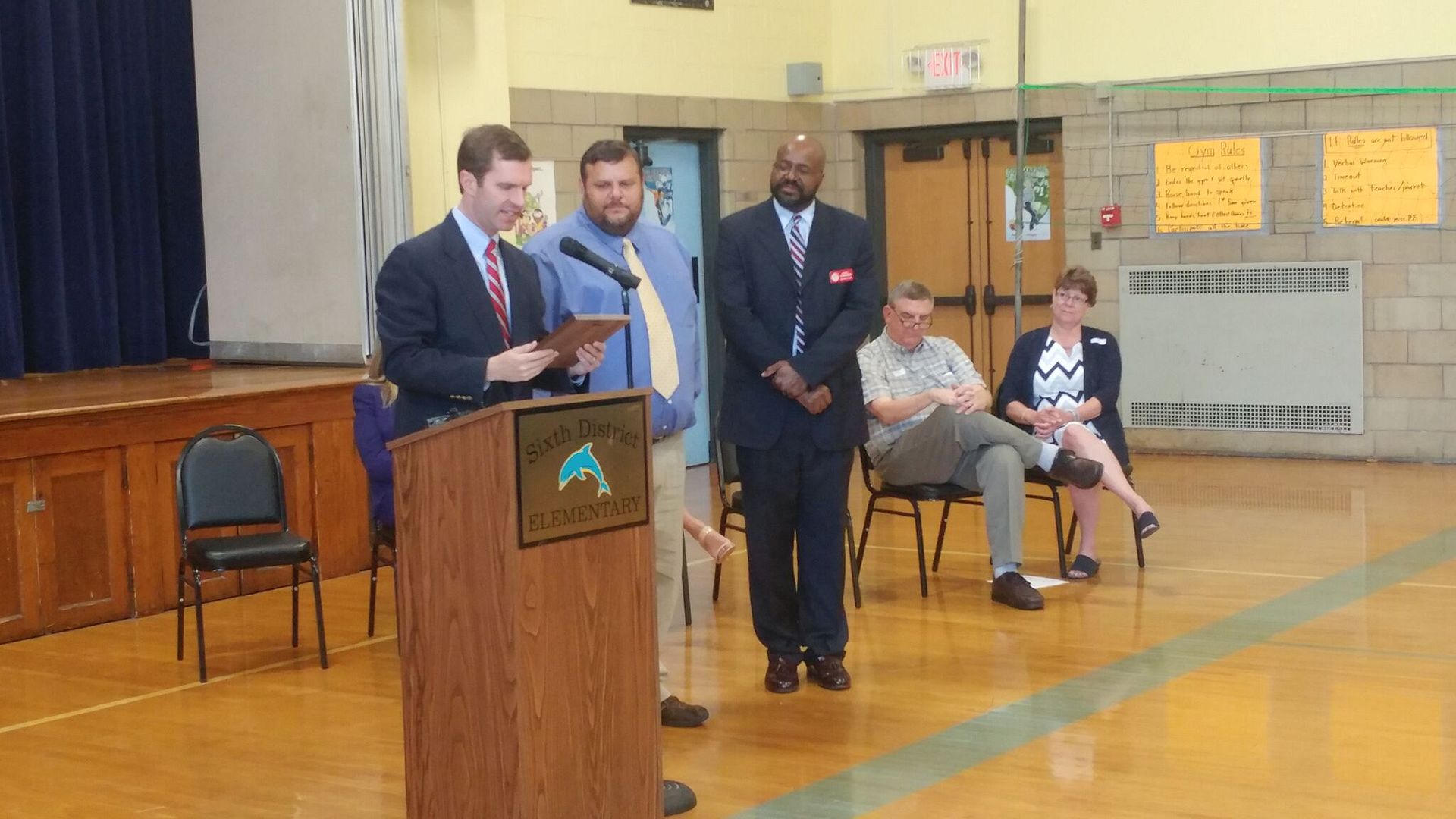 Beshear presents a plaque to Superintendent Alvin Garrison and principal Brian Walz (RCN)
Beshear also noted the significance of honoring Randlett during Teacher Appreciation Week, particularly after the contentious General Assembly session that saw thousands of educators flock to Frankfort to advocate for their retirement and school budgets, forcing some school districts to close multiple times.
The attorney general filed suit to void the pension bill passed by lawmakers and disapproved of by teachers.
"Our teachers have been disrespected. They have a governor and General Assembly that has called them names and then illegally cut their retirement that they were promised," Beshear said. "Our teachers don't deserve that. They are selfless. They are some of the best, just like (Randlett's) example. That General Assembly also tried to cut the retirement and benefits for folks like Alvin, who served his career here not getting paid enough, but being able to rely on that retirement.
"So, Teacher Appreciation Week this year, I hope lets us reset, makes us thank each and every teacher, pushes us to demand a government that respects public education and those who work in it."
Written by Michael Monks, editor & publisher