Building that Once Housed NKY Green Line Buses, Now Home to Construction Co.
Wed, 05/09/2018 - 14:12
RCN Newsdesk
Albert Fedders, a 20-year veteran of the Greater Cincinnati construction industry, launched a commercial contracting firm that will be located in an historic Newport building.
Fedders Construction, which already has 11 employees and more than $10 million in projects under contract, is relocating its headquarters from Erlanger to the historic former Green Line Car Barn located at 11th and Brighton streets in Newport's West Side neighborhood. The 46,000-square foot building, which Fedders is converting to office, storage, and potentially retail, exhibit, or event space, was built in 1899 and once housed streetcars, and then buses.
But it has been vacant for years.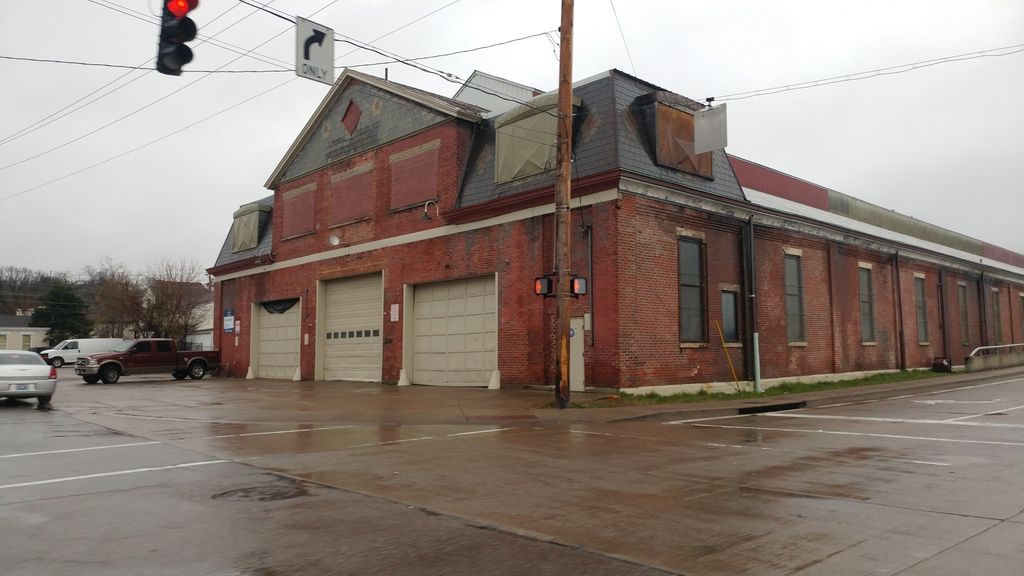 "We're a design/build commercial contractor, and we provide solutions for our clients no matter the size," Fedders said. "I'm super excited about the team we have. Most of us are 20-year veterans in the commercial construction world. Our work is all relationship-based and we have the experience to handle a variety of projects. We are currently working on a number of restaurants, a car dealership, a logistics company's building, a mobile phone retail location and several others.
"We're also excited about coming to Newport and developing our headquarters here," Fedders said. "We do work all over Greater Cincinnati, and the Car Barn location is a perfect hub for our operations."
Fedders values the relationships he has with his clients and spends a great deal of time talking about projects to fully understand the client's expectations, said O'Sam R. Mardin, a developer who has hired Fedders Construction to rehab Over-the-Rhine buildings into condos.
"Albert is very trustworthy and very approachable," Mardin said. "You  can talk to him. The problem I sometimes run into with contractors is that they know their profession but they don't know how to communicate. Albert is not only good at communicating, he prides himself on it."
Fedders's first client after starting his own company was building a second location for Full Throttle Indoor Karting on Spiral Drive in Florence, which operates the nation's fastest indoor karting tracks.
"I knew Albert from his previous work in construction, and I knew he had integrity and was focused on getting the job done right," said Full Throttle Co-Owner and Director of Operations Aaron Banfield. "When we first discussed our Florence project, I thought it would take five to 10 weeks. Albert had in done in four weeks and it was under budget."
Banfield was so impressed with Fedders' work that one of Full Throttle's karts is named for Fedders Construction.
"I would absolutely recommend Albert to other companies," Banfield said. "He's the guy."
Eddie Meiners, who owns and operates LaRosa's Pizzeria restaurants in Tri-County, Forest Park, and Sharonville, hired Fedders Construction to remodel the Forest Park restaurant, which includes just the second LaRosa's pick-up window location in Greater Cincinnati.
"Albert's attention to detail and responsiveness was great," Meiners said. "I'm not only going to have him work on our restaurants, but he is also doing some work at my home. I have no doubt he is going to be a huge success with Fedders Construction."
The City of Newport is providing incentives to Fedders Construction, including a five-year city property tax moratorium on the $600,000 of improvements the company plans to make to the Car Barn.
Fedders Construction will use about a quarter of the building's space. Tracker Products, an Erlanger-based developer of evidence management software used by law enforcement and other organizations, will also have office space in the building. Other uses of the building have yet to be determined.
Newport City Manager Tom Fromme said Fedders purchase and refurbishing of the Car Barn is part of the resurgence of the city's west side, which is being spurred by the reconstruction of KY Route 9 through the city.
"Fedders Construction is breathing new life into the Car Barn, a building that has languished for years," Fromme said. "The city is very much supportive of the reuse of existing buildings. And I really think as far as continued investment in the west side, I think we are just seeing the tip of the iceberg. "
-Staff report
Photos provided