Covington May Change Green Sticker Program, Fines for Trash
Tue, 08/07/2018 - 15:34
RCN Newsdesk
Proposed changes to Covington's waste collection program would eliminate the use of green stickers for bulk garbage items and reduce fines assessed for violating rules related to how and when residents set out their garbage.
The changes have to be approved by the Covington city commission and are on the agenda for discussion at Tuesday's caucus meeting.
If approved, they could take effect as early as Sept. 10, said Ken Smith, Covington's Neighborhood Services Director.
"We're improving the program, but its exact look is being finalized," Smith said. "We know that the green stickers are unpopular but we also know that they helped clean up the city. We think we've found a more efficient, simpler, and less unwieldy way to accomplish the same goals."
Under the existing rules for bulk items, residents are given 12 green stickers each year (with the option to buy more) and are required to tag each item they place out next to their wheeled City-issued container. 
Under the proposed changes, the stickers would go away and residents would be allowed to set out one bulk item a week, with the definition of "item" being flexible, depending upon what it is. 
"Theoretically, then, residents would be able to get rid of fifty-two bulk items a year instead of twelve," Smith said.
---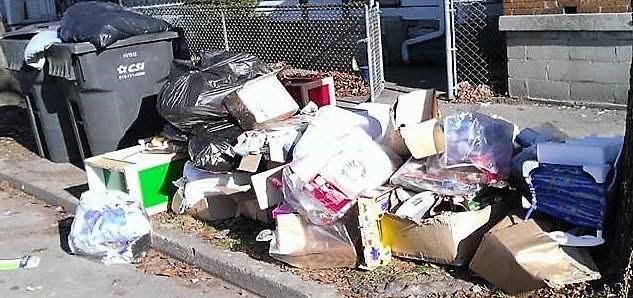 The city established the green sticker program three years ago as a way to rein in a largely unregulated practice that had become both an eyesore and a health and safety hazard: Large piles of debris, furniture, and loose trash set out in front of residences for garbage collection, often days ahead of schedule.
---
"It was like the wild, wild west of garbage set-out," said Sheila Fields, the city's solid waste and recycling coordinator. "A half-dozen times a week I'd get reports of basically mini-landfills next to the curb - sometime it was an entire apartment's worth of furniture, clothes, and loose garbage, other times it was a pile of construction-type debris just spilling all over sidewalks and streets. Of course it would then rain, or the wind would blow stuff down the street, and dogs and scavengers would rip into the bags and sort through the piles, further spreading the mess."
"It wasn't a good image for Covington," she said.
The green sticker program greatly reduced the massive piles of garbage. Rumpke Waste & Recycling, which holds the city's waste contract, called the situation "night and day," Smith said.
But there have been ongoing challenges with the program: some landlords aren't passing the green stickers on to tenants, some residents remain confused about when the stickers are necessary, the stickers sometimes come off in the rain, they are sometimes stolen - peeled off by neighbors and reused.
And some residents say that twelve stickers aren't enough.
The city has received numerous complaints from residents and elected officials. At the direction of the city commission, Smith worked with Fields and others to come up with the new program under consideration.
Under the proposed new rules, a bulk "item" is defined as a piece of furniture, a mattress and box spring together, three 30-gallon trash bags, three bundles of yard waste or carpet, or three cans of paint that have been dried out or solidified with cat litter or saw dust.
The items must still be prepared (as in wrapped, bundled, and bagged) according to existing restrictions. Mattresses and upholstered furniture must be wrapped in plastic, Freon must still be removed from appliances, and loose shrubbery or lumber must still be tied in bundles no longer than four feet, no wider than two feet, and no heavier than fifty pounds.
Another proposed change focuses on making fines for code violations related to solid waste more proportional to the violation.
As the ordinance stands now, the fine for things like setting out your garbage can too early, not securing your garbage, or leaving your empty can out on the street is $100 a day, with a general maximum of $700 (for a seven-day violation). So, if a resident goes on vacation for a week and forgets the container, the city has the option of either assessing them $700 or not fining them at all, Smith said.
"Basically, all we have to encourage compliance is a sledgehammer - and we can swing it or not swing it," Smith said.
"But we've found in many cases that residents were simply unaware of the rules or just weren't thinking. In those cases, education and reminders are the best tools, and we save the hammer for people who know the rules and intentionally and repeatedly violate them."
The proposed new fines generally range from $25 to $100, depending upon the severity of the violation, Fields said.
"Our goal is one that I think most residents share: Keep the streets and sidewalks of Covington clean and free of garbage," Fields said. "Unfortunately, for some people and situations, it takes rules and penalties to enforce that goal."
If the changes pass, the city will amend its contract with Rumpke and then initiate a campaign to educate residents about the new rules, likely through a mailed postcard, emails, postings on social media and the city's website, and releases to the media.
Until then, residents should continue to use the green stickers.
From the City of Covington
Images provided