Premium Content
This Long Vacant Covington Building is Set to Become a Bakery/Coffee Shop
Wed, 08/08/2018 - 07:14
RCN Newsdesk
A long vacant historic building in Covington's Eastside neighborhood will soon be home to a coffee shop and bakery.
The business is no stranger to Covington.
Bean Haus has been a Mainstrasse Village staple and will open a second location at 1316 Greenup Street by next fall, after an extensive renovation.
"The bakery is at capacity," said owner Tim Eversole, who said the limited space at his Main Street location is costing him opportunities to bid on wholesale customers. That will change when he adds four new bakers to the Eastside location.
"Our goal here is to rehab it and make it an open-concept kitchen. When you walk in, you will see our counters and see our bakers," he said.
Bean Haus is well-known for its coffee drinks and baked items. The shop opened on Main Street before shuttering in 2010 to focus on expansion opportunities at Findlay Market in Cincinnati and Friendly Market in Florence, but both those locations closed, and Bean Haus returned to its old spot in Mainstrasse in 2015.
Now Eversole is ready to have multiple locations again, but he will have his hands full. The neighborhood doesn't have much in the way of commercial enterprise.
"It's an area of Covington where there isn't much development," said Eversole, who lives nearby the new location. "We can make a difference in the neighborhood. I drive by that building every day going to the (Mainstrasse) coffee shop, and every day I've shaken my head."
Eversole saw an opportunity when the City of Covington, which owns the property at 1316 Greenup Street, sought proposals from potential buyers. The building appraised at a value of $20,000. As part of an effort to spur development in the struggling neighborhood, the city is selling the property for $5,000.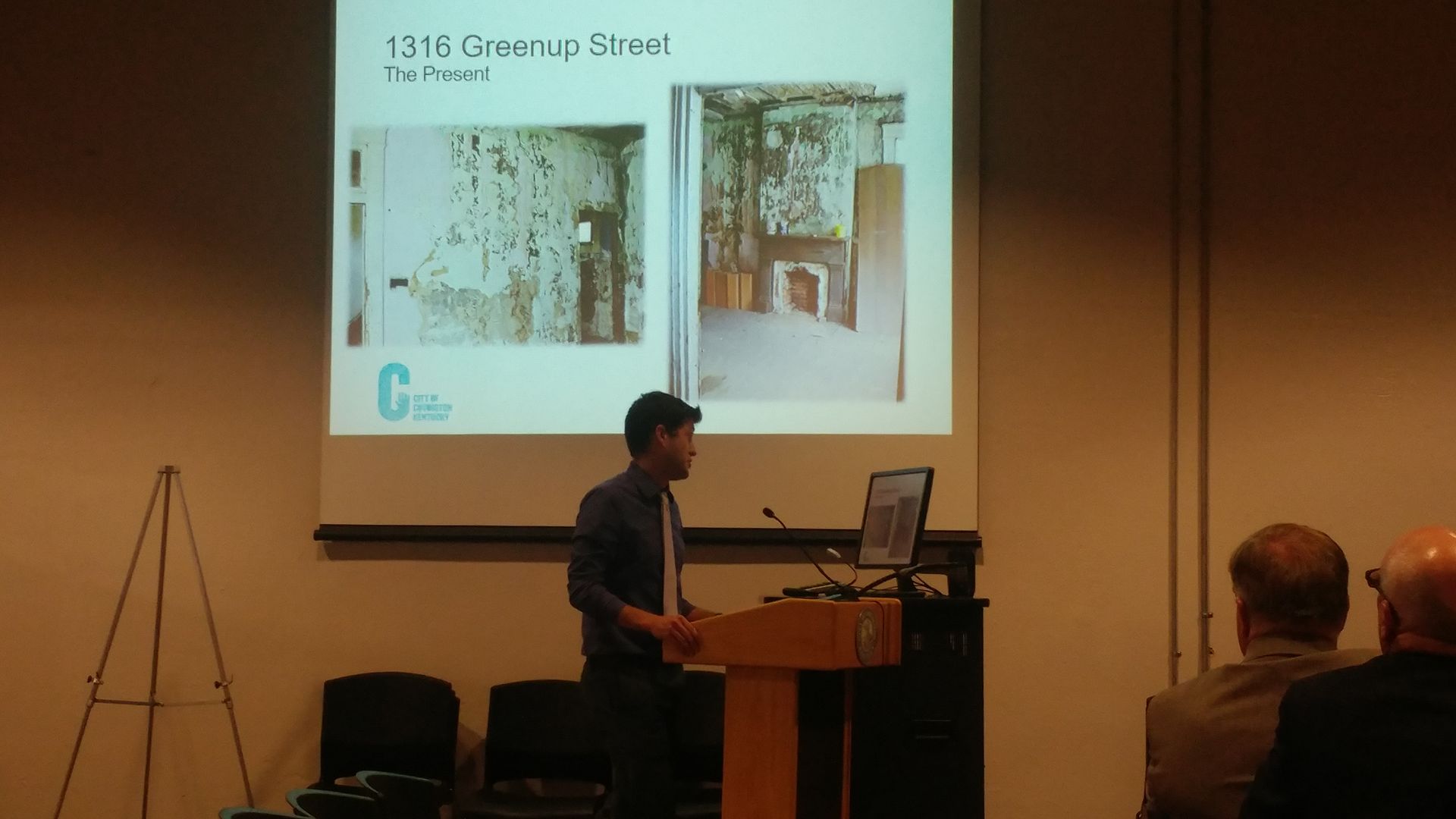 City of Covington economic development specialist Ross Patten explains the project while showing the rough interior of the building (RCN)
Eversole will invest more than $200,000 in the project which is expected to create about fifteen jobs with wages between $10 and $15 per hour.
The city had a selection committee review the proposals for the property. Three were received and the proposal from Tim and Christine Eversole was selected, said Ross Patten, the City of Covington's economic development specialist.
"This property has been a vacant, city-owned property and visible eyesore for many years," Patten said. He said the building has been empty for roughly thirteen years.
The building comes with a rich history. Constructed in 1869, the building was a grocery and tavern by the 1890s. Eversole said that an early Kroger store operated there in 1904. "(Frank) Duveneck shopped in there," Eversole said, noting the famed Covington artist.
An historic shot from 1316 Greenup Street (provided)
Now, a new history awaits.
"I don't have the Village to support me but what I have is a reputation for good products," Eversole said. "A lot of our customers come from Wallace Woods, Austinburg, and this gives them a new place to go.
"It's a gorgeous building."
Written by Michael Monks, editor & publisher