Bankrupt: Mainstrasse Village Association Files Chapter 7
Sat, 09/22/2018 - 16:29
RCN Newsdesk
Mainstrasse Village Association announced Saturday afternoon that it decided to declare Chapter 7 bankruptcy.
The MSVA produced signature Covington events like Maifest and Oktoberfest. In its brief announcement Saturday, the MSVA cited the impact of weather on this year's festivals, most days of which were plagued by rain, and a lost of more than $100,000 on the recently concluded Oktoberfest. "As a result, declaring Chapter 7 Bankruptcy of the organization has been determined as the best course of action," the announcement said.
Nearly two years ago, the MSVA reported that it was nearly out of money and a month later eliminated its full-time executive director position. 
In February of last year, MSVA explored the possibility of bringing in an outside firm to produce its festivals, but ultimately decided against it.
MSVA said in its announcement that it has been a solvent organization since its inception more than thirty years ago, until now.
An email sent to the board by The River City News, received an auto-reply:
The MainStrasse Village Association is in the process of filing bankruptcy. All debts, obligations and assets will be placed into a Chapter 7 Bankruptcy as of September 21st, 2018. Until that filing is completed, we will not be answering individual inquiries of any type, including those of creditors. Fax and phone services have also been suspended.
The automatic email response also linked to a newly created website where the organization presents a similar message, and also links to a private Twitter account.
It is unclear is whether festivals like Maifest and Oktoberfest will continue.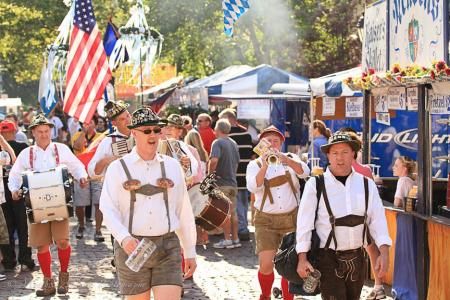 Over the past two years, the iconic festivals shrunk as the amusement rides were taken away when construction began on a new apartment building on the parking lot where the midway used to entertain. The festival also sought to increase visibility of year-round Village businesses to the thousands of visitors that typically flooded the 6th Street promenade and Main Street to take in the festivals.
The MSVA announcement said that businesses in the neighborhood would continue to operate as usual. But, the announcement stated that the organization would be liquidating its current assets and staying in touch with creditors.
"The MainStrasse Village has experienced tremendous growth over the years, with resident, business and tourism growth," the announcement said. "To this extent, the MainStrasse Village Association has served an instrumental role in the helping develop the growth of the area. The MainStrasse Board and Membership are proud of the millions of people that attended their festivals, events and visited the MainStrasse area. We thank our residents, businesses, community and City of Covington for the support throughout the years."
This story will be updated.
-Michael Monks, editor & publisher