Premium Content
Without Funds for Ambulance Service, Kenton Fire District Looks for Help
Thu, 10/04/2018 - 08:33
RCN Newsdesk
The Kenton Fire District is so low on funds that it is unable to pay EMTs to operate its ambulance.
The fire district, based in Morning View, welcomed the public to its regular board meeting on Monday night.
Currently, the residents served by the district are being assisted by ambulances from Ryland Heights, Piner-Fiskburg, and Independence.
Only Independence is capable of providing advanced life support services.
Residents wanted to know where their tax dollars are going.
"Taxes that are collected usually amount to $259,000, but that can vary, and it takes $230,000 to run the ambulance," said Kenton Fire Chief Chuck Grizzell.
That doesn't account for the expenses of keeping the sleeping quarters heated and air conditioned so that the EMTs can be on the premises during their 12- or 24-hour shift.
"They have to be on the road in 8 minutes," said Grizzell.
The fire district sought assistance from the Kenton County government prior to shuttering its ambulance service and then again afterwards.
But, state law prevents the county from funding an independent fire district.
Plus, there are fifteen fire districts in the county - meaning the county government, in fairness, would be subject to assisting others.
And some of the others are struggling, too.
Ryland Heights and Piner each face financial problems.
Kenton County Judge/Executive Kris Knochelmann offered support services, but not money.
"The laws are pretty specific as to what we can and can't do," said Grizzell. "I honestly feel that Judge Knochelmann wants to help us. He is genuinely concerned."
Taxes can't be raised because of a mandated cap, so in the meantime, members of the public are put at risk due to ambulance delays.
One resident, Heidi Watters, suffered anaphalactic shock while at the White Villa Country Club while setting up for a craft show.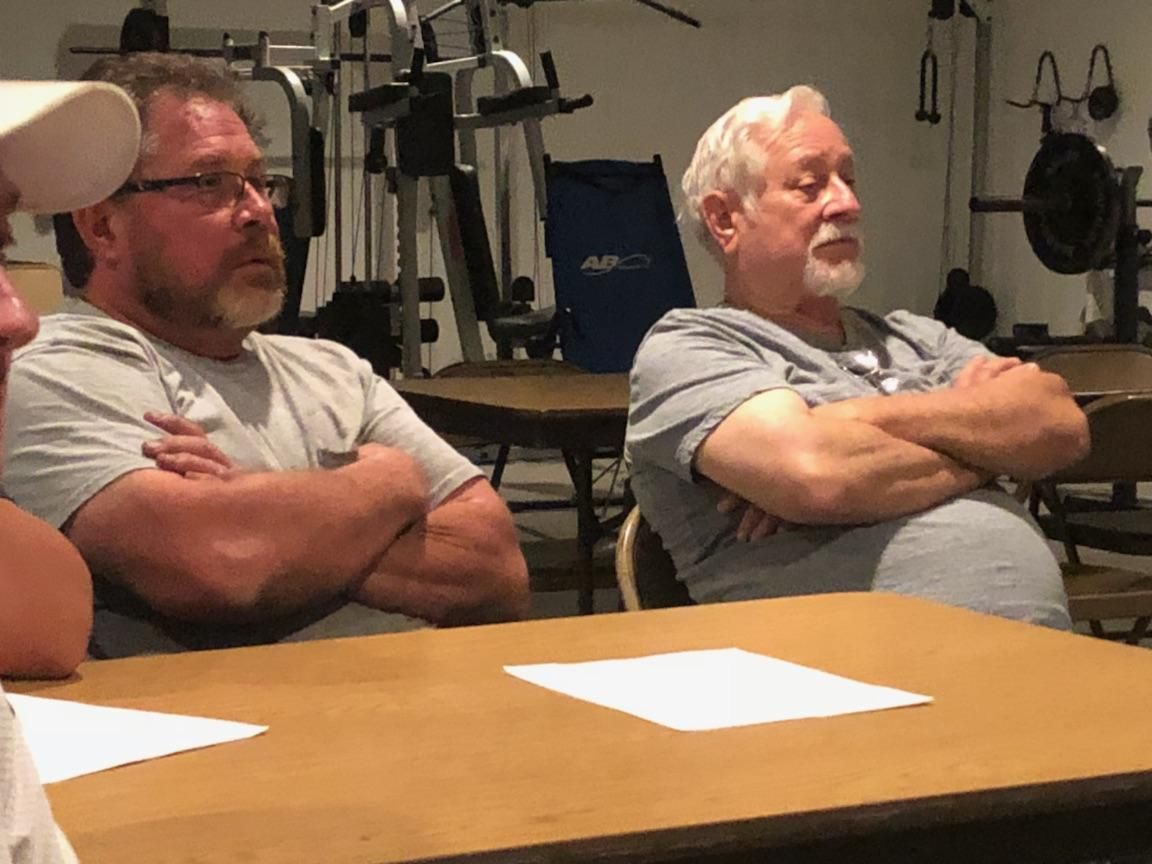 "Heidi said she wasn't feeling good and she stood up and fell straight back," said Stephanie Jackson, a resident of White Villa who was there when the incident happened. "She had stopped breathing and her heart had stopped. It started as an anaphalactic shock event. They used an Epi-pen, and she started to breathe again, but after about three minutes she stopped breathing again. We called 911 twice. It took twenty minutes for Ryland Heights to get there, and two more minutes for Independence to arrive. Independence transported her, and they had to use the Epi-pen more times."
Watters was in full cardiac arrest, so the paramedics took over when they got there. Jackson's husband, Jimmy, and Rhonda Messmer, a registered nurse, were able to keep up CPR and kept Watters alive until the ambulance arrived.
Watters was at the meeting, and she expressed her gratitude to the people saving her life. 
Another woman said that she needed an ambulance recently but that the responding crew from Ryland Heights, not as familiar with the area, went the wrong way before having to turn around, adding to the delay.
Chief Grizell said Kenton's problem is not unique and that districts across the state are struggling. 
"Is this the first fire district to crumble?," one resident asked.
"In this area, yes," said Grizzell.
Some residents said they would rather see an ambulance at the firehouse than a fire truck because insurance can replace a home, but not a person's life.
Board chairman Don Kiser agreed, saying that while he was attached to his home and possessions, he would rather lose them than a loved one who did not receive medical assistance in time.
EMTs are paid $9.75 per hour, but the district's financial straits prevent it from paying.
Grizzell said that most EMTs also have other jobs that take a priority over the low-paying Kenton one. Sometimes, employees would call off in order to work overtime at their other jobs.
State law mandates that the district maintain at least two qualified EMTs in order to operate an ambulance.
When the ambulance shuttered in June, there were nineteen EMTs at Kenton, but not enough money to pay them.
Volunteers did not step up.
Josh Ismael, a coordinator between fire departments in Northern Kentucky and St. Elizabeth Healthcare, said that he has been suggesting to new graduates of EMT classes that Kenton is in need of workers, and that a few have contacted Grizzell.
But questions about financial priorities remained.
It was explained at Monday's meeting that the tax money collected is split with half going to the fire department and the other half going to the ambulance. Now the ambulance's share goes to other districts assisting Kenton.
So, should the fire district dissolve?
Chairman Kiser said that money is so tight in Kenton that no one wants it.
"Well somebody has to take us," shouted a resident. "We pay taxes too!"
Options are being developed.
Chief Grizzell said a committee made up of the fire chiefs in Independence, Piner, Ryland Heights, and Kenton, along with their respective board chairs, developed an 81-page paper with five possibilities, including one that makes a request to the county for $2.5 million.
Many residents left the meeting at this point.
"I think what people are upset about is that we didn't know they were in financial trouble," said Jackson. "We found out in July and they shut down the ambulance at the end of June."
Jackson said that most people in her area would like to see the four rural fire districts merge into one.
"I am aware that three of the districts are doing fine, and to include us could bring them down," she said. "But that seems to be the only viable solution. Since the fiscal court appoints members to all the fire district boards, we were hoping that the judge and commissioners could come up with a solution."
Jackson encouraged other residents to email the commissioners and keep the pressure on to come up with a solution.
"The Fire District boards are locally decided," said Judge Knochelmann. "They have to manage, communicate, and fund their district. If they can't, they have to come up with a solution. Unfortunately, this is not resolved easily."
Knochelmann said the county is working with the four districts and has tasked them with coming up with solutions.
"We are not leading the charge on this because they are independent, and therefore they have to try and solve this themselves," Knochelmann said. "The fire district model isn't working well now, and long term it is not sustainable as it is. There is a process they have to go through, and they are aware of it. But right now the people have fire and EMS. We are helping them work on a solution."
Knochelmann will meet with the chiefs and the board chairs, along with the county attorney's office, on October 15.
"We are hoping we can persuade the (fiscal) court that we have a longer term solution between the four departments," said Grizzell. "Otherwise it's a whole lot of talking and no solutions."
Written by Patricia A. Scheyer, RCN contributor