Premium Content
Ground to Break on Newport's Ovation Project, At Last
Mon, 11/19/2018 - 21:26
RCN Newsdesk
More than a decade after it was first announced, Newport's Ovation project will see shovels in the ground early next year.
The 30-acre riverfront site, owned by Covington-based Corporex, was announced as a $1 billion mixed-use development but was snarled by the Great Recession, and then more recently, a waiting game related to the expansion of Kentucky Route 9 to the Newport riverfront.
Now, the waiting appears to be over.
The Newport city commission on Monday night approved an extension of the original tax increment finance (TIF) district by five years and Corporex managing director Tom Banta said with that, and the completion of the KY 9 expansion, that work will begin late in the first quarter or early in the second quarter of 2019.
"We're very excited. It's been a long road to get here," Banta said.
Corporex will front the project $70 million of its own money to get started, sparing the city from a need to issue bonds, something that Banta said would be a challenge for a project that is still mostly speculative. That is to say, what Ovation ultimately ends up being is not yet known.
But Banta offered some specific clues on Monday: 942 residential units, both for rent and purchase; 524 hotel rooms; 380,000 sq. ft. of retail, entertainment, and restaurant space; 1 million square feet of office space.
4,395 direct jobs are estimated to originate from the project along with 3,800 indirect jobs. The construction work will attract 5,000 jobs, Banta said, according to the company's analysis. 
"From that standpoint, it's a very significant impact," Banta said.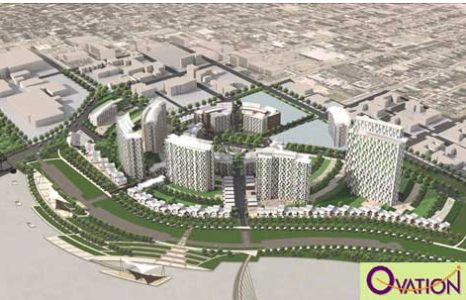 An early rendering of Ovation
The Ovation project was among the first TIF projects in Kentucky, and is known as a signature TIF, in which revenues from the TIF district can be collected for up to thirty years. Per the original agreement authorized by the City of Newport, as well as Campbell County, and the state, that 30-year period would have expired in 2042, leaving just 24 years on the life of the terms.
With the updated agreement, the terms expire in September 2047, or 29 years from now. Corporex will still lose one year of TIF revenue collection, and the company is ready to move on the project.
"They have all the incentive in the world from the TIF's perspective and value of the land to move as quickly as possible," said Casey Bolton, a partner at Lexington-based Commonwealth Economics, a consulting firm working with Corporex. Bolton said that by the time the terms expire, $57 million will have been generated in the TIF district, including $21 million eligible for TIF participation.
In a TIF, a certain percentage of revenues are reinvested back in the TIF district.
With that in mind, Corporex is dipping into the $128 million it made on recent hotel sales to find the bulk of the $70 million that will get the project started.
The early stage of this multi-phase project will be a parking garage and its podium, upon which the rest of the project will be developed.
Corporex is in talks with multiple other developers that are expected to become involved in the project in the coming years. Banta would not identify any of them on Monday.
Banta said Corporex would have to see investment of $200 million at the site before any TIF monies are realized.
"Could we have gone out and built a hotel or an office building or a restaurant? Yes, we could have, but you wouldn't have been able to access the TIF," Banta said of Corporex's patient strategy. "And it all has to be built on that platform."
The company has already invested $22 million in the project, and the city has been involved in improving infrastructure, such as relocating a sewer line. Now with KY 9 leading directly to Ovation's front door, the long dormant project is ready to awaken.
"This is the beginning of a momentous occasion with regards to the Ovation project," said Newport city manager Tom Fromme. "I think it's going to turn into everything we thought it was when we had our faith back in 2006."
Mayor Jerry Peluso, an enthusiastic public supporter of Newport's ill-fated effort to attract FC Cincinnati's new soccer stadium to Ovation (it will end up in Cincinnati's West End), is still patient.
"This is not going to jump out of the ground tomorrow," Peluso said. "It's going to happen over a number of months, but I think once it does happen, it will be a major contributor to the financial success of the city."
But, will it be better than Peluso's wish to have the soccer stadium, which he pushed with a "Kicking on the Licking" slogan?
"We hope so," the mayor said.
Written by Michael Monks, editor & publisher
Top photo: Tom Banta discusses the Ovation plans with the Newport city commission on Monday night (RCN)