Premium Content
Covington Lacking in Christmas Spirit this Holiday Season?
Wed, 12/19/2018 - 14:24
RCN Newsdesk
Christmas in Covington isn't what it used to be, in terms of holly jolly decorations.
Most of Madison Avenue downtown is devoid of city-sponsored holiday cheer, though some areas, like 12th St./Martin Luther King Blvd., RiverCenter Blvd., Latonia, and Mainstrasse Village have some spirit.
The City of Covington's public works department installed bows on some poles at the northern end of Madison and parts of Licking Riverside, but ran out of usable bows this year.
Over the years, bows have been destroyed by weather and vandals and haven't been replaced, the city said in a statement to The River City News.
City Manager David Johnston cited financial challenges in the city, noting the great expense of such decorations.
"Everyone recognizes there's a void here that shouldn't exist," Johnston said in a statement. "We're trying to figure out how to fill it, but that's not something that's going to happen this year. In cities I've managed elsewhere, the decorations were purchased by the local chambers of commerce, and the city donated crews to put them up every year. We're hoping to come to a similar sort of arrangement with our business organizations for 2019."
To that end, the Covington Business Council and Renaissance Covington are involved in various ways of promoting downtown and enhancing its aesthetics.
This year, Renaissance Covington sponsored a city-wide Small Business Saturday event to promote shopping and hosted its well-attended Covington Night Bazaar in Roebling Point.
In past years, the organization also produced a pop-up holiday market for the season, but that didn't happen this year. In a statement, Renaissance Covington executive director Katie Meyer, who announced recently that she is leaving the organization for a new role at Cincinnati Bell, said that her organization's economic vitality committee this year focused its energy on the public Wi-Fi initiative, which debuted earlier this year in partnership with Cincinnati Bell.
"We hosted a data presentation on the foot traffic data at The Warehouse in November to share insights on foot traffic as well as holiday trends for our small businesses," Meyer said in a statement.
An annual holiday storefront decoration competition also didn't happen this year. In the past, it was co-sponsored by Renaissance Covington and Mainstrasse Village Association, which declared bankruptcy this fall.
Meyer said that as downtown Covington has evolved in recent years, so have the programs at Renaissance. 
"We are a small organization with limited capacity and so our board is constantly looking at how we evolve to meet our strategic goals within the limitation of time and resources," Meyer said. "We're small so we are always conscious our strategic efforts to maximize our limited resources and impact to the community."
The Covington Business Council invested funds in eighty oversized planters along Madison Avenue in the spring and fall. In years past, it also donated several dozen wreaths for the city's public works department to install, said executive director Pat Frew.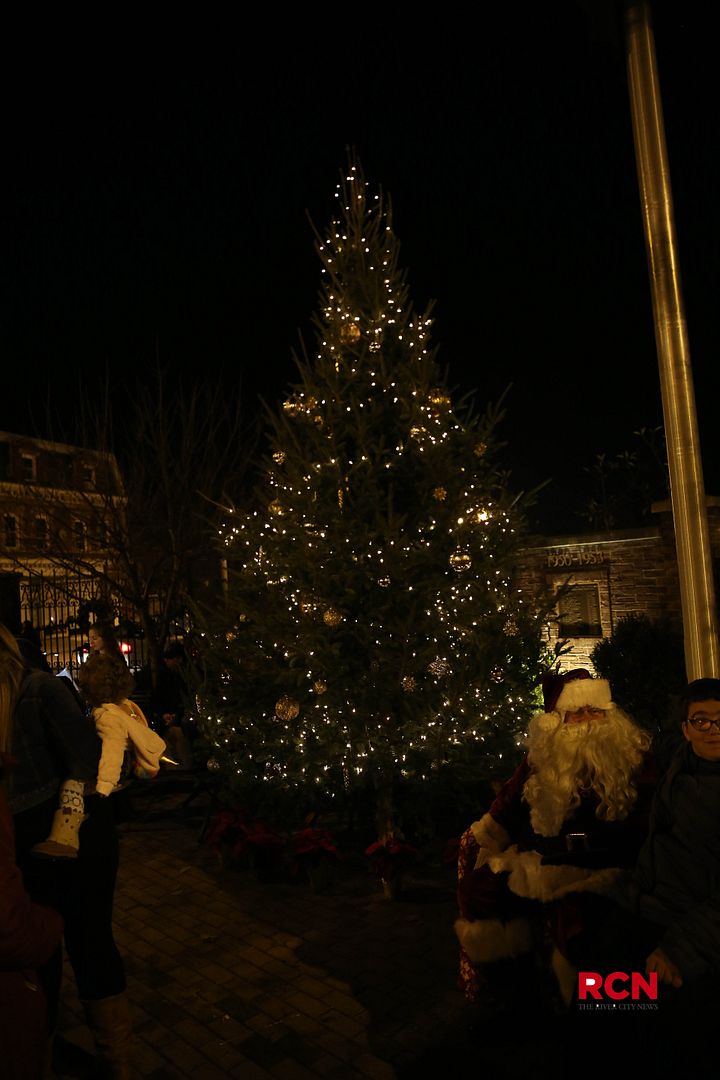 Tree lighting at Ritte's Corner in Latonia this year (RCN)
So, with the evolving landscape of Covington's commercial districts, and the change within its various supporting organizations and governments, who should take charge?
"Probably it would be more economical and less confusing to have one group responsible," Frew said.
"2018 has been a year of change for many of our organizations working in the realm of commercial district revitalization," Meyer said. "That being said, I feel that our organizations are aligned and partnering in unprecedented ways, looking to build stronger alliances and more formal mechanisms for collaboration in the future. Projects in the public realm are based on these collaborations, pooling resources and thinking equitably about our city as a whole. As these systems develop, the numerous stakeholders at the table will inform priorities for future investments."
This story continues below.
---
Ghosts of Covington Christmases Past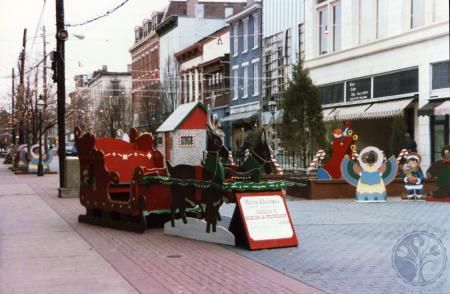 Pike Street Plaza, 1986 (via Kenton Co. Public Library)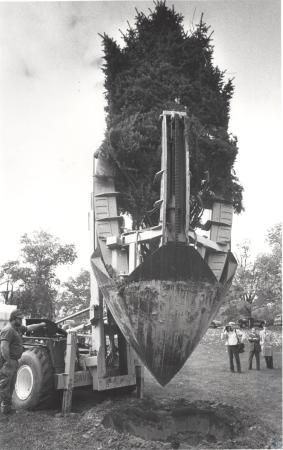 City's official Christmas tree being lowered in Devou Park, 1990 (via Kenton County Public Library)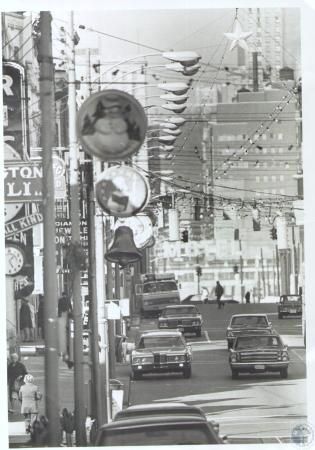 Christmas lights and decorations on Madison Avenue, 1974 (via Kenton County Public Library)
Christmas lights being installed on Madison Avenue, 1973 (via Kenton County Public Library)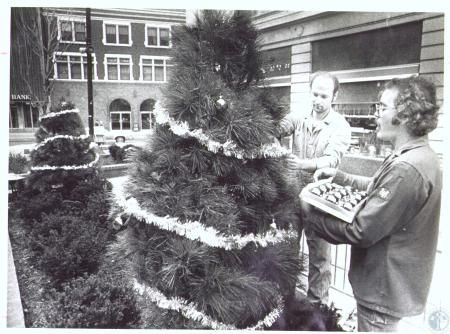 Christmas tree being decorated on Pike Street, 1977 (via Kenton County Public Library)
---
Former mayor Denny Bowman, who served in that role from 1988 to 2000, and then as director of parks and recreation from 2000 to 2007, and then again as mayor from 2008 to 2011, and who was elected to the city commission in November, wants to see the Christmas spirit return to the city in a big way, like it used to.
"We always lit up the streets," Bowman told The River City News. "It looked very nice. We would take lights across (Madison) from Eighth Street to to the river, and would do something on Riverside Drive and Mainstrasse."
He said the lights across the streets went away in the early 2000s, but that the recreation department would put bows and ribbons on every decorative pole in the city, downtown, Latonia, Riverside, and Mainstrasse.
In Latonia, a large evergreen tree stands at the corner of Decoursey Avenue and 34th Street, a nod to the Christmas film Miracle on 34th Street. Locally, it used to be the site of a tree-lighting celebration for the Latonia neighborhood, traditionally sponsored by the city.
This year, that tree stands bare. The Latonia festivities moved to Ritte's Corner with a tree erected at the Korean War Memorial. The Latonia Business Council and Latonia Community Council worked on this year's celebration.
Mainstrasse businesses stepped up to ensure that decorations would still go up in their neighborhood in the wake of its namesake organization going bankrupt. 
Bowman says, it's a lackluster Christmas in Covington this year.
"It's not good. Next year we will change that," Bowman said. 
Bowman also said that more collaboration between interested and invested parties would be key. "I think anytime you work together, you know it's going to be more successful," he said. "People are protective of their turf. They want what they feel is best for their turf. All organizations, business districts, Latonia, Mainstrasse, downtown, Riverside, we got to all work together to make it successful again."
Many businesses in the city have stepped up to decorate their own storefronts, some modestly, and some extravagantly like Sims Furniture on Madison, which for the past six holiday seasons has created a blockbuster old-school window display.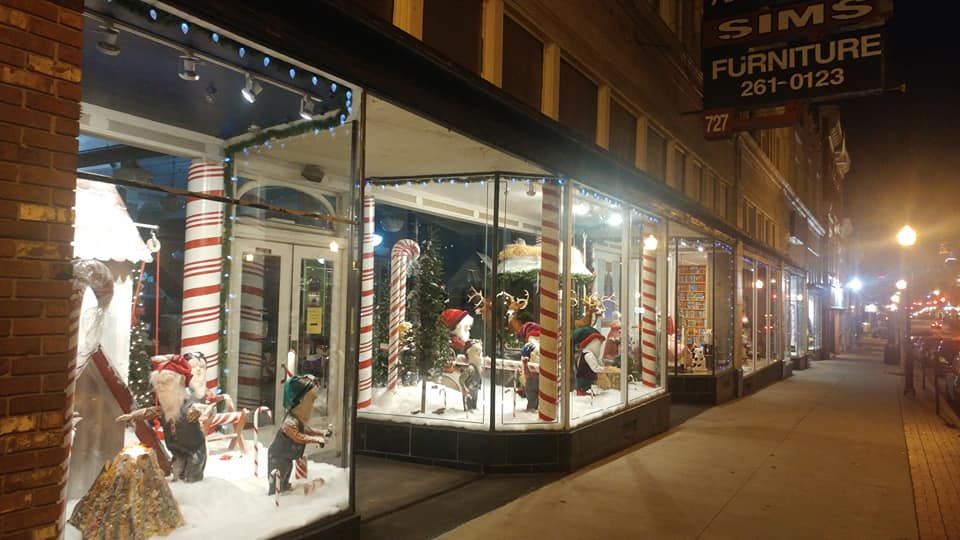 One takeaway from Johnston, the city manager, based on his previous experience in other cities, is that those cities had a centralized and recognizable center or gathering place. Covington's larger neighbor to the north, Cincinnati, has a large Christmas tree with a lighting celebration every year at its Fountain Square.
But in Covington, there are the large office towers along the riverfront on RiverCenter Blvd. There is the historic downtown core, stretching eight city blocks north to south along Madison Avenue. There is the budding commercial district along 12th St./Martin Luther King Blvd. Mainstrasse Village is nestled in its own little commercial district, as is Latonia's Ritte Corner.
Connecting those dots with a designated center presents a challenge for city leaders - in more ways than just holiday decor.
"As of now, Covington doesn't have a single area that's considered the center of town or the town square, and so finding a place to put up the official City tree and related Christmas-decorations here downtown is pretty impossible," Johnston said. "In the far future, that's something we'd like to solve."
Written by Michael Monks, editor & publisher
Top photo: A wreath adorns a decorative pole on Martin Luther King Blvd. in Covington (RCN)