Premium Content
Bellevue Gains Administrator, Covington Loses Negotiator
Fri, 01/11/2019 - 12:58
RCN Newsdesk
Frank Warnock took his seat on the dais at the Callahan Center on Wednesday night as Bellevue's new city administrator.
A day earlier, he said goodbye to the Covington city commission. 
Over the past couple of decades, Warnock has bounced back and forth between to the two river cities, serving Bellevue and the Bellevue-Dayton Fire Board as an attorney, and then Covington as city solicitor and then assistant city manager.
On Wednesday night, he brought with him to Bellevue city council something that first originated at the Covington city commission several years ago: a social contract.
"This is a mechanism to focus on the issue of everyone trying to work together and get along and advance the interests of the city in a transparent, professional, and respectful manner," Warnock told his new city council.
The social contract, or some variation of it, first emerged in December 2012 as a new Covington city commission was set to take office. That particular commission spent the next two years waging contentious battles against one another, ultimately leading to the defeat of two of them in the 2014 campaign.
Warnock had not forgotten.
"Within three weeks there was backstabbing and fighting (in Covington)," he told the Bellevue city council. "It's unenforceable and doesn't have the legal rule of law."
But his new team was eager to take a chance, approving the contract unanimously.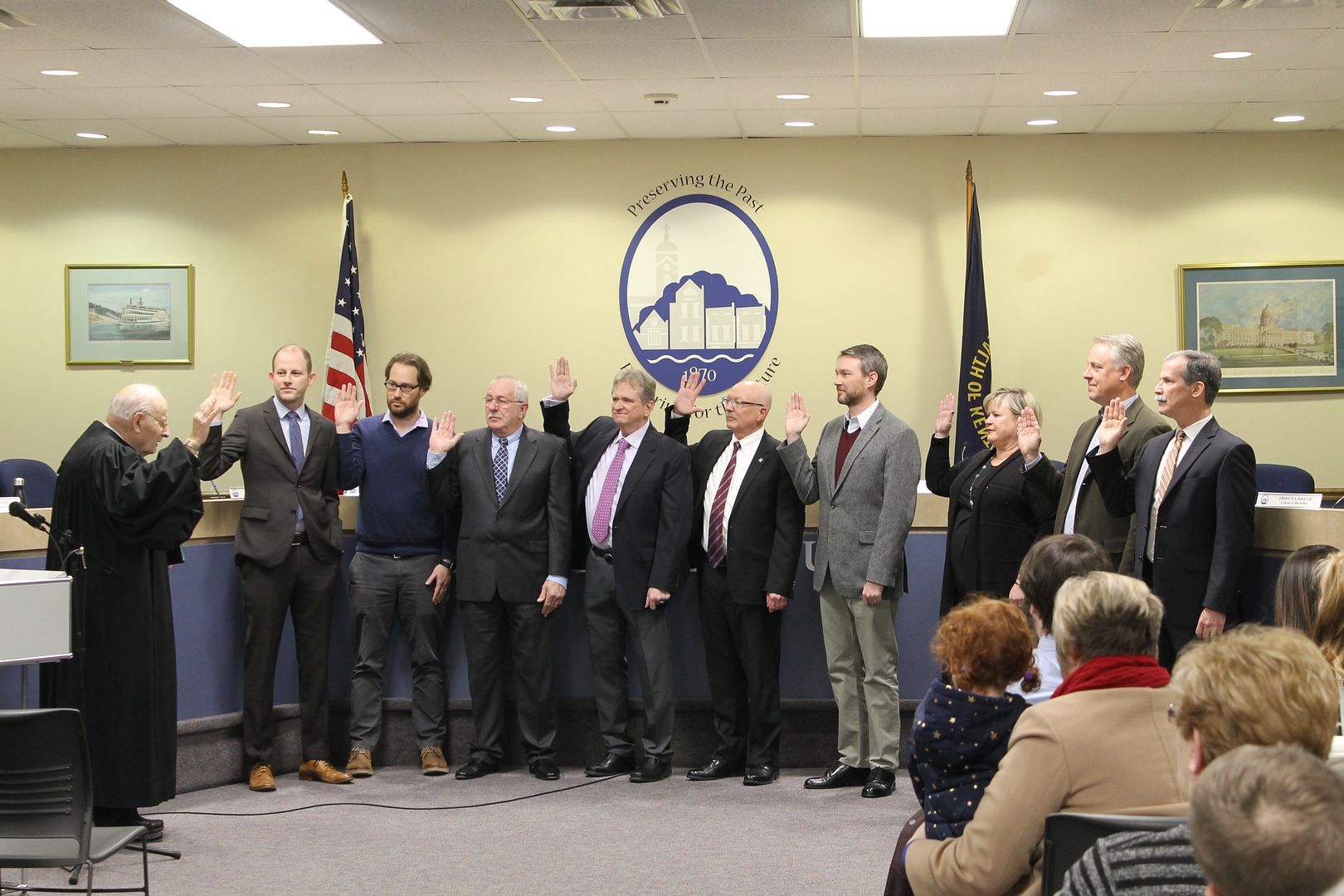 Warnock was brought back to Bellevue, at a significant pay decrease from his previous salary in Covington that was north of $100,000, by that city's newly elected mayor Charlie Cleves. Bellevue saw significant change in the makeup of its government after November's election. Former mayor Ed Riehl decided not to run for reelection, leaving Cleves to face incumbent city council member Steve Brun.
Three other members of city council also lost their seats, and only two council incumbents, Steve Guidugli and Ryan Salzman, were returned by voters. They are now joined by Sean Fisher, Pat Hogan, Shauna Kruse, and Scott Witte.
Mayor Cleves, who asked for and received former city administrator Keith Spoelker's resignation, also pushed out city attorney Mike Surrey. Bellevue native and resident David Fessler will now serve as city attorney.
The changes struck an optimistic tone on Wednesday night as the new government was sworn in by former Kentucky Supreme Court Justice Donald Wintersheimer. 
"This is probably the best staff I've ever seen," said Guidugli, who was elected to his thirteenth two-year term on city council.
In Covington, though, City Hall is set to find an outside attorney to fill a role that Warnock became known for: negotiating contracts with the city's three public employee unions.
Conversations are already underway with Local 38, the firefighters union, whose contract expired at the end of 2018.
Warnock's expertise in handling the challenging and sometimes combative talks was noted Tuesday by former mayor Denny Bowman, who returned to City Hall after being elected as a city commissioner in November. "(Unions) loved him in negotiations," Bowman said of Warnock. "He was always fair and honest with them. It's Bellevue's gain. Covington is losing a good man and I hate to see that happen, especially my first meeting back."
Warnock told The River City News that Local 38's expired contract is still in effect due to what is called an "evergreen clause" until a new contract is approved. Contracts for the Fraternal Order of Police and American Federation of State and Municipal Employees (AFSCME) don't expire until the end of June, he said. However, the goal for Covington City Hall is to have all three contracts on a same cycle, mirroring the fiscal year rather than the calendar year.
Covington is seeking a third party negotiator, which is what Warnock said would be his advice. "It provides a buffer for both the city commission and the administration," Warnock said. "My advice is to hire someone who is sensitive to both management and labor issues."
"We have good union workers here. They are dedicated to being professionals," Warnock said. "They are good, professional employees who want to make sure their coworkers are protected."
Though the Bellevue-Dayton Fire Department also has a union, that organization does not negotiate contracts with the cities.
Covington City Manager David Johnston said that Warnock would be "sorely missed."
"Unfortunately we lose his institutional knowledge because he has been very invaluable," Johnston said. Much of the top management team at Covington City Hall is new, hired within the past two years, lacking the context of previous decisions. "We don't have privilege to that," Johnston said. 
For now, Johnston said the city is looking at "what's out there" as it hunts for "qualified negotiators".
"My philosophy is we always try to be a fair and just employer and that definitely might be different from the union definition," Johnston said. "We also have to understand we have limited resources that our taxpayers give us. They understand that as well. We have to craft a good agreement."
A request for comment from Local 38 was not returned.
Written by Michael Monks, editor & publisher