Premium Content
Silver Grove School Board Discusses Merger with Campbell County
Thu, 02/07/2019 - 09:44
RCN Newsdesk
Half the stands inside the gymnasium at Silver Grove High School were filled with residents and students, mostly opposed to talks about shuttering the district and merging with Campbell County Schools. 
The Silver Grove board of education hosted a special working meeting in the gym amid a backdrop of banners and sports accolades from over the years, memorabilia that may end up stored away in the city building if the school is to be no more.
Last November's election for the board of education saw four new members elected, three to at-large seats and one to fill an unexpired term, to the five-member body.
Throughout the election last year, the future of the small school district and its very existence became a pressing issue.
Some in the community wanted to see a change in the make-up of the board because of the tax rate levied, or because of low test scores, or low enrollment, or some combination of those.
The new board members, Kathryn Dee, Paul Hehman, Tonya McCarter, and Jennifer Wade, along with Melanie Pelle, who was not on the ballot in 2018, would resign if a merger with Campbell County is approved.
On Wednesday night, with a couple dozen students holding signs in the stands opposing the merger, board attorney Zach Lotspeich walked board members, superintendent Dennis Maines, and the assembled crowd through the proposed merger agreement, which could be voted upon at Monday's regular school board meeting, also set to be hosted at the high school gym.
Among the items in the proposed agreement:
All titles to all real estate owned by Silver Grove would be transferred to Campbell County
Silver Grove will provide an inventory of all its tangible items such as books, band instruments, computers, athletic and playground equipment, furniture, vehicles (Superintendent Maines asked that Lotspeich suggest to Campbell County that this list only include items valued at $500 or more, as otherwise the list could be cumbersome to produce)
All debt obligations at Silver Grove would be the responsibility of Campbell County and all financial records will be shared during the transition process
The special education director at Silver Grove will complete tasks related to individualized Education Programs (IEP) for students
Effective for tax year 2020, Silver Grove taxpayers will pay the rate set by the Campbell County Board of Education
All historic memorabilia such as banners and trophies from Silver Grove will be the responsibility of the Silver Grove Board of Education, which may approach the City of Silver Grove about storage options.
It is also unclear what will happen to the school building, which houses grades preschool through 12. There was no suggestion that any classes would operate there.
No decision was made Wednesday night about the future of the district and no public comment was permitted due to it being a working meeting rather than a legislative one. Lottspeich will present feedback from Silver Grove to the Campbell County Board of Education and its attorney, Garry Edmondson, and the merger may be considered for a vote on Monday.
One other item that will be discussed is whether Silver Grove teachers and staff will be given the opportunity to interview for comparable roles at Campbell County. Typically, a school district lets faculty know by May whether they will return for the new school year in fall, Superintendent Maines said.
But now, even he, is unsure of where he will be working next school year.
"In Campbell County right now, there is a possibility that not a single Silver Grove employee will get hired," Maines said. "That possibility exists. So, I think it's important you are aware of that, regardless of tenure or seniority, that doesn't matter.
"I don't want to wait till the final hour. I don't think that's fair."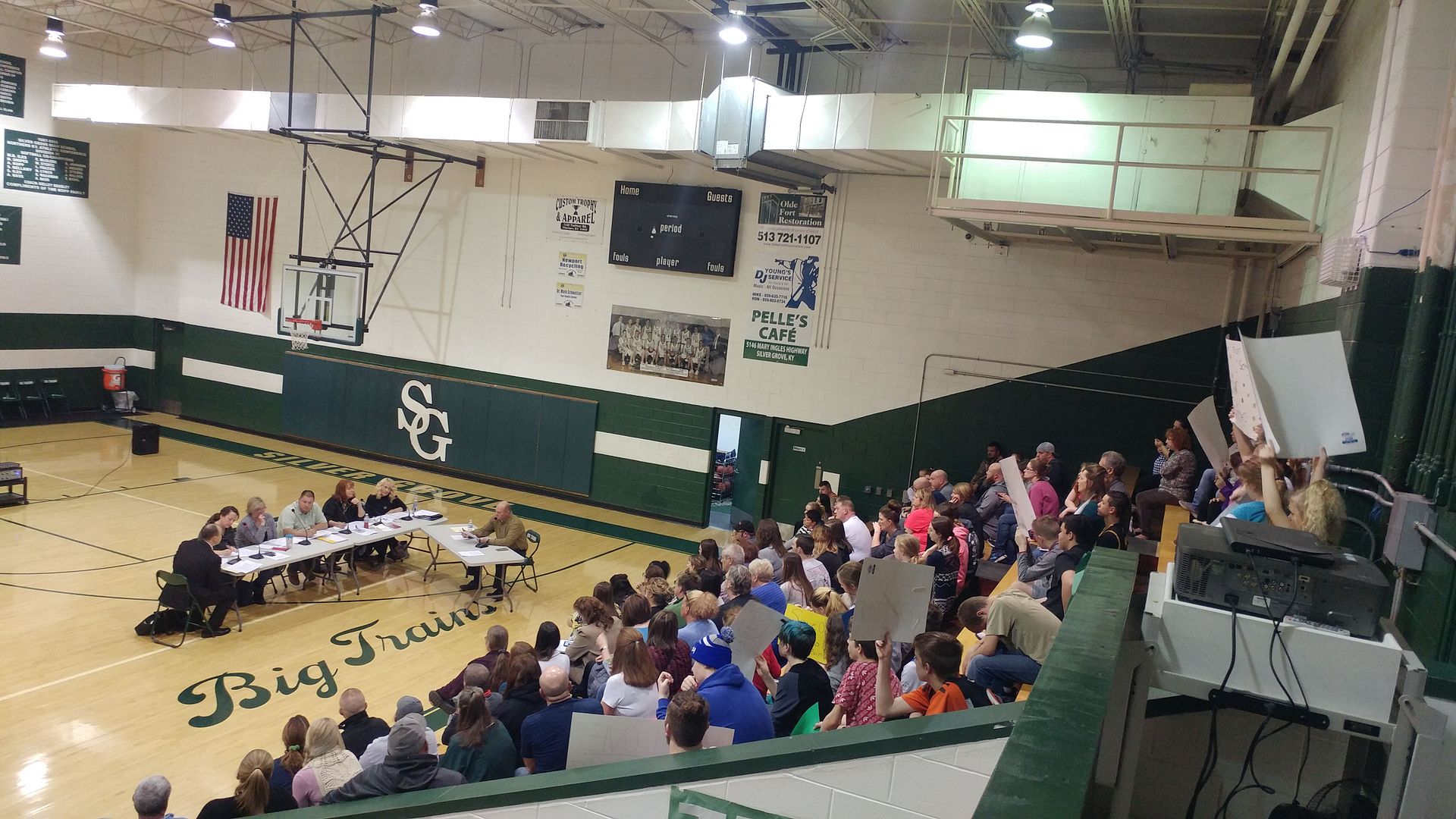 One particular area of concern, Maines said, is veteran teachers with two or more decades of experience who are more costly for school districts to hire due to higher salary requirements and retirement benefits. "It puts someone at that level of experience strongly at a disadvantage, by far," he said.
The Silver Grove board will request of Campbell County that Silver Grove teachers and staff know by April 15 whether they will be interviewed for comparable positions, should a merger take place.
"It puts many of our seasoned veterans in a terrible position, it truly does," Maines said. "I would love to know where I'm working next year because I don't know, I don't have a clue. We all have families, we all have bills, we all have mortgages, and right now there is the possibility that we are unemployed."
Much of the crowd applauded his remarks.
After the meeting, some students wept at the prospect that there school would go away. "My children are fifth generation students here and this is very disheartening for us to deal with in the middle of the year," said Sarah Remley, a parent, coach, and instructional assistant at Silver Grove. Her daughter, Jazalyn, cried inconsolably nearby. Remley opposes a merger but said that it would have been more digestible with more time to consider it, rather than pushing for it now, less than two months into the new term for the board of education.
"This is my home and you saw the kids, you saw the parents. We provide a different type of education and different type of setting that some kids need. Some kids need this. I'm just completely heartbroken."
The district, she said, has seen an increase in enrollment, and though its graduating classes recently have numbered in the single digits, the district overall has 215 students across all grades. She also expressed anger that the district's ACT scores were released last fall, which averaged 14.8 on a 36-point scale. Only one other school in the state scored lower. The Kentucky Department of Education releases high school juniors' ACT scores annually, but Remley said that because only 7 Silver Grove students took the test, the scores for that district should have remained private.
She said she would not send her kids to Campbell County.
Transportation to and from Campbell County was also raised as a concern, because now a neighborhood school would vanish and buses to Alexandria and other central county cities would be needed. Silver Grove's poverty level is high, and there is concern that some families would not be able to drive to the new schools in order to pick up their children when district transportation is not an option, such as in cases of early dismissal for sickness.
Sandy Smith, who graduated from Silver Grove in 1984, and now has a grandson and two great-nieces in the school district, also wants to see Silver Grove remain. "87 percent of our students are in poverty level. They keep saying opportunity, but they're not understanding that even if they get the opportunity they can't play the sports, they don't have the transportation, they don't have the money, they're going to get left out," Smith said.
But the issue of the school district's future does not draw unanimous support one way or the other. While the gym was full of district supporters, voters picked significant change to the school board with the idea that consolidation would be explored. "The community is definitely divided," Smith said.
Pelle, the lone board member to return from last year, spoke against the current set-up of the merger proposal.
"Right now this merger agreement benefits Campbell County and not Silver Grove," she said. "I hear '5,000 students' and that takes my breath away. I think that's too big," Pelle said. She suggested that Silver Grove could lower its tax rate, implement its multi-million dollar literacy grant, and even reduce its load to a kindergarten through 8th grade district, and then allow high school students to go elsewhere in order for the district to survive.
"I think we can keep our teachers here and keep our kids local in a small classroom setting, and we keep control of our building," Pelle said. "This merger agreement is not good for anybody other than Campbell County, or taxpayers who don't have kids here."
The Silver Grove board of education also looked over a letter that will be sent to the community explaining the situation.
Monday's meeting is set for 6 p.m.
Written by Michael Monks, editor & publisher
Photos by RCN