Premium Content
Burlington Girl Selected for National Equestrian Team
Mon, 02/18/2019 - 17:37
RCN Newsdesk
A local girl was selected among twelve young people across the nation to be part of the U.S. Saddle Seat Equitation Young Riders team.
The team serves as a sort of bench for the Saddle Seat World Cup Competition teams.
Chelsea Dragan, 15, of Burlington, received the news of her selection last month.
"Chelsea has been riding for six years, and set this as her goal three years ago," said Deanna Dragan, Chelsea's mom. "It has taken a lot of hard work and dedication to accomplish this. She rides all over the country and has shown many different horses to showcase her abilities and horsemanship."
When Chelsea was 9, a trainer came into the restaurant owned by Chelsea's grandmother and asked if she could train Chelsea at the Little Britain Stables, commenting that Chelsea has what it takes for good horsemanship.
So Chelsea started training, concentrating on equitation, the discipline of showing saddlebred horses. Other coaches commented on Chelsea's natural timing, saying that was something that couldn't be taught.   
Chelsea has a horse, a 5-year old liver-chestnut gelding saddlebred named Fluffy. Chelsea laughs at the name, but said the previous owners had wanted her to keep the nickname, so she did, and he seems to like his name.
The horse's formal name is Calloway Timothy Ives.
Fluffy, as he is more familiarly known, is stabled in Louisville.
Chelsea, a student at Cooper High School in Union, travels all over with her mother, particularly during the April to November competition season.
"This is kind of an addiction," said Deanna. "Her teachers are all supportive and work with her while she competes.It is a huge commitment and a big dream."
Chelsea said she tries to stay on the A-B honor roll at Cooper. Math is her favorite subject, and she is in the pep club at school. She doesn't have time for much else, spending six days a week cleaning stalls and working with horses.
Chelsea competes in a variety of horse events, such as walk, trot, canter, slow gait, and rack.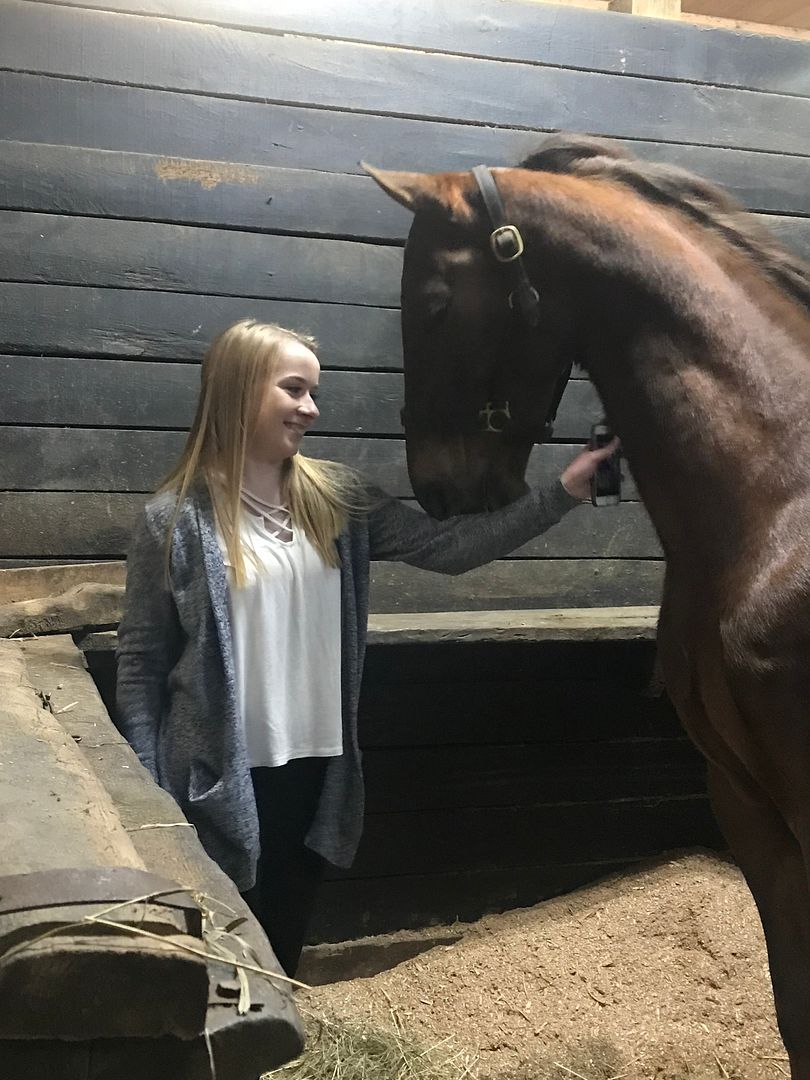 The work is judged on rail work and the patterns the rider has to memorize and execute. The patterns are given out an hour before the competition, and Deanna said some of the patterns can be difficult.
Before the competition, the riders draw for their horses, which are donated to the competition from area stables, and are usually lesson horses. The higher quality horses generally take more effort to control.
As a rider, Chelsea has to show her talent at handling a horse she just met and guiding that horse through a course with a pattern she just memorized.
To compete to be on the Young Riders team, each contestant had to submit a video of how they work with the horses, and how they compete with various horses who are brand new to them.
Chelsea said she likes to take the little time she has and try to get to know the horse.
"I like to spend a little time in the stall with them," she said. "I can find out what their favorite treats are, and where they like to be scratched. Most of them are nice. Some horses are really strong, and you have to really know how to hold them and persuade them to do what you want them to do."
Chelsea is also thinking about college and her future, and would like to be a professional horse trainer.
In the meantime, Chelsea will prepare for the 2019 U.S. Saddle Seat Invitational Test Event, which takes place in Las Vegas, October 31 to November 2. The U.S. team will compete against Canada.
Written by Patricia A. Scheyer, RCN contributor
Photos provided