Premium Content
Outdoor Fitness Gym Coming to Newport Park
Tue, 02/26/2019 - 07:17
RCN Newsdesk
Newport City Manager Tom Fromme called Josh Tunning, with the community organization ReNewport, and asked for help in fundraising for a proposed outdoor fitness gym at Buena Vista Park.
The price, $120,000, startled Tunning.
"We heard the price tag and thought, this might be difficult," Tunning said Monday night at the Newport city commission meeting.
It would be the largest amount of money needed for the relatively new organization that has already made significant impacts through its business facade program and other community-based efforts.
The ReNewport team got to work again after leading the first effort to draw the attention of the National Fitness Campaign, which creates these outdoor fitness attractions in communities. $30,000 came from that national group and another $30,000 came from the Newport Foundation.
ReNewport was half-way there.
Then, on Monday night, St. Elizabeth Healthcare, to whom ReNewport had submitted a proposal, came through with the rest, presenting a giant check for $60,000.
With $120,000 in hand, or in the City of Newport's hands, the new Buena Vista Park attraction is expected to be constructed and open by summer.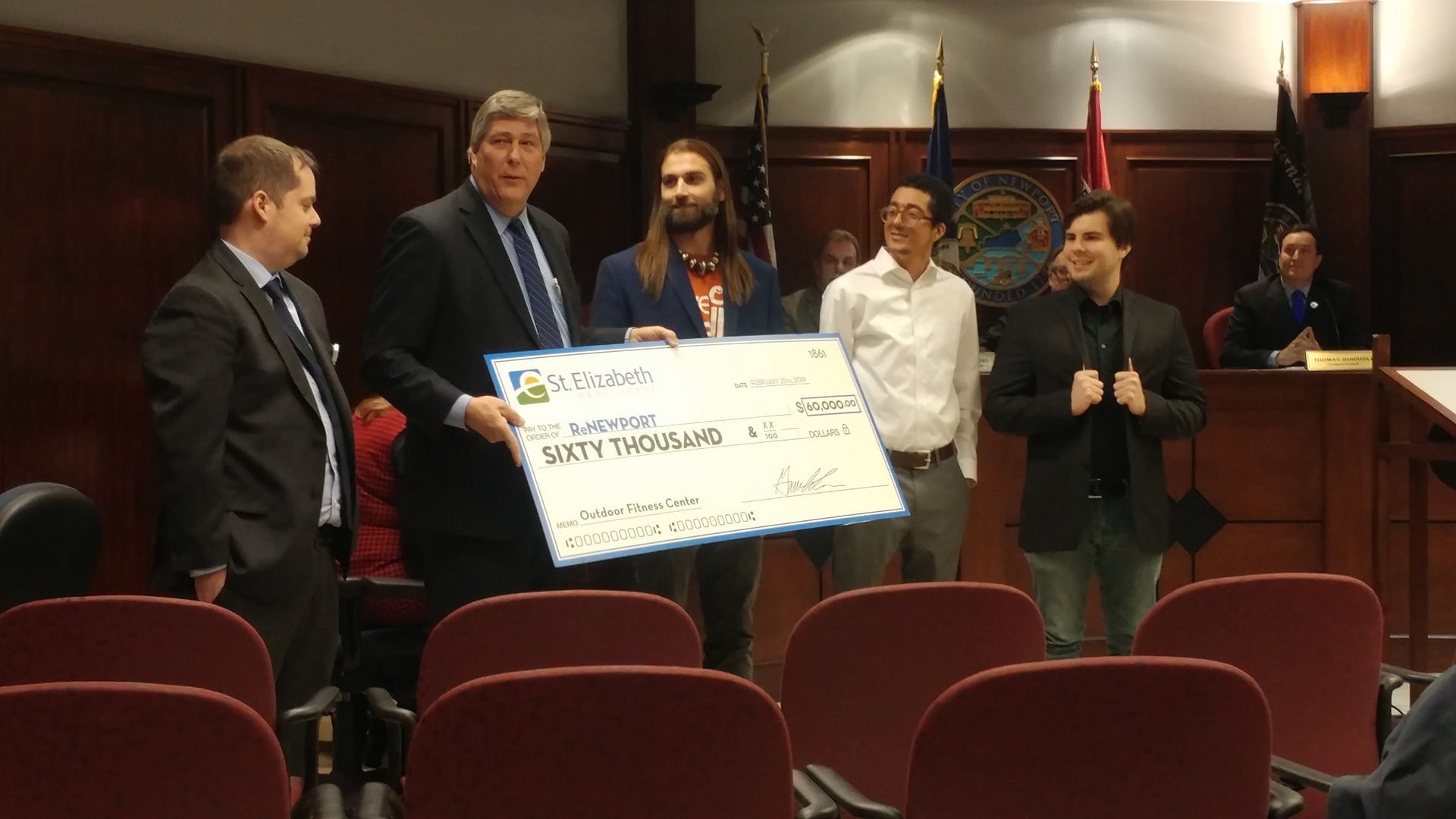 Tunning was joined by fellow ReNewport members Gordon Henry and Steve Mathisen in accepting the check from St. E's Bruno Giacomuzzi, chief operating officer at the Fort Thomas campus, and Scott Sedmak, director of community relations.
The new outdoor fitness facility will offer opportunities for plyometric and body-weight exercises. It comes with an app that allows users to design their own workouts.
To use the gym, there will be no charge.
Up next for the park is a Go Vibrant Trail that will facilitate more walking and running opportunities. One, two, and three-mile trails are expected this spring and summer.
Written by Michael Monks, editor & publisher