Premium Content
Galaxie Skateshop Makes Move, Investment to Newport's West Side
Fri, 05/03/2019 - 17:05
RCN Newsdesk
"I see tons of opportunities in the West End because the stuff is still pretty low-priced," said Gary Collins, who owns and operates Galaxie Skateshop, a regional destination for skateboard enthusiasts.
The shop moved from a prominent location in the historic business district of Newport's Monmouth Street to the west side of town, and an old building at 121 West Tenth Street.
It may not appear to be the most commercially-savvy decision, with Monmouth's Street accessibility and desirability, and the West End's rebound still in its infancy.
But Collins knows skating, and he knows rough neighborhoods.
"I see a lot of residents and kids who have challenging home lives. I see a lot of kids living in unfortunate situations and I just want to give them something that can inspire them or influence them to know that this is not all there is," he said last month while giving a tour of his renovations.
The business officially opened at the new location on Friday.
"Kids, they become victims of their surroundings, so they see a lot of people on drugs over here," he said. "I am taking this as an opportunity to give them something positive and a different outlook on life."
Collins said that he, too, grew up poor in Covington but through skateboarding found the right path. "If I didn't have that, who knows what would have happened," Collins said.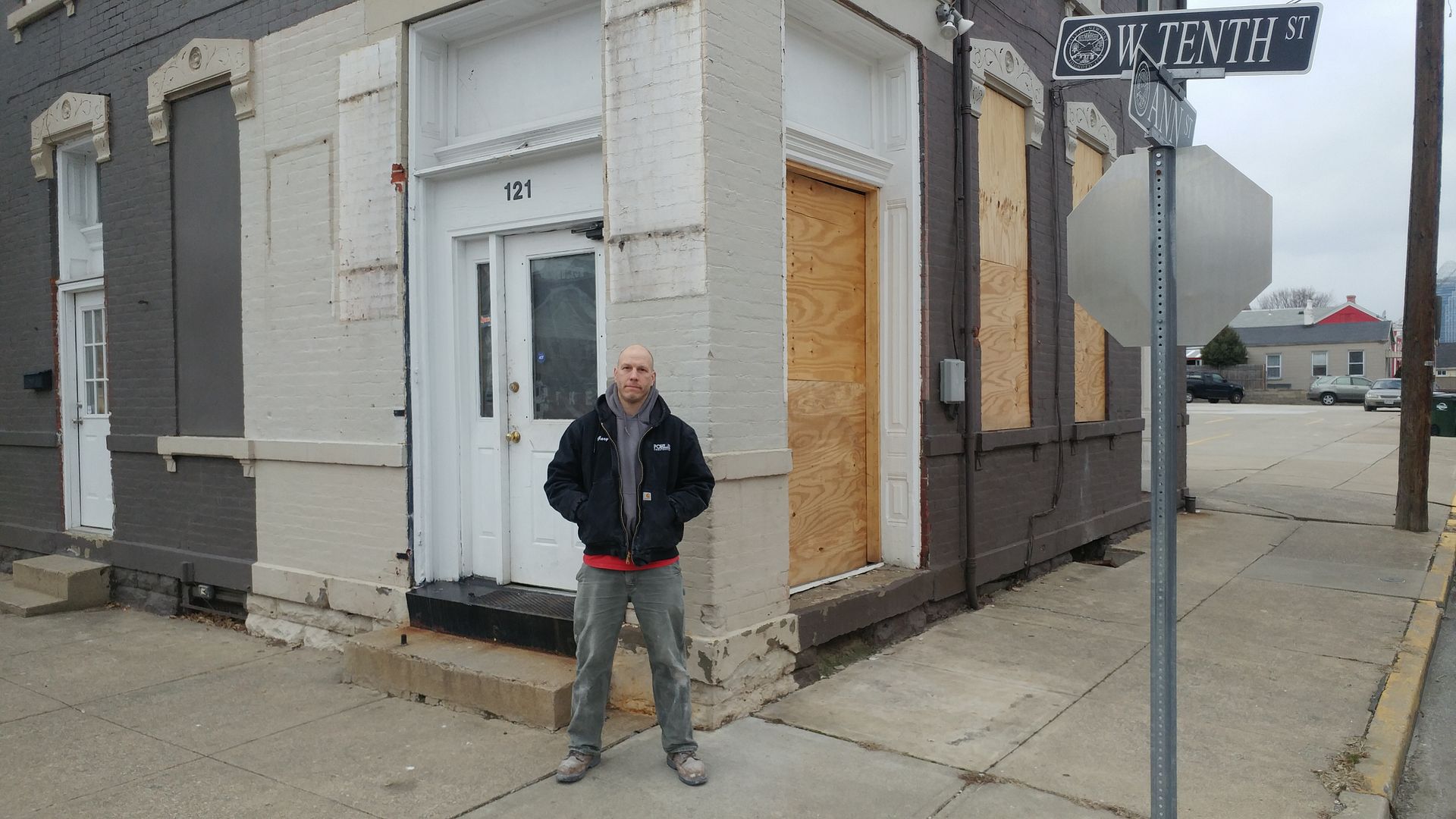 Gary Collins stands outside his new location for Galaxie Skateshop, which was in mid-renovation (RCN)
He was not successful at Holmes High School, but he could skate, so he left. His skills on the board landed him endorsement deals and led him to competitions across the country.
In 2009, he bought Galaxie from a friend who had previously distributed items sold through Collins's brand, Instrument. "He made me an offer I couldn't refuse and the rest is history," Collins remembered.
In the new space, though he won't have the central business foot traffic, Collins will have more space. The building has an apartment upstairs where some employees now live. And with more room, there will be more live events, music, and art shows.
Collins also hopes to put a skate ramp in the yard.
"It's going to be a lot more lively and geared towards skating rather than being on the main street and having to quell it a bit," Collins said. His previous location was rented from Mayor Jerry Peluso.
In the renovation work on 10th Street, Collins ripped down walls, took down plaster, restored windows and doors, and found lots of old business signs from the building's previous lives.
It dates back to the late nineteenth century.
The renovation includes exposed brick, and some of the decor will be made up of those historic items found along the way.
Most visible will be the double-doors on the Ann Street of the corner location. They had been covered for at least half a century, Collins said. They were restored and moved to the front entrance.
The building shows growth in Collins's business and his acumen. It has been nearly thirty years since the first time he picked up a skateboard as a teen.
A new mural by artist Derek Toebbe adorns an exterior wall at the new Galaxie Skateshop in Newport (Gary Collins)
"The first day I went to Holmes, I saw some kids who had a skateboard. They let me ride, and I pretty much started skating the next day," Collins, 42, said. "It just kind of happened naturally. I started skating all the time, living and breathing it all the time, and started getting better at it, got some sponsors, and ended up traveling the whole world skating."
He skated professionally from the ages of 20 to 32.
When he returned to Northern Kentucky after his last endorsement deal expired, Collins started hi sown brand. "And that's what started the entrepreneurial aspect of my life," he said.
A scene from the Newport Skate Park (Grant Moxley)
Now he's the go-to for local skaters also enchanted by the opportunities the board can bring.
Collins is involved with the Newport Skate Park, the once-rogue undertaking underneath I-471 on the Newport-Bellevue line, which is now sanctioned and celebrated by the city.
That spot brings skaters to Newport, and potential customers to Galaxie.
"We're a destination business. The skaters are going to come here no matter where we are," Collins said.
The shop carries skateboard culture-influenced items, including, of course, skateboards, but also clothing and shoes.
And now the work begins at creating a destination within Newport's West End.
"It's a little bit of a risk moving to the West End. But, I've been doing stuff people told me I couldn't do all my life, or that they wouldn't advise. A lot of people right now still think I'm crazy for moving over here, but ultimately, I own the building, so whatever revenue I might lose from passerby, it's not going to equal what I lost paying rent to someone else."
The risk of the up-and-coming neighborhood, which is seeing more investment and home rehabs and commercial operations in recent years, may be lessening. Collins looks forward to being among these pioneers.
"Every one of these corner buildings, all the windows are bricked up and boarded up, but they all used to be commercial buildings," he said. "They've been forgotten or transformed into some low-end apartments. But there is some architectural value over here and I think once people see someone else do it...
"I think we just need one more pin to drop over here and it's going to explode. There's no reason it wouldn't be the next big thing."
Written by Michael Monks, editor & publisher
Top photo: Gary Collins works on Newport Skate Park (Grant Moxley)