Premium Content
Ludlow Building Was Set to Be Razed, Will Now Be Developed
Fri, 05/10/2019 - 16:44
RCN Newsdesk
In February, the City of Ludlow was prepared to send the building commonly referred to as Ernie's to its end.
The city paid $20,000 for the property at 333-335 Elm Street but no projects ever emerged and earlier this year, Mayor Josh Boone said that it was too far gone to be saved.
So, the city sought a company to raze it.
But after the story was reported in The River City News, an inquiry came in.
On Thursday night, the Ludlow city council voted to sell the building for $1 to Covington-based developer Sparen Realty. Its president, Joe Stevie, told RCN on Friday that he plans to transform the site into a mixed-use project, with two commercial spaces on the street-level and two to four residential units above, with possible an additional floor added on top.
Stevie is working with architect Tyler Watkins of Work Architecture and developers Daniel Streicher and Nick Manning on the project.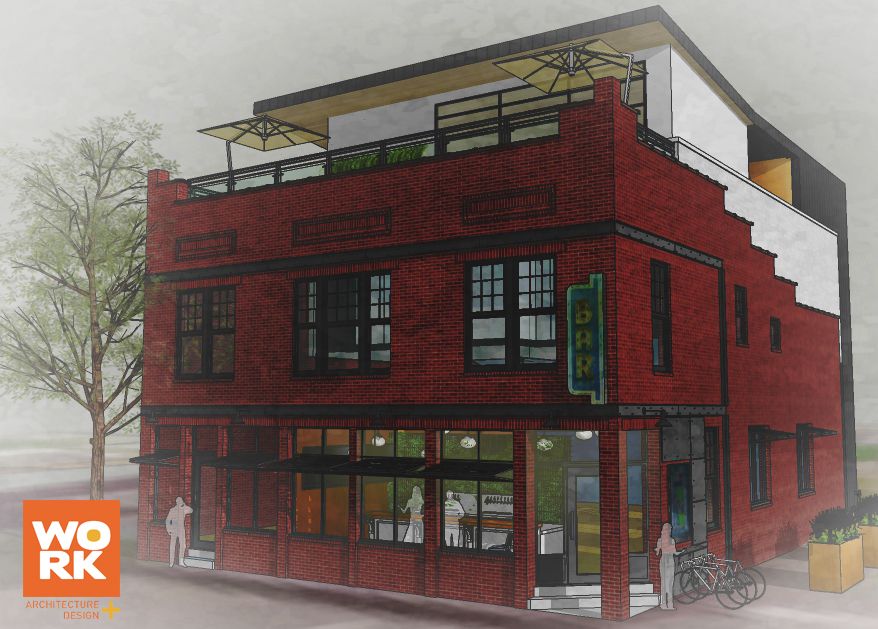 Rendering of what the building could look like when renovated (provided)
"I like the look of the building. It has some character and some history behind it," Stevie said.
Some of that history includes being spotted in the 1993 film Lost In Yonker, a cinematic adaptation of the classic Neil Simon play, which was partially shot in Ludlow. 
Though the building was deemed to be impossible to be redeveloped, Stevie said that the foundation is strong and that it would make for a solid addition to the new activity on Elm Street, particularly near the Ernie's Building. Second Sights Spirits recently expanded, and Bircus Brewing is now operational, too. "We're hoping to do due diligence as fast as we possibly can," Stevie said.
By the winter, Stevie hopes to have a new roof and windows installed. The entire interior will have to be gutted, he said.
As for the commercial spaces, Stevie said that a restaurant/bar would be appropriate for one space and perhaps an office or barber shop for the other. One of the upper-level residential units, if an additional floor is built, would have an outdoor space overlooking the street as detailed in the rendering provided to The River City News.
"Our main thing is, we love the location. It completes the block," Stevie said. "I know the citizens of Ludlow were sad to see this one go. I think we're going to give it a shot to help save it and we think it will bring back that part of the business district."
Written by Michael Monks, editor & publisher
Top photo: Ernie's building as seen this week (RCN)