Premium Content
Changes Coming to Newport Underpass on Monmouth Street
Mon, 06/10/2019 - 17:32
RCN Newsdesk
Changes are coming to a more than 80-year old underpass on Newport's Monmouth Street.
Late last month, the city commission voted to approve agreements with the Kentucky Transportation Cabinet and Integrated Engineering for the $7.9 million project.
The project is expected to be finished in two phases over two years.
For phase one, "We are looking at pedestrian and bicycle improvements in that area and maybe taking down stairwells there," said assistant city manager Larisa Sims. The second part, she said, would go along U.S. 27 (Monmouth Street) from Carothers Road to the city border with Southgate, improving sidewalks, streetscapes, and access management.
Underground utilities will also be a possibility.
"We met with Duke (Energy) to explore the scope of that," Sims said.
"It's very unsafe with the sidewalks so close to the roadway," said City Commissioner Beth Fennell.
The funding is mostly coming from Ohio Kentucky Indiana Regional Council of Governments (OKI) where Fennell represents the city. "Relationships are important," she said.
The city will pay for 20 percent.
The underpass, which connects the central business district to the shopping center district, was dedicated in December 1936. Two-thousand people showed up for the event.
---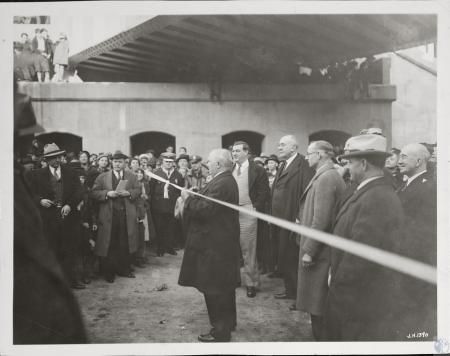 Dedication of Monmouth Street Underpass - O.M. Rogers (State Highway Commissioner), Joseph Heman, Brent Spence, John Rawlings December 15, 1936 at 4 p.m. (Via Kenton County Public Library)
---
Prior to its installation, passenger trains would cross Monmouth at grade-level, with a gate to stop traffic. Blockages would often take place for extended periods of time.
The underpass allowed trains to continue above while passenger cars moved below. Pedestrians could and can still use stairs on both sides of the street.
Some of those stairs could be taken out, Sims said.
"We will see which parts are structural and which will be taken down," Sims said.
The construction, which will start at a yet-to-be-announced date, will likely have an impact on traffic. Sims said the city would have a traffic management plan from the state (27 is a state route).
Written by Michael Monks, editor & publisher
Top photo: Monmouth Street underpass (RCN)