Premium Content
Tishana Holmes & Pacman Jones Open Pizza Spot in Covington
Fri, 06/14/2019 - 18:48
RCN Newsdesk
Tishana Holmes learned a love for food from her father, a culinary chef in her native Tennessee where he operates a catering business.
She is bringing those kitchen skills to Covington, with her husband, former Cincinnati Bengals player Adam "Pacman" Jones, with EndZone Pizza, named as a nod to the other business that brought the couple to the region.
"We put in a lot of work to make sure we come into the community and just represent very well," Holmes said. "We want to come into the community and add to what you already have, and just add our flair to it."
---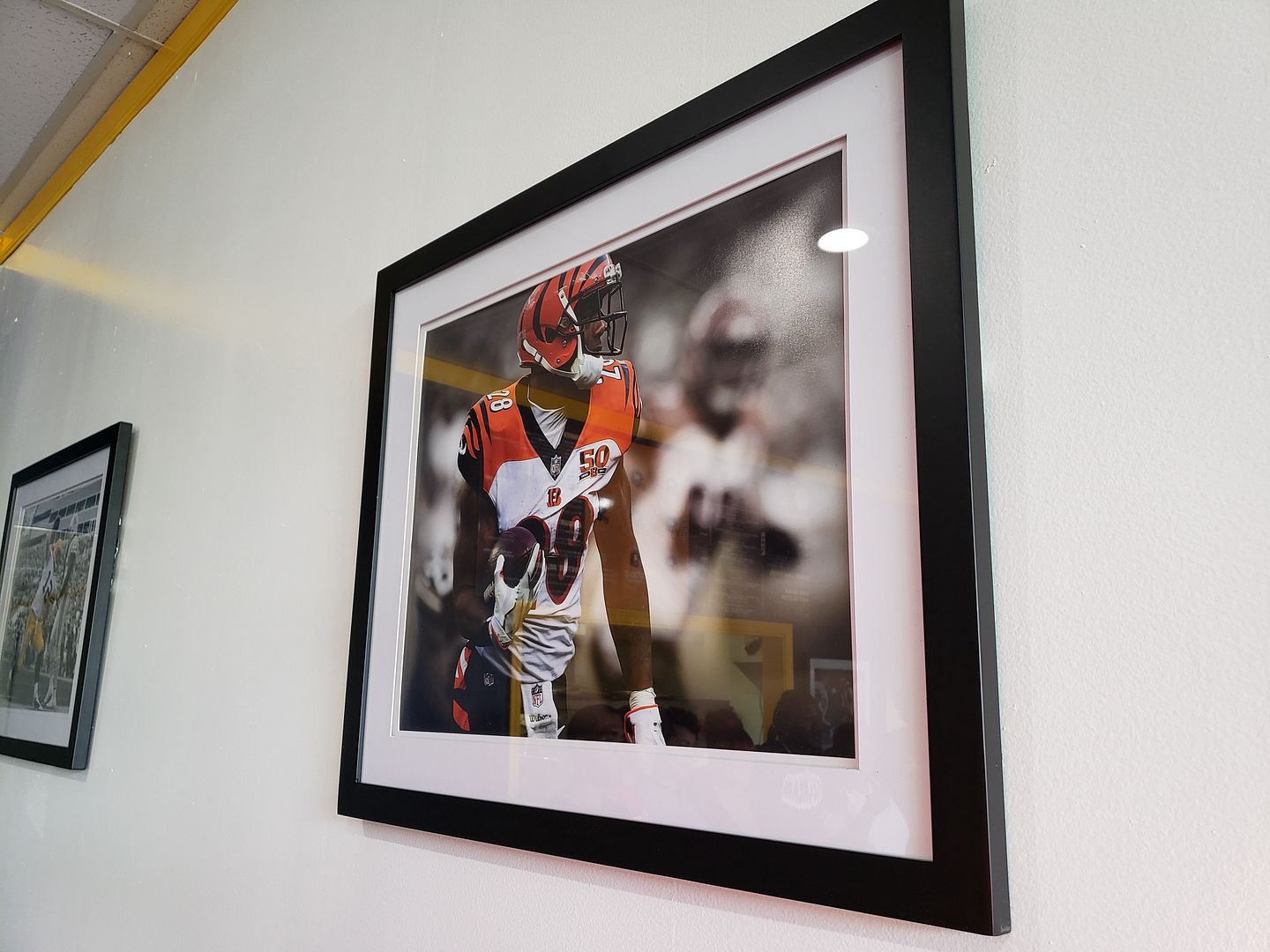 ---
Holmes and Jones have three daughters and have cooked pizza at home for years. Now, everyone else will have a chance to try some of Holmes's signature family recipes.
She expects the seafood pizza to be a popular item, along with the dry rub wings, which are tossed in a Grippo's potato chip and lemon pepper dust.
EndZone opens Saturday at 2607 Madison Avenue, a space previously occupied by Giuseppe's Pizza, and before that by Germantown Pizza for many years. The space became known to Jones because he gets his hair cut at Hair on the Floor barber shop next door.
"She is the genius behind everything," Jones said of his wife. "She's done an unbelievable job coming up with the concept that is really catchy."
Beyond the name, the menu is full of football references, too. Pizzas are called first string (cheese), the secondary (pepperoni), the mascot (Philly cheese steak), and the endzone (southern fried chicken, caramelized jalapenos, onions, and honey drizzle). The Covington touchdown is topped with pepperoni, peppers, mushrooms, olives, onions, and banana peppers.
---
Jones, Holmes, and team celebrate EndZone Pizza (RCN)
---
Wings are named for Bengals favorites, including Pacman, himself. The Pac attack is a teriyaki sauced wing with red pepper and yellow pepper. Other players referenced in the wing section of the menu include Chad "Ocho Cinco" Johnson (the Ocho spice), Ickey Woods (the Ickey Shuffle, naturally), Andrew Whitworth (the Whitworth), and the late Chris Henry (Slim Henry sauce), whom Jones referred to as his best friend. Henry died in 2009 after falling from a truck.
But the star of this show, Jones said, is his Tishana. "She is grooming three chefs into what she thinks the food should taste like. She's been up night and day doing this," Jones said. "I really don't get kudos in this, besides her telling me what to do and when to do it."
The booths from the former restaurants have been removed and the space is more open now, with small tables that sit four or more. The walls are adorned with still images from touchdowns in the NFL. 
The interior is football-inspired while the tastes are southern in nature. "I was raised in Tennessee with my father and my husband is a Georgia boy, so it's all of that mixed in," Holmes said. 
Everything is made on site. Jones, who said he's a picky eater who demands that food be the same each time he visits another restaurant, said he'd rather the prep work take an extra couple minutes so that the customer enjoys the dining experience. 
---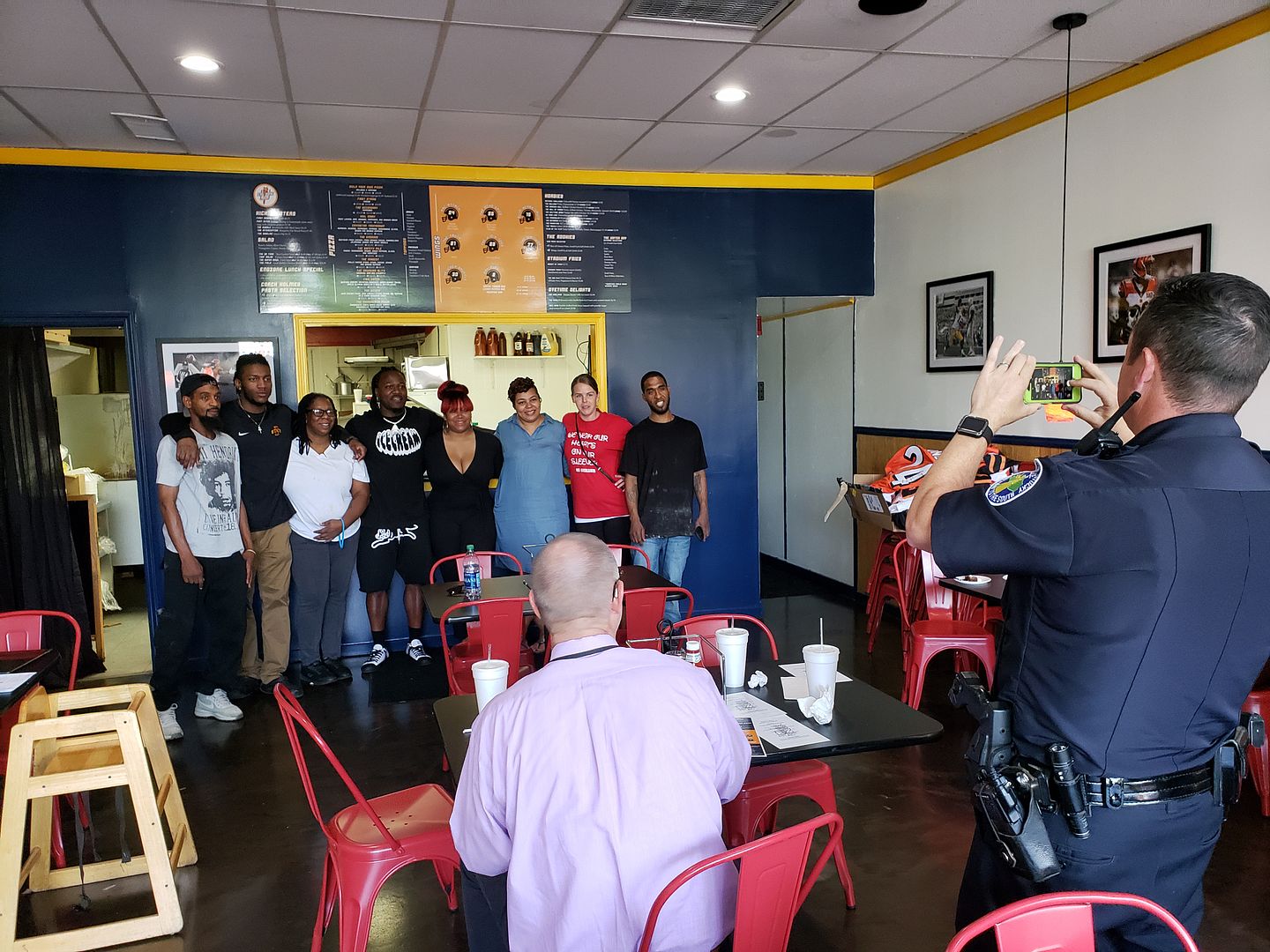 EndZone team poses for a photo from Covington Police Chief Rob Nader, who popped in to try the menu during a preview on Friday (RCN)
---
Outside of food work, the couple is looking to be involved in the nearby community, and has already been introduced to the principal at Holmes High School across the street. 
The ultimate goal for EndZone is to score more touchdowns, which they will tabulate by customers' smiles - and feedback from post-meal surveys. This new Covington location could be the first of more to come, Holmes said.
"We want to build the foundation here," she said.
"Touchdowns have been a big part of our family for many years now, and that's where got out motto from: Your Smile is Our Touchdown," Holmes said. "We've had the opportunity and blessing to make touchdowns on the field and now we want to make a touchdown off the field."
Story & photos by Michael Monks, editor & publisher