NKY Crews Cleaning Up After Storm Damage
Sun, 06/16/2019 - 15:05
RCN Newsdesk
Crews from the City of Covington continue the effort to clean up after massive storms flooded and damaged city streets late Saturday and early Sunday.
A news release from the city said that the public works department worked throughout the night and all day Sunday.
Trees were knocked down, pavement was ripped up, intersections were flooded, and there are numerous reports of flooded basements, primarily in the city's Peaselburg neighborhood.
Tree falls on car in Covington's Licking Riverside neighborhood
---
Communities across Northern Kentucky were hit hard by the heavy rains. 
At the Wilder-Newport line, a landslide blocked lanes on Licking Pike (KY 9) and local police said the entire roadway is shut down until further notice.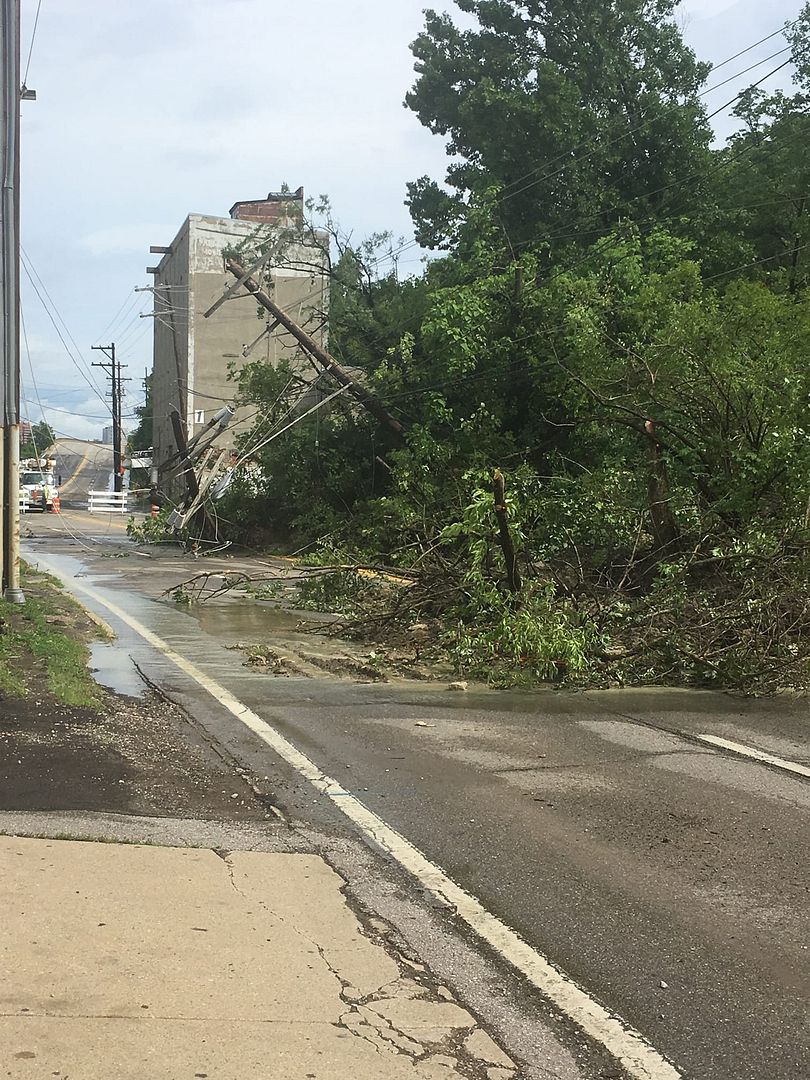 Licking Pike in Wilder
---
"It's everywhere," said Covington public works director Rick Davis, referring to the damage and issues across the city.
Davis said he had three crews still out early Sunday afternoon, cutting up trees, shoveling up mud and gravel, and using a backhoe and a Bobcat to clean up torn-up asphalt.
Much of the flooding occurred in the low spots of the Peaselburg and Lewisburg neighborhoods in the shadow of hills.
Weather stations are reporting more than 5 inches of rain fell in 24 hours on ground that was already saturated.
Crews were first dispatched around midnight to barricade streets that had several feet of water washing down them, Davis said.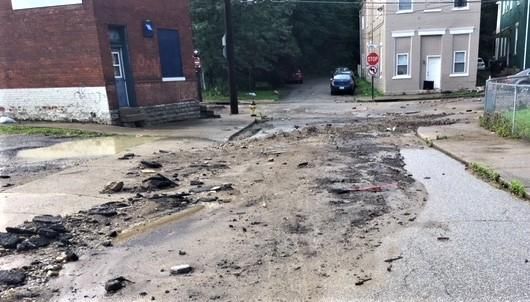 Intersection of Baker and Lewis streets in Covington
---
"There's not a whole lot you can do once the flood comes," Davis said. "It was like a tsunami of water. It was crazy."
In a news release, Davis said he believed the flooding in Covington would have been worse if the city had not spent the last few years working with Sanitation District 1 and others to build four detention ponds near the Monte Casino neighborhood. Three more ponds in that area are in the planning stages, as is a project that would help detain much of the water washing off the hills above Lewisburg.
-Staff report