Premium Content
Cities Feeling Pinch, Few Answers Offered by Pension Chief
Tue, 06/25/2019 - 16:19
RCN Newsdesk
Fort Mitchell Mayor Jude Hehman warned city council and residents earlier this month about the escalating costs of the city's pension contributions, a message being shared among most of the cities of Northern Kentucky.
In Ft. Mitchell, the annual pension costs are expected to climb from just under $1 million to nearly $1.7 million in five years.
Hehman presented a budget free of increases to property and utility taxes, though the city did increase its payroll tax from 1 to 1.25 percent. Next year, other increases could come.
"We will have to look at other revenue sources," Hehman said.
For Ft. Mitchell, the fire department is a costly endeavor as the city works to increase staffing there.
"It is important to have a professional fire department that is adequately staffed," Hehman said. The city needs a minimum of five EMS staff members for an ambulance or fire truck to tend to an emergency, he said. "We have been steadily moving towards this since our goal in 2014. We will continue to move to a five-staff model.
"It will require a deep dive into revenue options."
Currently, the fire department staffs four people around the clock, and during daytime peak hours has six or seven at the firehouse. "In the evening, we have to rely on mutual aid," Hehman said. 
To reach its goal of five staff members at the fire department around the clock, three full-time and two part-time firefighters would need to be hired.
The city is also purchasing a new ladder truck for the department. A dream purchase would be an aerial truck for the department, Hehman said, but, "How do I buy a million-dollar truck if I can't staff it?"
The City of Covington also adopted a budget with no increase to property taxes, but Mayor Joe Meyer called the $110 million all-funds budget "cautious and conservative."
"We have no intention of retreating on the momentum we've made, but given some pressures inflicted on us from outside the city, we're also not making promises that we will not be able to keep in the years ahead," Meyer said.
City Manager David Johnston called Covington's budget "the consummate status quo." "One that holds the line yet also defends the line," he said.
Nearly three-quarters of Covington's general fund is spent on police, fire, and public works. 
Like Ft. Mitchell, Covington is also feeling the pinch of increased pension contributions as mandated by the administration of Governor Matt Bevin. The city's pension bill for the 2019-20 fiscal year will be more than $8 million.
Covington also faces the imminent loss of its largest employer, the Internal Revenue Service, which is closing its "flat top" building along 4th Street in September. It is unclear how many jobs will be lost, but the city estimates about a $500,000 loss in payroll tax revenue.
Meanwhile, the Covington Fire Department hired eight new members in 2016 thanks to a federal grant that has now expired, meaning the city must pay about $611,000 in general fund money to keep those employees.
Additionally, there will be less property tax revenue from another of the city's larger employers, Fidelity Investments, which got a reduction of its assessed value of the Covington campus, reducing the city's collection by about $165,000 each year. Corporex is also seeking a reduction in its tax bill.
While downtown Covington has seen an influx of new businesses and residents, there has been little to no financial impact to the city's coffers.
Much of the growth downtown is rebated to developers or is reserved for other purposes outside the general fund.
Cities grappling with lower revenues and increased pension costs are finding little comfort from Kentucky Retirement Systems executive director David Eager. He visited the Kenton County Mayors Group this month in Park Hills, and while he heard an earful from local officials, Eager maintained that the pension fund shortfall in Frankfort developed over many years, and there isn't much of any relief available outside of increased contributions from municipalities.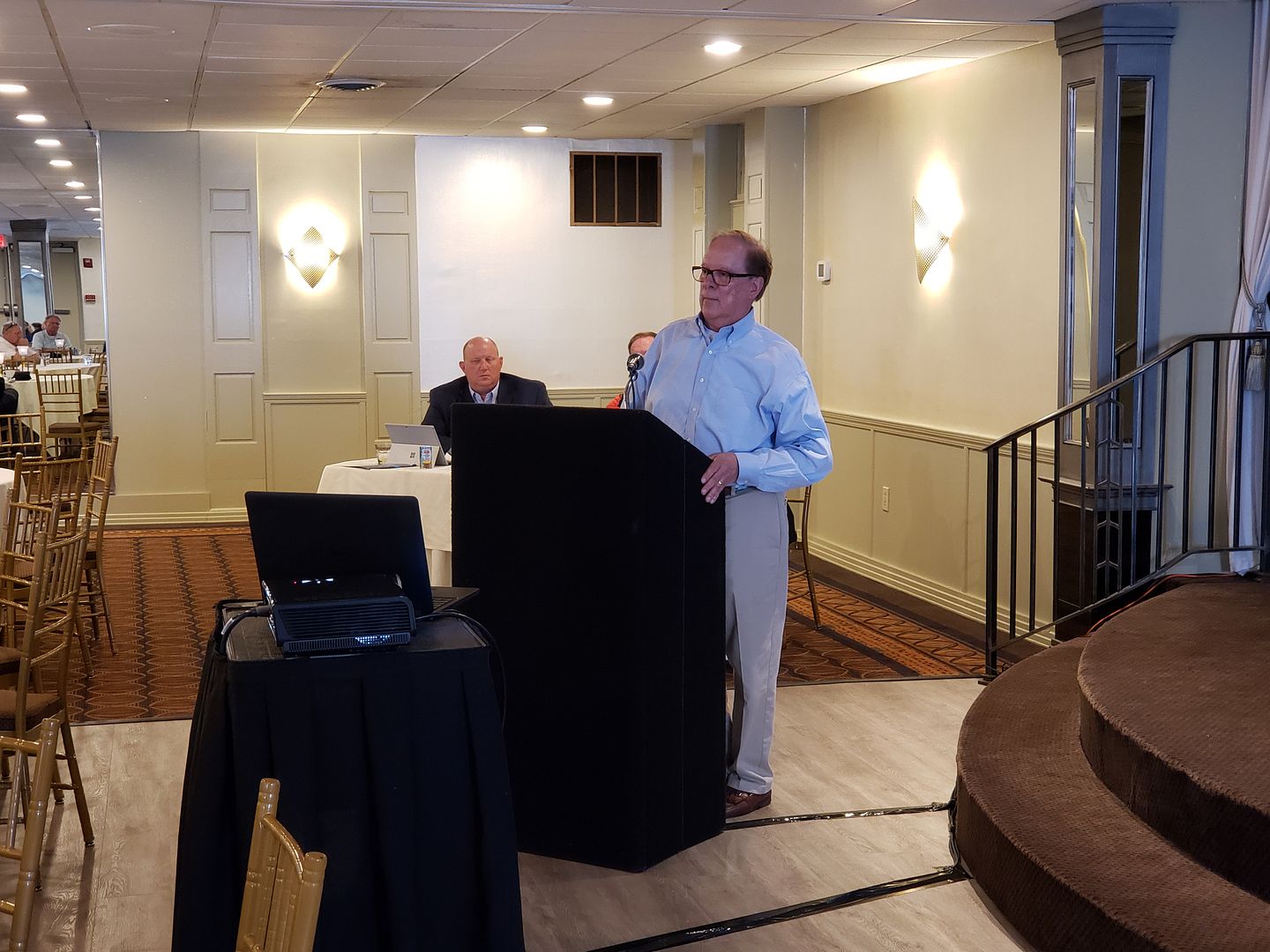 "When the day of reckoning comes, it's a big bite and quite an impact," Eager told the mayors. "Those rates should have been going up over time."
Eager said the pension fund was shorted to free up money for schools, roads, and prisons, "and now the shoes are on the other foot because the pensions are going to have to be funded from schools and roads," he said. 
"There is no additional revenue. We've just reversed what we've done for close to twenty years."
Eager said that KRS is agnostic towards specific legislation that some argue could add funding for pensions, such as legal marijuana or casino gambling. "We're not in favor of any bill," he said. "But we can tell you how much money we need and it's up to the legislature and the government to get it.
"It's $1.2 billion to get where you need to get, but that's what we need. If we're to stay on track and get out of this in the next twenty-four years, we can't get less than we're getting now."
Written by Michael Monks, editor & publisher