Premium Content
Council Appears Unfavorable to Ft. Mitchell Apartment Project
Tue, 07/02/2019 - 08:25
RCN Newsdesk
All members of Ft. Mitchell city council expressed opposition to a proposed $16 to $20 million high-end apartment project on Grandview Drive.
Developers Paul Darpel and David Noll presented their case at Monday's city council meeting, which was moved to Lakeside Christian Church due to anticipated attendance levels amid increased scrutiny and attention from the public, particularly from families concerned about the development's potential impact on student capacity at Beechwood Independent Schools.
Darpel and Noll are seeking a map amendment to the city's zoning code, changing the 11.7-acre site from single-family and professional office to multi-family residential.
The proposal includes three newly constructed apartment buildings, with fifty-three one-bedroom units and fifty-three two-bedroom units.
Darpel and Noll received a favorable recommendation from the Kenton County Planning Commission, which went against a staff recommendation by Planning & Development Services of Kenton County (PDS) staff to oppose the change.
Darpel chairs the Kenton County Planning Commission, but recused himself from the proceedings last month.
Councilman Greg Pohlgeers made a motion to override the planning commission's recommendation, and all other members of council voted in favor.
A second reading will be required.
The developers contend that commercial buildings in the area are increasingly vacant, noting that even the PDS building would soon be vacant when its staff moves to the new Kenton County government building in Covington.
Some Ft. Mitchell residents have argued that with the option of renting an apartment in the Beechwood school district, other families would jump at the chance - even if they don't plan to live in the units - just to secure a spot in one of the region's most coveted schools.
But that's not the target market for the project, the developers said.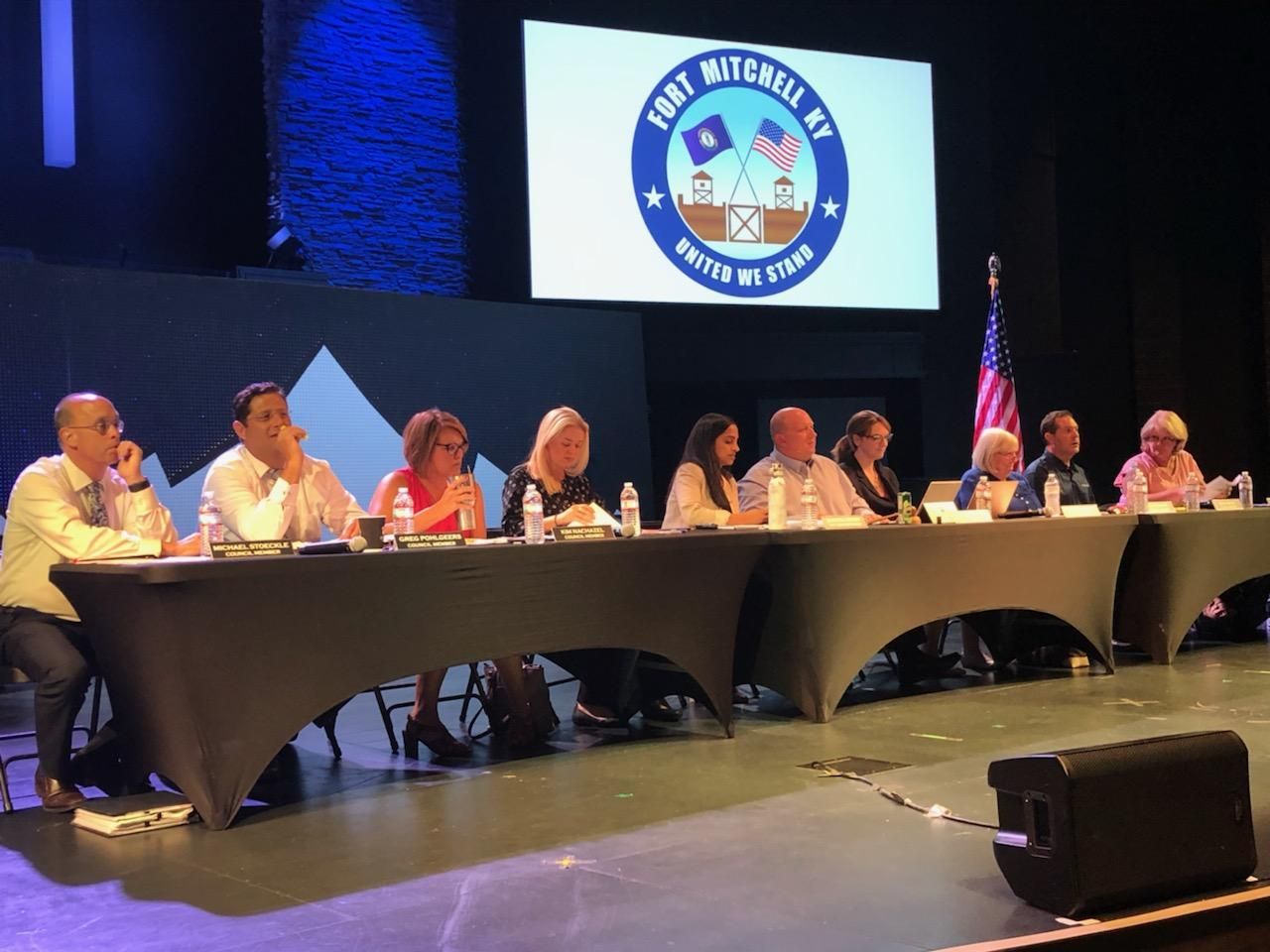 During a slide show presentation of the proposed project, Darpel said that young professionals and empty nesters would want the units, which would rent for roughly 45 percent higher than other apartment complexes, he said.
Emily Johnson countered that argument by saying that she paid $200,000 for a home in Ft. Mitchell that didn't have air conditioning just so she could be in the Beechwood district. 
"They will pay 45 percent more," Johnson told council. 
She also said she is looking for professional office space, but she finds a lot of the available space is too traditional, and said if developers would design the existing commercial spaces with young professionals in mind, they could rent the space.
Darpel and Noll commissioned a study that indicated only about 11 to 12 new students would go to Beechwood because of the apartment project.
Resident Mike Hardis showed support for the development, suggesting that Beechwood has seventy-nine students who live outside the district, and argued that if the district were nearing capacity, why would it accept out-of-district students?
Councilwoman Kim Nachazel questioned whether empty nesters would desire a residence at the location.
"I am trying to picture my parents walking up that hill," she said. "I'm in good shape and I can hardly do it."
Council will meet again on July 15 where public input will not be permitted and a second vote on the proposal will take place.
Darpel and Noll said they were disappointed with the outcome of the meeting.
Written by Patricia A. Scheyer and Michael Monks