BLINK: Grouplove, Mural, World's Largest Disco Ball Coming to Covington
Thu, 07/11/2019 - 11:13
RCN Newsdesk
We now know more about what will happen in Covington when the popular light show BLINK returns to Cincinnati and expands into Northern Kentucky in October.
At an announcement Thursday morning, it was revealed that Grouplove, the popular alternative rock band, will play a free concert in the parking lot across from the RiverCenter towers.
Group love is known for its top-five charted songs, "Tongue Tied", "Ways to Go", and "Welcome to Your Life".
The concert is a collaboration between Kroger Wellness, BLINK, and Corporex, which developed RiverCenter and is based there.
The concert will feature opening acts to be announced later.
BLINK, which delighted more than a million visitors in 2017, will return October 10 through 13, illuminating buildings and public spaces from Cincinnati's Findlay Market to downtown Covington, spanning thirty city blocks.
It will feature large-scale projection mapping, murals from international artists, interactive light sculptures, and other entertainment.
Kroger Health president Colleen Lindholz thanks Corporex and BLINK's producers for collaborating to bring Grouplove to Covington.
Corporex is also offering "generous support", officials said Thursday, for the creation of a new mural created for BLINK by locally-based artist Xylene in collaboration with BLINK partner, The Agar. 
The mural will be placed on the tower on the north side of the Kenton County Parking Garage which houses TANK's downtown depot. It will be a permanent installation, and during BLINK will be animated through projection mapping by BLINK partner Brave Berlin.

"Covington is my home, and the Cincinnati Region is my community," said William P. Butler, chairman of the board at Corporex Companies. "I look forward to everyone, from both sides of the river, sharing a moment of art and light while experiencing the urban core of Northern Kentucky and Greater Cincinnati through BLINK."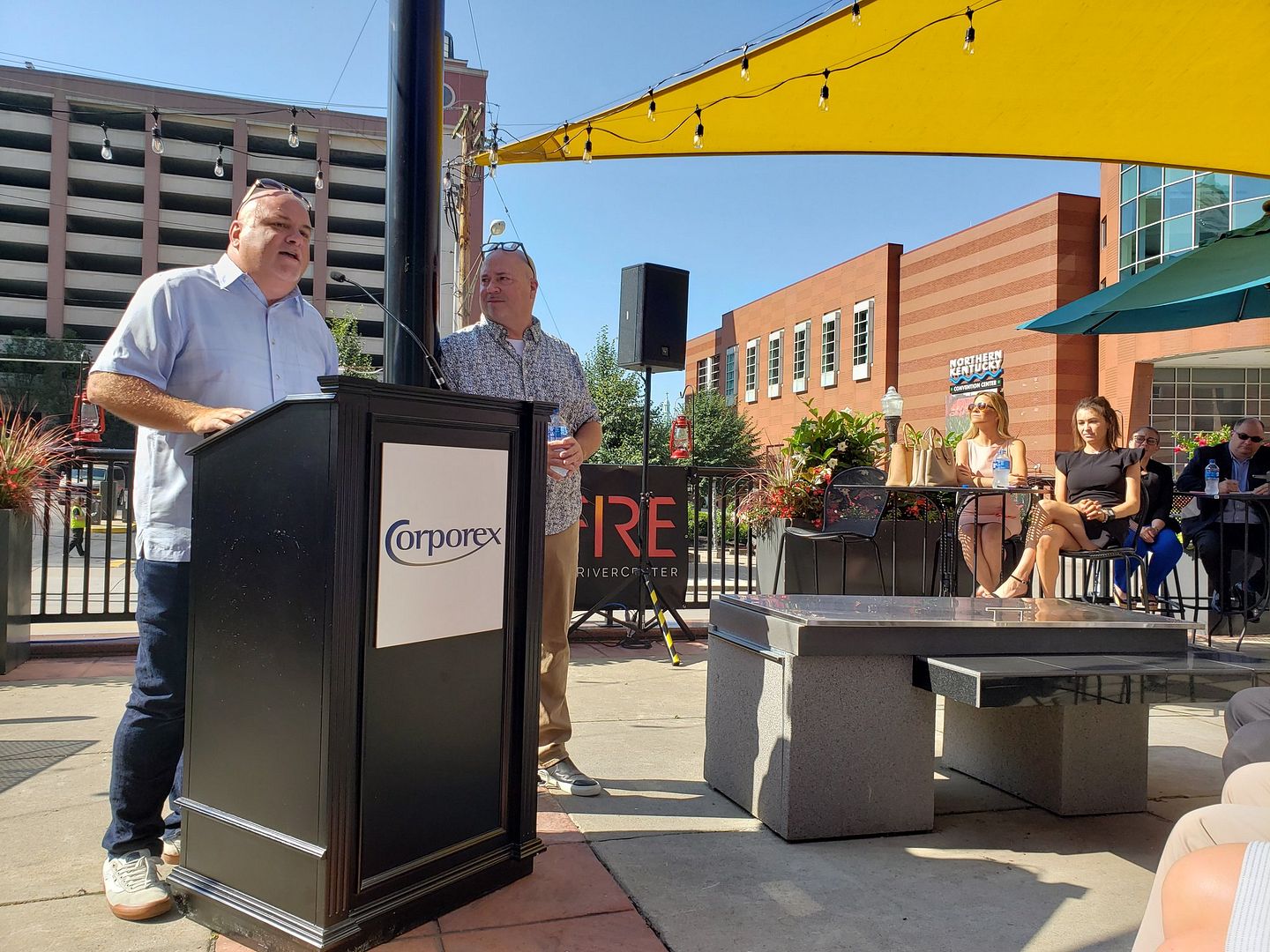 Dan Reynolds and Steve McGowan of Brave Berlin (RCN)

"Covington will be one of BLINK's most densely packed zones for art, light, music, and food. More than twenty installations will be featured from the Roebling Bridge to Seventh and Madison not to mention dozens of activities and street performers," said Brendon Cull, chief operating officer the Cincinnati USA Regional Chamber, a BLINK partner. "We are thrilled to be expanding the wildly popular art and culture event, BLINK, into Northern Kentucky. It has always been our vision to celebrate our region as a community wide celebration."

Additional Northern Kentucky highlights scheduled for BLINK will include:
·The John A. Roebling bridge will connect BLINK's route as a featured iconic landmark bathed in light and sound. Artists Brave Berlin of Cincinnati and MASARY Studios, a team of Boston artists specializing in urban interactive experiences will make the Singing Bridge "sing," working with local lighting experts Vincent Lighting of Erlanger, Kentucky.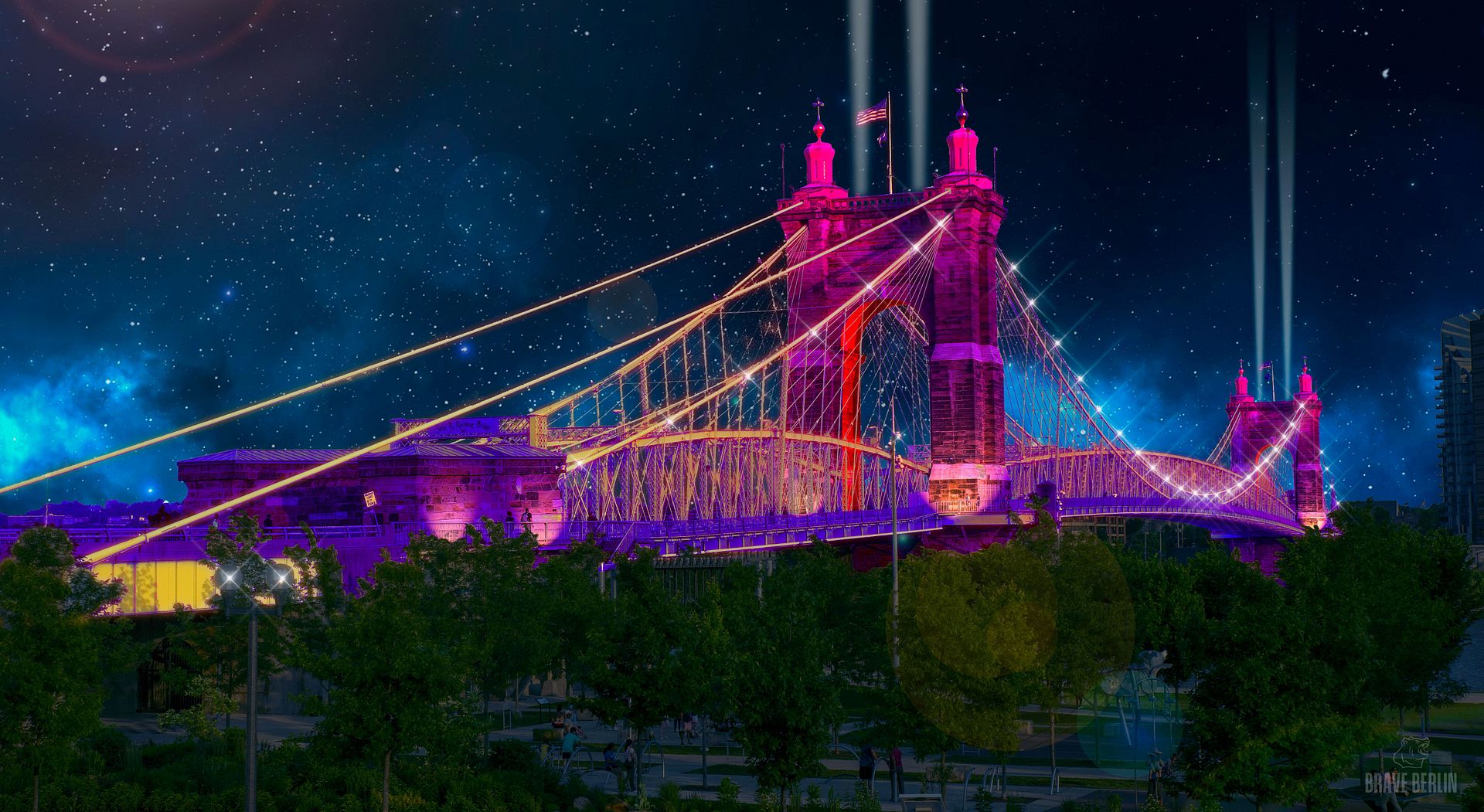 Rendering of Roebling Bridge BLINK concept previously provided
·The Ascent will be bathed in animated light on all sides with vibrant colors and patterns.
·A mural celebrating Carol Ann and Ralph V. Haile, Jr. will be created, in time for BLINK, on the back of the U.S. Bank building at 6th and Madison, the corner named for Ralph Haile.
·BLINK will highlight two internationally acclaimed street artists through architectural projection mapping. Both sides of the Faile Mural on West 6th Street (projection by local media artist, Chris Glenn), as well as the London Police mural on 4th Street and Scott Blvd. (projection by Brave Berlin).
·Another architectural projection mapping will animate the Mutual Building, home to The River City News, the Hannaford lounge, Cutman barber shop, and Jimmy John's. BLINK has commissioned Philadelphia-based Klip Collective for projection mapping there.
·Northern Kentucky University is creating a light installation that will actually sit on the Ohio River.
·The World's Largest Mobile Disco Ball, made in Kentucky, will return for BLINK - and find its home in Covington for a pop-up disco party.
BLINK is free and open to the public.
-Staff report