Premium Content
Massive Transformation Planned for Covington's Roebling Point Area
Tue, 09/10/2019 - 16:14
RCN Newsdesk
Big plans are taking shape to change the face of Covington's Roebling Point entertainment district, loosely defined as the area north of Fifth Street, east of Madison Avenue, and west of Garrard Street.
Known for its popular restaurants and bars like Smoke Justis, Keystone, Blinkers, and Molly Malone's, and Roebling Point Books & Coffee, the neighborhood was hit hard by the months-long closure of its namesake Roebling Suspension Bridge in the spring and summer.
A shot in the arm appears to be on the way.
"This is really going to show a lot of the people who visit and frequent the area that activity is happening," said Josh Niederhelman, principal of Covcor, his commercial real estate and development company. "People will start taking note of the activity down here."
Last year, the owner of nineteen properties, ranging from single- and multi-family homes to surface parking lots to an historic Covington firehouse, approached Niederhelman about acquiring the full portfolio.
At first, he wasn't sure. But, the neighborhood's designation as an "opportunity zone" prompted Niederhelman to act.
The City of Covington deemed five of its census tracts as Opportunity Zones, enabling investors to take advantage of several key provisions of the Federal Tax Cuts and Jobs Act of 2017.
Niederhelman quickly dispatched of five of the residential properties, selling them off. Seven more are under contract.
Most of the others are in the early stages of transformation.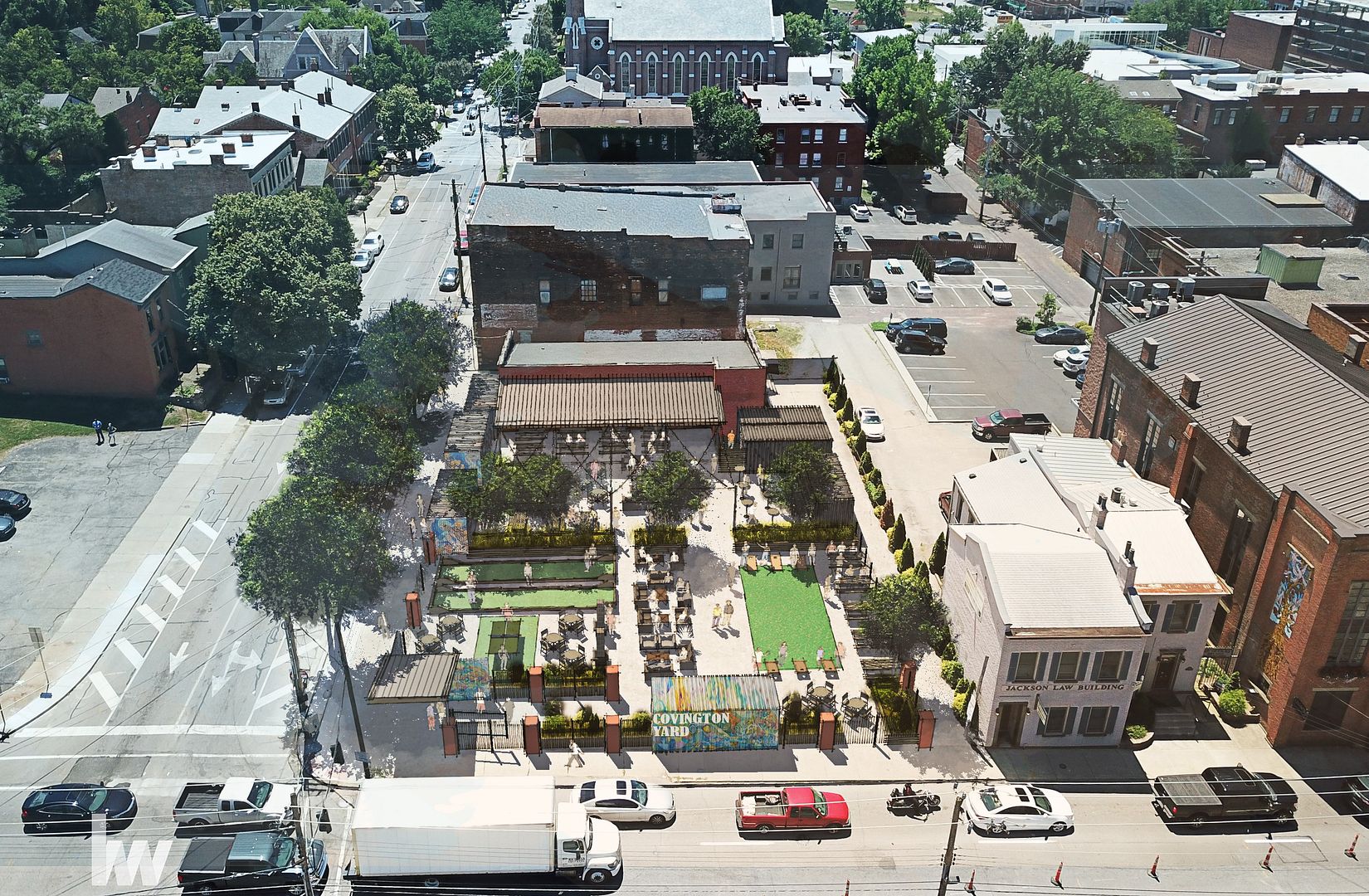 The most significant visible difference will the arrival of what Niederhelman said will be known as Covington Yard. The operation's bar will be operated by Patrick Dye, whose other business is seen by Covingtonians in the form of the free Gest taxi service that circles the central business district, covered in advertisements. 
Covington Yard will be constructed on the southwest corner of Fourth and Greenup Streets, currently the site of a surface parking lot. Soon, the site will have green space, a patio, an outdoor bar, games, and six ocean shipping containers fitted to house food vendors. There will be space for four additional shipping containers, if demand asks for them.
"It will essentially be Covington's backyard," Niederhelman said. "A lot of the houses don't have backyards, or a yard at all. If you want to meet some people and hang out, come to Covington Yard, have a drink, have some food, bring your dog, enjoy the view."
He said food vendors are already reaching out about the opportunity.
Covington-based Hub + Weber Architects is working on design.
Meanwhile, the adjacent historic Covington firehouse, which most recently was used by a horse carriage ride business, will be converted into office space. Niederhelman said that one business is looking to rent the upper two floors. He expects to convert the ground-level floor into a co-working or shared office space.
And yes, the renovation is as difficult as one might imagine for the deteriorated historic firehouse.
"Any challenge you can think of is being incorporated with that building," he said. "It's been neglected for such a long time. It's truly a gut rehab project, along with some of the historical guidelines we need to adhere to."
Cincinnati-based Phoenix Architecture is designing that work while Cincinnati-based Oswald Construction handles the build-out.
314 Greenup Street is also being renovated into commercial office space. The building has had a variety of service-based tenants in recent years. 115 Park Place, which was most recently home to a law firm, was renovated and houses four leased apartments. Niederhelman hopes to have a bar business locate in the ground-level commercial space.
Down the road, a mixed-use building could be constructed on the site of another parking lot, across from the forthcoming Covington Yard at 122 East Fourth Street, but there are no concrete plans ready to be announced for that yet.
"The proximity of Roebling Point to the new music venue in Newport, Mainstrasse, the central business district, Hotel Covington, Braxton, and downtown Cincinnati - we're really at the center of everything that is happening in Greater Cincinnati," Niederhelman said. "I think people will start to realize Roebling Point is worthy of a lot of reinvestment and investment from people outside the Covington area."
The neighborhood will also benefit from the redevelopment of what will, in the coming days, be the former Kenton County government building at 303 Court Street. The county government is moving this month to its new home on Simon Kenton Way inside the redeveloped Bavarian Brewery building. Once the government is gone, work will begin on transforming the building to house around 100 apartments and possibly commercial activity on the ground floor.
"I think this all a precursor to the Kenton County building and that redevelopment project," Niederhelman said. "We are on the forefront of that."
Written by Michael Monks, editor & publisher
Images provided