Premium Content
Holmes Students Create Special Display During BLINK Weekend
Sat, 10/12/2019 - 18:01
RCN Newsdesk
Students from Holmes High School in Covington worked on an interactive display to coincide with this weekend's massive BLINK light and art show event in the city and in Cincinnati. 
The students' work is showcased at 12th and Holman streets in Covington on Friday and Saturday evening.
The project was done in partnership with the Center for Great Neighborhoods of Covington.
Holmes students from the media arts and graphic arts programs worked with others from welding and ROTC.
"One of the things we try to get across to our students is that when they are in a working situation, you have to find a way to get along with everyone you are working with," said Donny Roundtree, who teaches graphic arts.  
Teachers coached the students on professional work and cooperation.
The end result was a 15-ft. long city skyline image.
Matt Reed, a media arts teacher, said he acquired an image of the city and the students used glow-in-the-dark paint to replicate it on to a wood frame with around the outline, with the addition of lights.
Welding students connected the frames for a ladder golf component, complete with student-made golf balls.
The display also includes cornhole sets, with some painted to resemble stained glass and others with local imagery like the Roebling Suspension Bridge and the name of the city.
Some of the students involved will have the chance to participate in a new co-op program at Messer Construction.
"With this program, the students will be working on construction sites with the company during school hours," said Eric Breetz, a carpentry instructor at Holmes.  "We are very excited about the new opportunities for our students at Holmes. Good things are happening!"
Teachers said they are pleased with the students' work.
"It's nice to see them all working together, because no matter how much we say what to do, when they are actually in the circumstance, it is up to them to learn to cope," said Reed. "This is when you notice their problem solving skills, and they have done very well."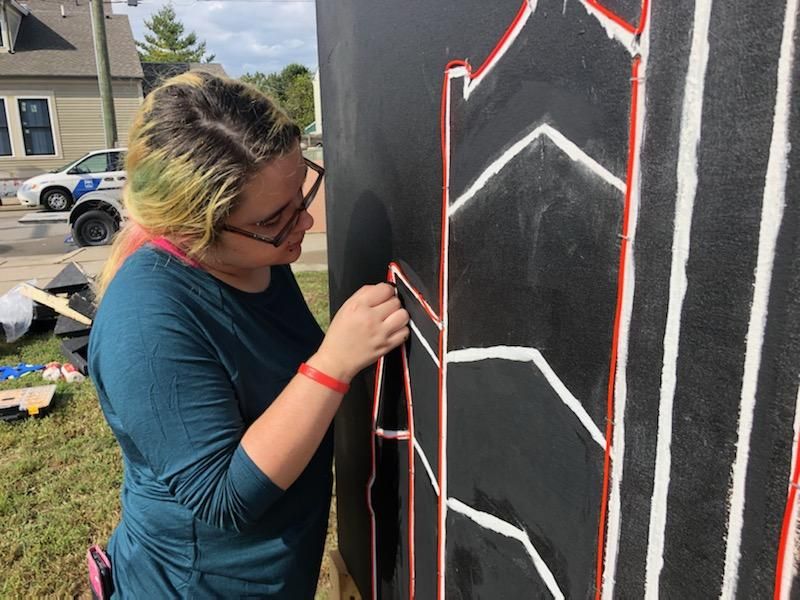 Holmes senior Dezirayae Hubbard said she doesn't know exactly what she wants to do when she graduates, but she knows it will have something to do with art.
"Art is just a fun thing for me to do," she said. "I would really like to to something in art or design."
Senior Noah Boggs worked on the project, too.
"I joined the US Navy last year, and I really like doing community service," Boggs said. "I also want to help Holmes show off what they do. Sometimes Holmes get a bad rap, and it is a really good school."
Written by Patricia A. Scheyer, RCN contrinbutor