Ft. Mitchell Honors Mayor, Retiring Asst. Fire Chief, and Former Police Chief
Sun, 10/13/2019 - 18:38
RCN Newsdesk
It was a night of honors for current and former city officials at last week's Fort Mitchell city council meeting.
Mayor Jude Hehman, who was named the Elected Official of the Year by the Kentucky League of Cities, received his award and a proclamation from State Senator Chris McDaniel, while Assistant Fire Chief Jim Hils was honored on the occasion of his retirement, and former police chief Steve Hensley, now the Kenton County Office of Homeland Security and Emergency Management director, was recognized for his contributions to the city.
"At twenty-one years old, this man came to the community and served as a council person because he cared about the community," said Jeffersontown Mayor Bill Dieruf, who also serves as president of the Kentucky League of Cities. Dieruf was in Ft. Mitchell to pay homage to Hehman, noting the mayor's additional service as a volunteer fireman, and his current service as mayor. "How could we not give this award to this mayor? Numerous people applied to be elected official of the year, but the total package, the one person we saw is your mayor."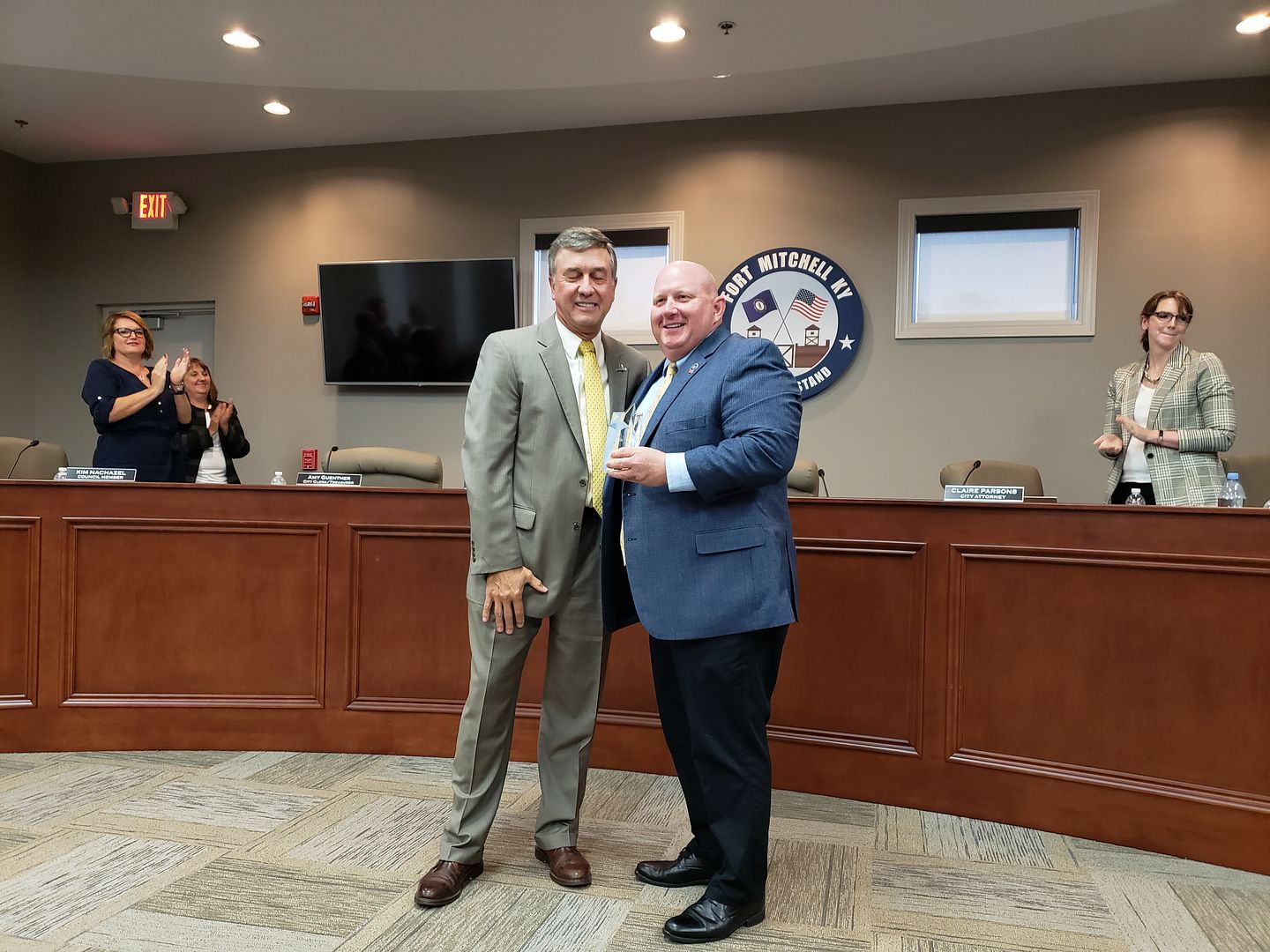 Assistant Fire Chief Jim Hils is set to retire officially at the end of the month. He filled in as interim chief on multiple occasions, turning down the opportunity to keep the job full-time.
"He is a quiet leader, an incredible leader," Mayor Hehman said of Hils. Hehman also said that Hils never accepts a hug but asked for an exception on Monday night as they embraced.
Hils then stepped to the podium.
"No speech," he said, walking away.
"I knew that was coming," said Fire Chief Adam Fuller. 
Fuller also announced the promotion of Dave Slusher to assistant chief, "another longtime dedicated Ft. Mitchell person."
Police Chief Andrew Schierberg said that he has been working on the department's history and wanted to display some memorabilia, part of which is an old uniform shirt. "And when it came time to put a name on that shirt, there was really no question whose name we want to put up," Schierberg said. "We put Steve Hensley's name on it."
"There are many people that came before me that are much more worthy," Hensley said. 
Written by Michael Monks, editor & publisher