Premium Content
Taylor Mill Asks for Speed Limit Reduction, Honors Eagles Coach
Sun, 10/13/2019 - 17:45
RCN Newsdesk
The Taylor Mill city commission voted in support of a resolution to alter the speed limit on Taylor Mill Road from 45 to 35 miles per hour.
Mayor Dan Bell said that the nearby sidewalk project there was close to being finished and that the road is too close to pedestrians for cars to be traveling 45 miles per hour.
The resolution will be sent to the Kentucky Transportation Cabinet for consideration.
In other business, the commission approved a resolution applauding the leadership and community service of Shawn Murphy, a coach for the Taylor Mill Eagles. He was honored by the city for volunteering for the team for many years. He was diagnosed with cancer and won't be able to coach any longer.
Boys from the Eagles came to the meeting to honor their coach, bringing him to tears.
"You guys are the reason I get up every day," Murphy told them. "You have to get up and move. Every day is a battle."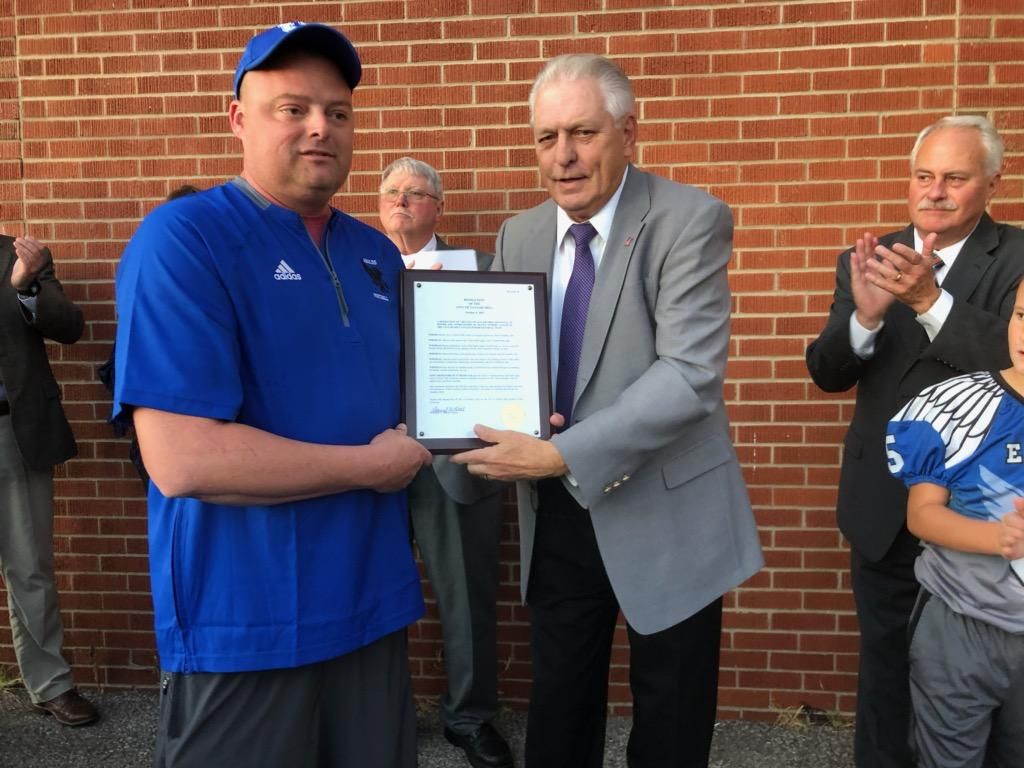 Another resolution honored Pastor Bryon Banos, of the Seventh Day Adventist Church. October is designated as the month to honor pastors throughout the country.
Matthew Hicks was hired as a police officer in the city. Nathan Kling and Jordan Norris were hired as police recruits and will head to the Police Academy on October 27.
The Taylor Mill Fire Department demonstrated a new piece of equipment called the Lucas Device. 
The machine generates continuous compression on a patient, providing a more stable pattern of heart compressions, even when the patient is moving on a stretcher as EMTs are transporting a patient whose heart has stopped. 
Fire Chief John Stager said that heart compression can be very tiring to keep up for long periods of time, and this machine will take over and keep the compressions even and steady, freeing the paramedics or EMTs to do other lifesaving measures.
Stager said the machine cost $14,500, and the service plan is $3,500. He said typically these machines will last about ten to twelve years. When the machine is used, patients' rate of survival goes up to 86 percent, he said. 
Commissioners accepted the resignation of Scott Smith from the Board of Adjustments. Mayor Bell said the city will be accepting applications for the position.
It was announced that the Moose Lodge will host a Trunk or Treat at Pride Park on October 27, from 5 to 7 p.m. Regular Halloween trick or treat hours will be October 31, from 6 to 8 p.m.
Written by Patricia A. Scheyer, RCN contributor