Premium Content
Churchill Presents Plans for New Turfway at Florence Council
Wed, 10/16/2019 - 07:00
RCN Newsdesk
Florence city leaders saw a presentation Tuesday night on Churchill Downs's plans for Turfway Park, which it purchased recently, and which will eventually be torn down, rebuilt, and rebranded as New Turfway.
Churchill Downs president Kevin Flanery presented the Louisville track's vision for its new property in Florence.
The plans start with one of the basic components of horse racing: purses, which, Flanery said, averaged under $12,000 per race at Turfway Park. He vowed to double that amount to $24,000.
"We are starting in, letting people know we are serious about it," Flanery told Florence city council during a special meeting.
New Turfway will feature a dirt track and synthetic turf track, he said, to accommodate both types of racing.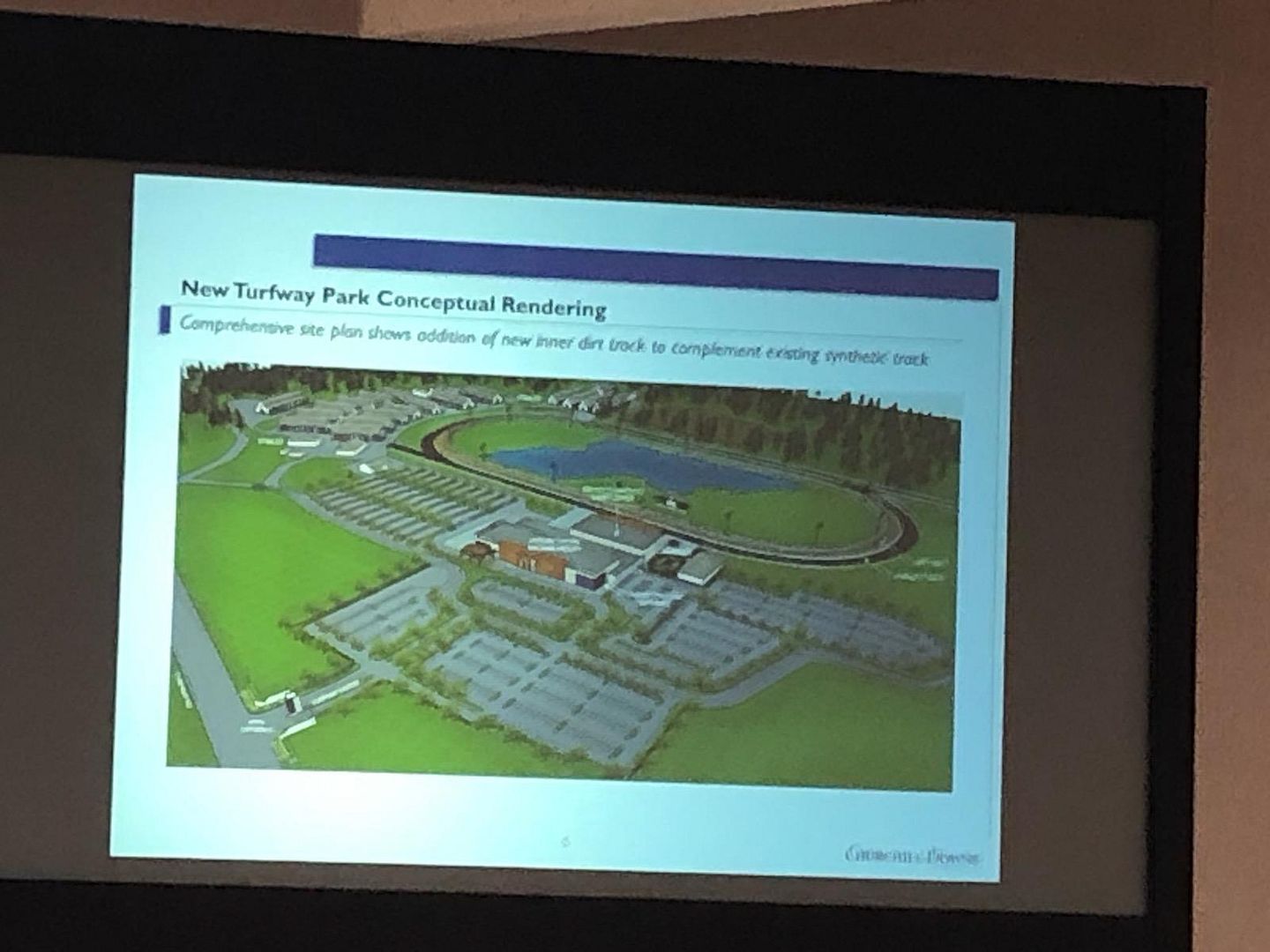 Construction on the new facility will begin in March and will feature a ballroom to host events for up to 1,100 people, Flanery said. 
The $150 million project will create 800 construction jobs and 400 permanent jobs, he said.
The racing season at Turfway scheduled for December through March will go on as planned, he added, and when that concludes, construction work would begin. The new track is expected to open in the summer of 2021.
Other planned improvements include the backside of Turfway as part of an effort to attract racing industry professionals to the area year-round.
When Florence city councilman inquired about sports betting being offered at the site, Flanery referred to State Rep. Adam Koenig (R-Erlanger) whose district includes part of Florence. Koenig sponsored a bill in the General Assembly earlier this year that would have allowed such betting, but it stalled after being approved in a House committee.
"It did get out of committee," Koenig said, "But as you know, you have to have 60 percent of the house and 60 percent of the senate to pass anything that raises revenue.  Sixty votes in the house was a hair too high. So next year we will just need a majority and we will be in good shape."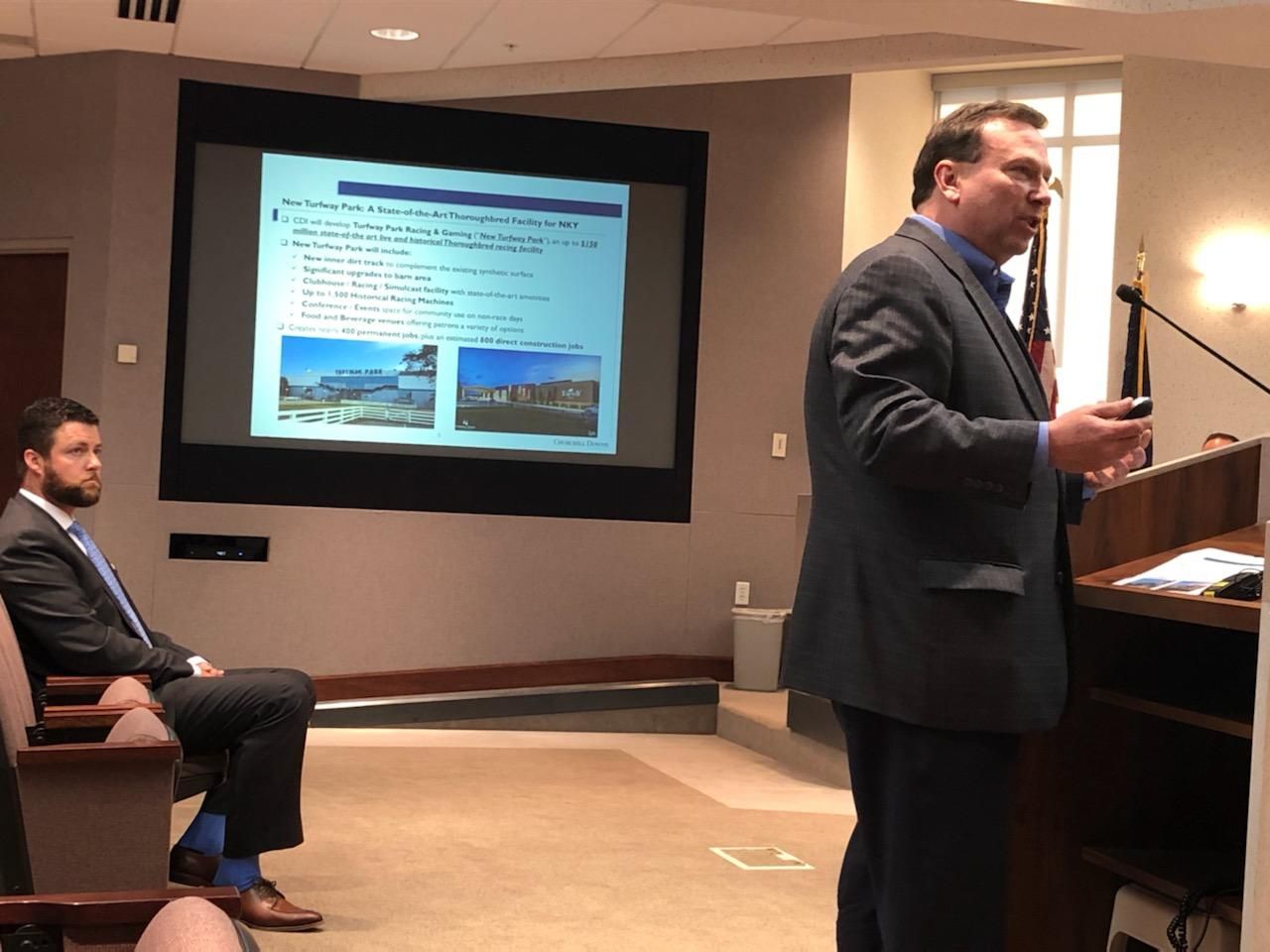 Koenig said the estimated revenue for the state if the bill passes is $20 million, the majority of which would go to the Kentucky Retirement System, which is currently at 18 percent funded, he said.
Mayor Diane Whalen thanked everyone for coming and providing the presentation, and for answering all the questions council had.
The only other item which was on the agenda for the special meeting was a resolution which awards a non-exclusive franchise for a term of ten years for a telecommunications system within the city to MCImetro Access Transmission Services Corporation, which is Verizon.
Mayor Whalen said the company intends to lay fiberoptic cables aerial and underground, in the public rights of way. She said the company doesn't intend to install more poles, but they will ask permission to use poles that are already existing.  This will be for the purpose of providing wireline high speed telecommunications services to businesses, government, and wholesale customers.
Written by Patricia A. Scheyer, RCN contributor