Premium Content
HUD Secretary Ben Carson Joins Bevin at Florence Event
Thu, 10/31/2019 - 20:20
RCN Newsdesk
Governor Matt Bevin's reelection campaign arrived in Florence on Thursday with an assist from the Trump Administration.
Secretary of the Department of Housing and Urban Development Ben Carson joined Bevin and his lieutenant governor running mate, State Senator Ralph Alvarado at Boone County Republican headquarters on Mall Road.
The room was full of supporters.
"I'm blessed to be here. I'm blessed to be saved by God's Grace. I'm blessed to have been married to my wife for the past 25 years, blessed to have two healthy kids and raised by two great parents, blessed to be a Kentuckian, and blessed to be in America," Alvarado said.
Afterwards, Alvarado touted Bevin's job creation, private investment attraction, and anti-abortion stance in Kentucky. Then, Bevin spoke.
"What you may not appreciate, Dr. Carson, is that in Northern Kentucky, while I do indeed have nine children, that - in this part of Kentucky - is considered 'sort of, a good effort'," Bevin joked to the crowd. "These are strong people who have a respect for God and country and have a tremendous appreciation for the value of the sanctity of every human life."
Bevin then delivered his campaign speech, focusing on economic progress. He also referenced President Donald Trump, who will appear at a rally on Monday, a day before the election, at Rupp Arena in Lexington. Vice President Mike Pence will be in Kentucky on Friday to rally support for Bevin.
"We want every single boat to rise," Bevin said before introducing Sec. Carson.
"America is a land of dreams," Carson said. "And its a destination for people all over the world, this is where they want to come."
Carson opened his remarks by recounting the circumstances which he grew up in before moving on to the Second Amendment, getting rid of unnecessary regulations, defeating socialism and open borders, and the strong economy.
After the remarks, the three took questions and pictures with the crowd that had gathered.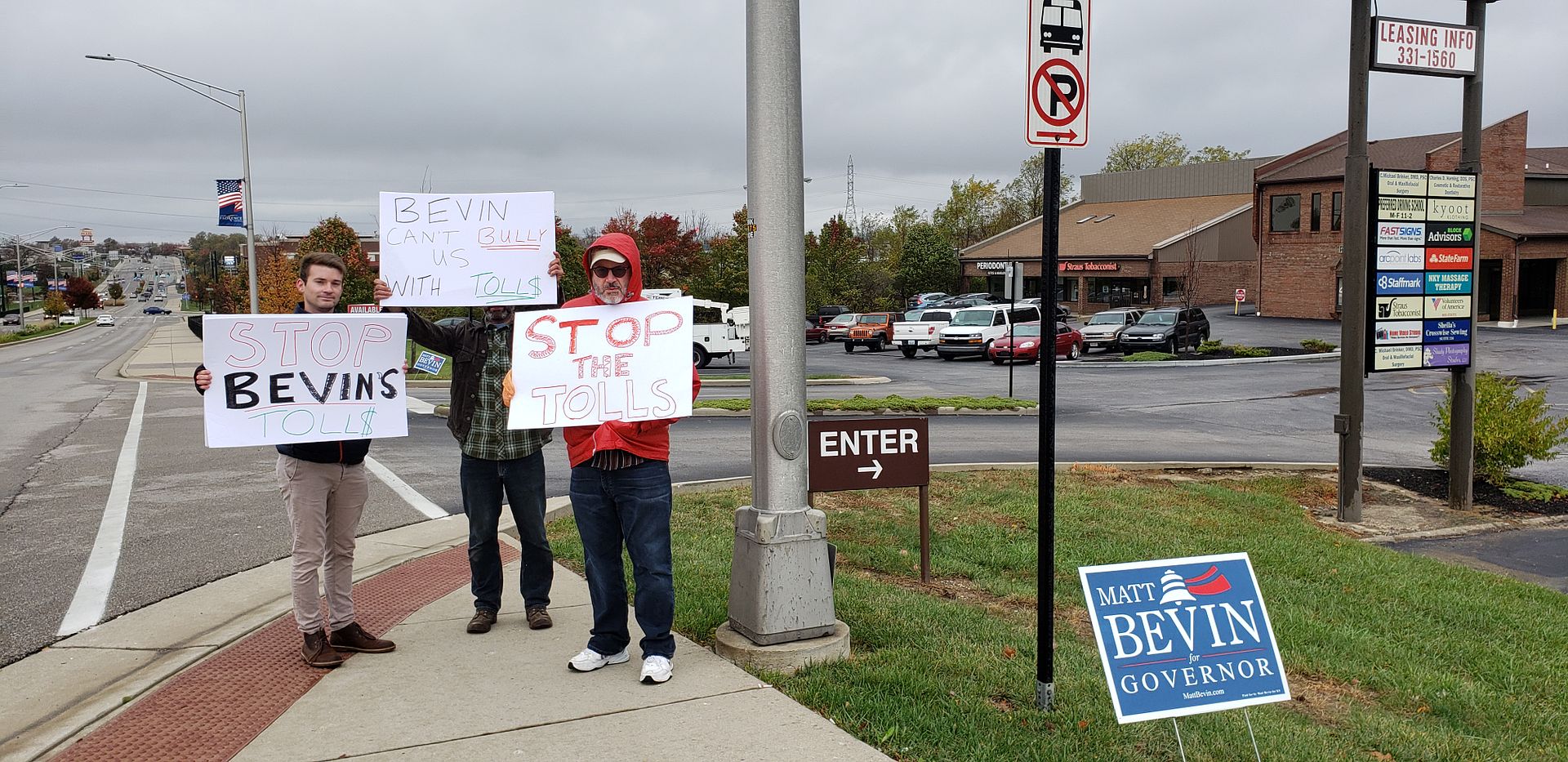 A small group of protesters greeted Bevin outside the event, showing opposition to tolls as part of the Brent Spence Bridge corridor project. On Tuesday, in a debate at Northern Kentucky University, Bevin said that there would be "no way around" using tolls for the bridge project.
Bevin's opponent, Democratic Attorney General Andy Beshear, is expected to be in Newport on Friday.
Story and photo by Connor Wall, associate editor