Premium Content
New Building Planned for Covington with High Hopes for Regionalism
Wed, 11/06/2019 - 19:40
RCN Newsdesk
A new building designed to house what organizers call Northern Kentucky's "growth agencies" is slated to be constructed near the Covington riverfront, along Greenup Street, not far from the landmark Ascent building, from which some of the aesthetics for One NKY appear to have been inspired.
Renderings for the building were shown publicly for the first time.
"It will be of its kind in Northern Kentucky," said Karen Finan, president and CEO of the Northern Kentucky Regional Alliance, a collection of local CEOs. Finan appeared at the Covington city commission meeting on Tuesday to talk about the project, which needs city approval for some small zoning issues.
Those issues have already received the blessing of the Kenton County planning commission.
Finan did not name the agencies that could locate there, but Northern Kentucky Tri-County Economic Development Corporation (Tri-ED), the Northern Kentucky Chamber of Commerce, the Catalytic Fund, and others have been mentioned in the past.
"This is a significant building for a community that is a significant part of the Cincinnati MSA (metropolitan statistical area) and Commonwealth of Kentucky," Finan said. "It will send a message to the region and to Frankfort."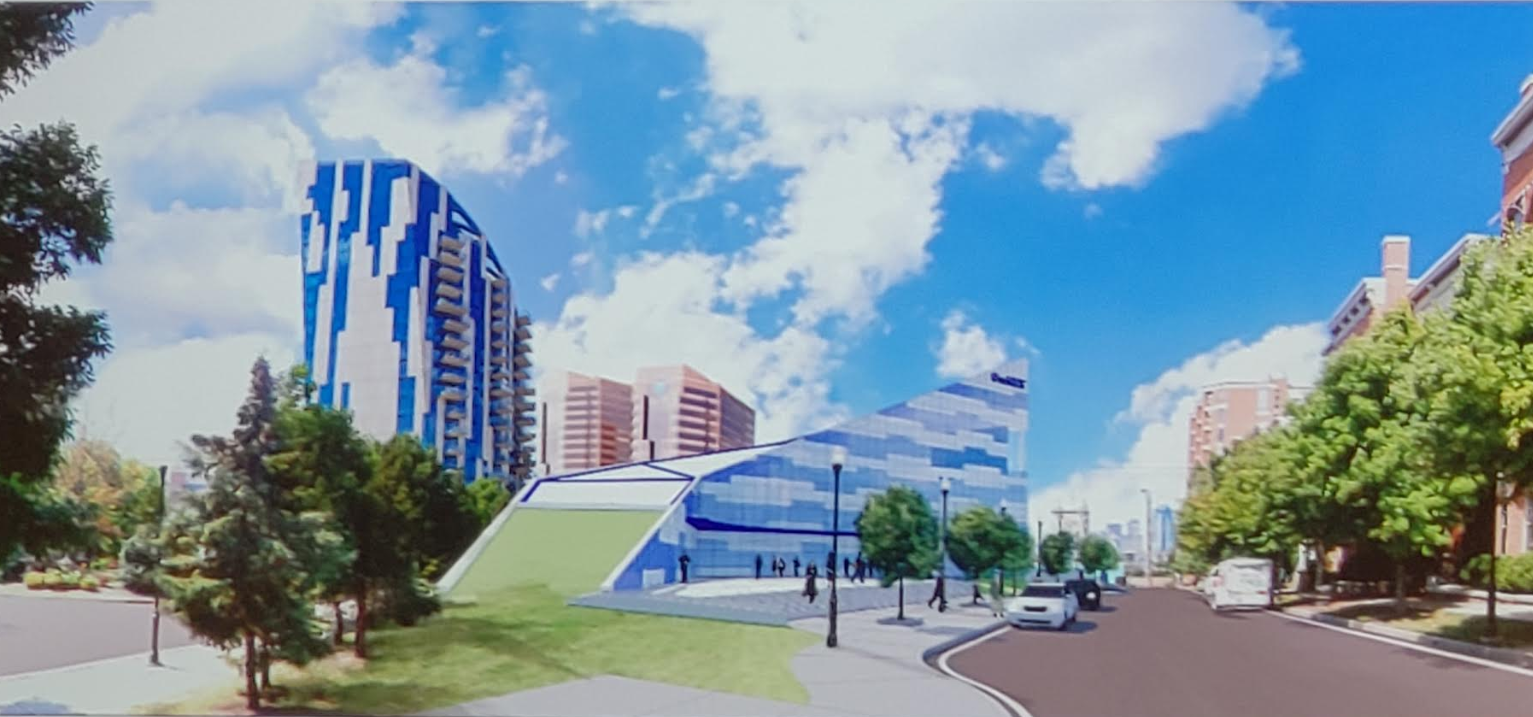 One advantage of locating multiple agencies with similar missions under one roof, Finan said, is the opportunity to share services such as information technology, finance, and marketing. "It's a shared services model," she said, that frees up important funds.
"It's a much more productive use of the (organizations') presidents' and CEOs' time. Instead of chasing the dollar, we're now focused on what moves this community forward," Finan said. She added that often these organizations are seeking money from the same sources, an obstacle that would be eliminated by a shared home.
Additionally, the building would centralize a location for prospective businesses to find connections to incentives, research, data, support services, and more, she said.
"It reinforces Northern Kentucky's ability to speak with one voice, not just in the Cincinnati MSA but also in Frankfort," Finan said.
The message of "regionalism" is often squawked about in Northern Kentucky's civic culture, but One NKY would represent a significant trophy in the quest for more cooperation and less duplication.
The proposal was met with words of caution from Covington Mayor Joe Meyer.
"The concept of regionalism is something Northern Kentucky has aspired to for a long period of time. There's a lot of merit to it," Meyer said. "But with the structural limitations of our various governments, too often we see great programs like this with all kinds of regional benefits, but too often it's just a local cost.
"That allocation of costs, that reimbursement of costs is something the organizations need to start considering and dealing with if we want to make the concept of regionalism more effective from the operational perspective."
Meyer also said that cities are not often at the same tables where the growth organizations have seats. "One of the big frustrations we run into in the concept of regionalism is, people want to spend our money. They do a good job at it, but sometimes we have competing interests that need to be taken into considerations, and our priorities don't always align with the region," the mayor said.
Finan said the project could break ground in the spring.
She expects between fifty to sixty employees to be based at One NKY.
Jeanne Schroer, president and CEO of the Catalytic Fund, said Blue Ash, Ohio-based Phoenix Architecture is working on the project's design. It is expected to be four stories with office suites on the top floor that share a level with an event space. 
Though the building would replace a surface parking lot, Finan said the site is underused in that respect. Any parking allocated for One NKY could possibly be used as public parking on weekends, she said.
In 2014, The River City News reported on a forthcoming land swap involving the City of Covington and Corporex, which resulted in a trade between those entities. The city acquired a surface parking lot at Seventh and Washington Streets that is slated to become part of the second phase of the Duveneck Square project (the first phase included new apartment buildings and street-level commercial spaces which opened last year). Corporex received the lot upon which One NKY is now planned.
Written by Michael Monks, editor & publisher