Newport Teens Indicted in Covington Teen's Murder
Thu, 11/14/2019 - 16:32
RCN Newsdesk
Two teens from Newport were indicted Thursday by the Kenton County grand jury in relation to the August shooting death of Ke'Ovion Markel Seay Tevis.
The 18-year old was a recent graduate of Holmes High School and worked as a lifeguard for the City of Covington when he was gunned down near River's Edge Apartments in Covington's Eastside in the late summer.
Brandon M. Hambrick and Deangelo Smith-Jones, both 16 and of Newport, each face one charge of complicity to murder.
Kenton County Commonwealth's Attorney Rob Sanders, who announced the indictments on Thursday, said each defendant qualifies as a "youthful offender" under Kentucky law and will be tried as an adult due to the seriousness of the crime and because a gun was used in committing it.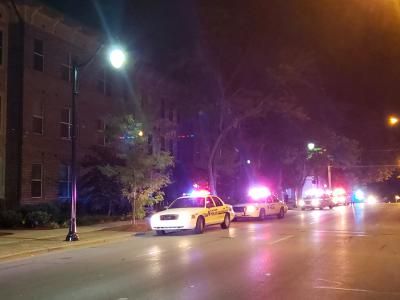 Police respond to the shooting on August 3 (RCN file)
On August 3, Covington Police were dispatched to River's Edge at around 10 p.m. after a call was made that Tevis, known to many as "Keeter", was found in the parking lot there suffering from a gunshot wound to the head.
He died in transport to the hospital.
Hambrick and Smith-Jones are scheduled for arraignment before Kenton Circuit Judge Patricia Summe on Monday, November 18 at 9 a.m. in the Kenton County Justice Center. A trial date will be scheduled at that time. The case is being prosecuted by Asst. Commonwealth's Attorney Aaron Levinson. Lead investigator is Covington Police Detective Rob Fain.
Complicity to murder carries a possible punishment of twenty to fifty years or life in prison. 
-Michael Monks, editor & publisher
Top photo: Tevis at Holmes High School's graduation in 2019 (RCN file)