Premium Content
Ribbon Cut on New Accessible Entrance to Bellevue High School
Mon, 12/02/2019 - 15:29
RCN Newsdesk
Bellevue High School now has a fully accessible entrance.
The school opened on Center Street in 1931 with steps leading to the front door, and then more steps from the door to the main hallway.
A year ago, the issue was raised that students who use wheelchairs were having difficulty with alternative means to enter the building. An elevator would lift them to the entrance, but then a system to lift wheelchairs up the second batch of stairs would not always work. 
Sometimes, students said, it was scary. 
Some wheelchair-using students would have to use alternate doors to enter the school.
Now, all students can use the front door after a major renovation to the historic building.
Bellevue Independent Schools Superintendent Robb Smith was joined last week by other school and community leaders in cutting the ribbon on the now completed accessible entrance.
The entrance features step through the center and ramps to the front door on either side.
Multiple ribbons were cut last Tuesday, with one by members of the board of education and another by Bellevue Assistant City Administrator Jody Robinson, who also represents historic preservation issues in the city.
A third was cut by student Parker Kern, 12, to celebrate the opening of a ramp.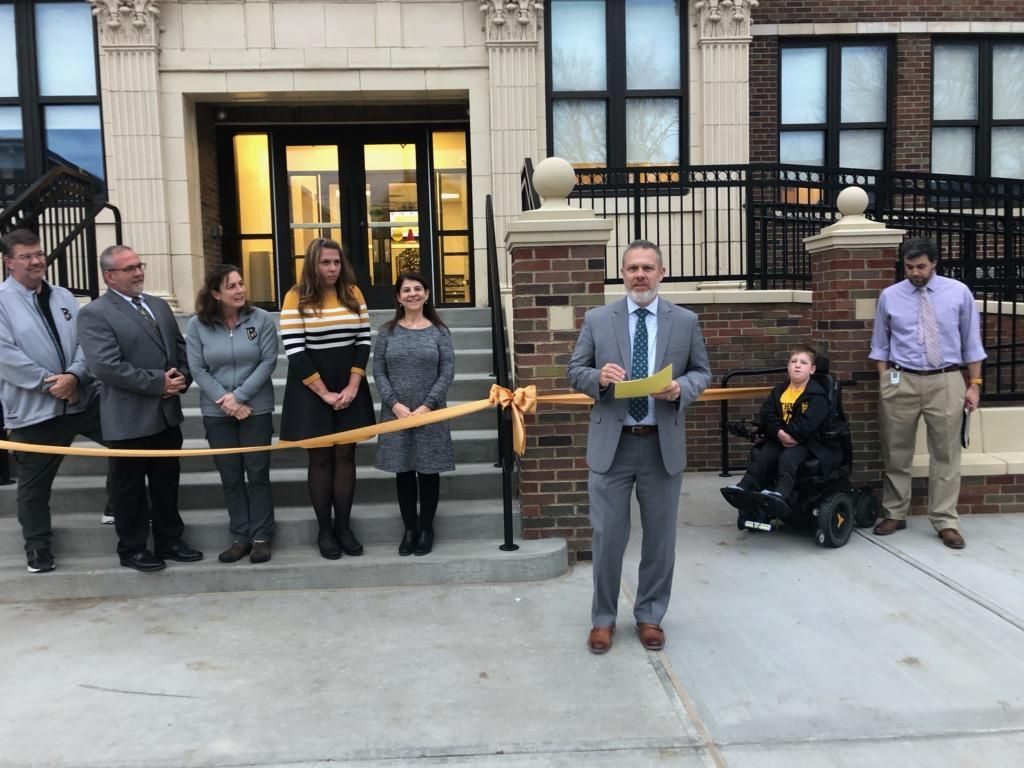 Story and photos by Patricia A. Scheyer, RCN contributor