Premium Content
Ludlow Boy Recognized for Record Toy Drive Efforts
Fri, 12/13/2019 - 06:23
RCN Newsdesk
The Ludlow Police Department collects toys every Christmas for families in need at the holiday.
It's not always easy to gather the number of toys the department needs each year.
But this year, Police Chief Scott Smith, who also serves as Ludlow's interim city administrator, got a text message about a young boy who had taken it upon himself to assist the toy drive.
Braxton Gillespie, 8, had been inspired by a YouTube video showing an act of generosity and he wanted to replicate it as best he could.
With the help of his three sisters and two brothers, the boy got started. The family posted to social media, and made and distributed flyers. It all took from there.
"We had people messaging me that we didn't know from Ludlow," said Hollie Gillespie, Braxton's mother.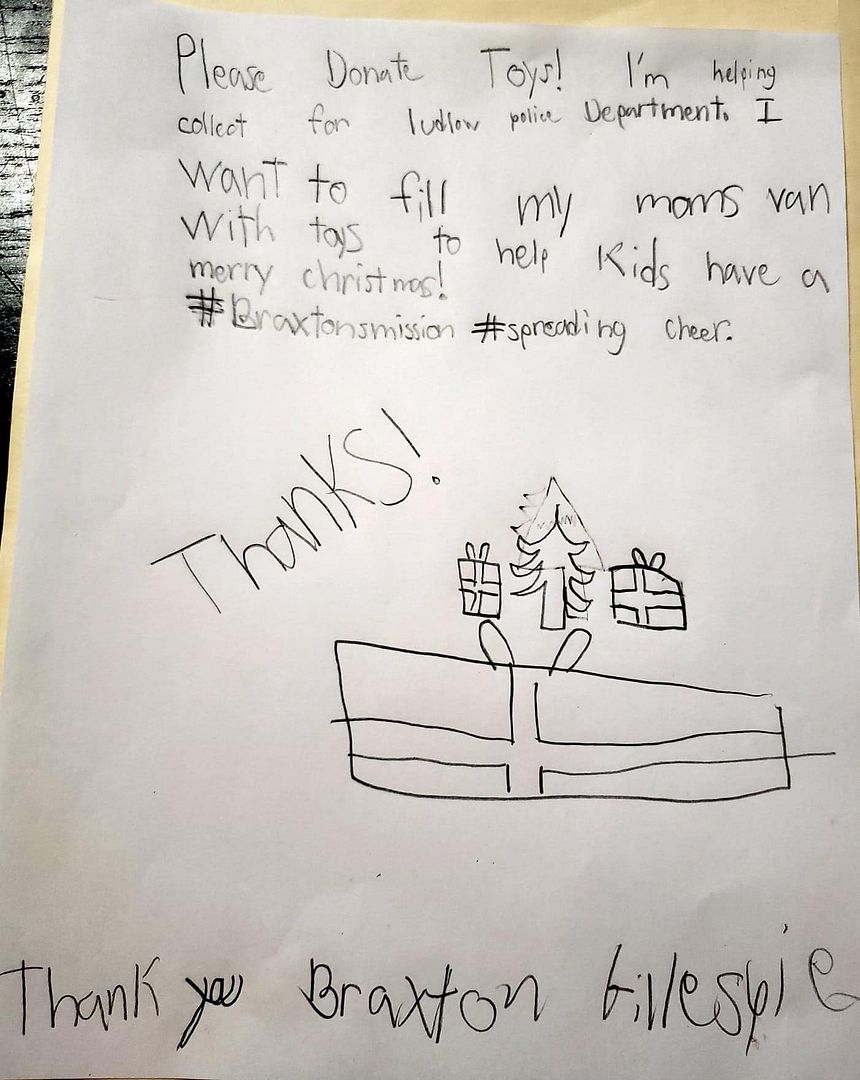 Photo via Ludlow Police
When the effort was over, Braxton and his family collected 165 toys for local kids. Smith said that it's the largest-ever single donation to the police department's annual toy drive.
"We try to do this every year and we're always begging for money at the last minute," Smith said. 
Braxton was honored Thursday at the Ludlow city council meeting where Smith presented the boy with an achievement badge for displaying leadership, hard work, and success. Braxton also received a shoulder patch and a police challenge coin.
Talking with The River City News after the presentation, Braxton, a student at Ludlow schools, said that he would wear the badge. When asked why he undertook the Christmas effort, he said, "To help kids. To help them get stuff."
The boy got a big assist from Pediatric Associates in Ludlow, which gave 50 toys to Braxton's efforts. The soon-to-be presents include Star Wars-themed toys, sports equipment, and Hot Wheels, Braxton said.
Photo via Ludlow Police
Braxton was also complimented by Mayor Josh Boone, who noted the civic pride involved. "We are grateful there are people interested in helping others in the community," Boone said. "We are very appreciative."
And being 8-years old, Braxton has his own Christmas wish, too. He told RCN that he asked Santa for an MBX scooter.
Asked if he thinks he will get that this year, Braxton said, "Yes."
-Michael Monks, editor & publisher
Top photo: Ludlow Police Chief Scott Smith presents Braxton Gillespie, 8, with a badge (RCN)