NKU Graduates Nearly 1,300 on Saturday
Sun, 12/15/2019 - 18:18
RCN Newsdesk
1,279 graduates were honored at Northern Kentucky University's 47th commencement on Saturday at BB&T Arena.
Ceremonies were held in the morning and afternoon for the students in the College of Arts and Sciences, the Haile/US Bank College of Business, the College of Education, the College of Health and Human Services, and the College of Informatics.
President Ashish Vaidya congratulated graduates on having the perseverance to overcome challenges on their path to earning their degree. Student success is the core of NKU's Success by Design Strategic Framework, and commencement is the goal that everyone works towards.
"I'm honored to celebrate our students and the beginning of the next chapter of their lives," said President Vaidya. "The stories of determination shared today show the heart of what NKU is: An institution committed to being a student-ready, regionally engaged university that empowers diverse learners for economic and social mobility."
Saturday morning's ceremony honored over 650 graduates from the college of Arts and Sciences and the College of Business. Anson Turley was the featured student speaker in the morning ceremony. As a non-traditional student, his college career began when he was 50 years old. He wanted a quality education but also needed to obtain his degree in the least possible time. He also had personal challenges in completing his degree– balancing school with a full-time career and family responsibilities that included taking care of a father with Alzheimer's. NKU's Adult Learner Programs & Services, along with the credit by examination opportunities, made it possible for him to obtain a 4-year degree in 2 1⁄2 years. He credits NKU's faculty and advisors with his educational success.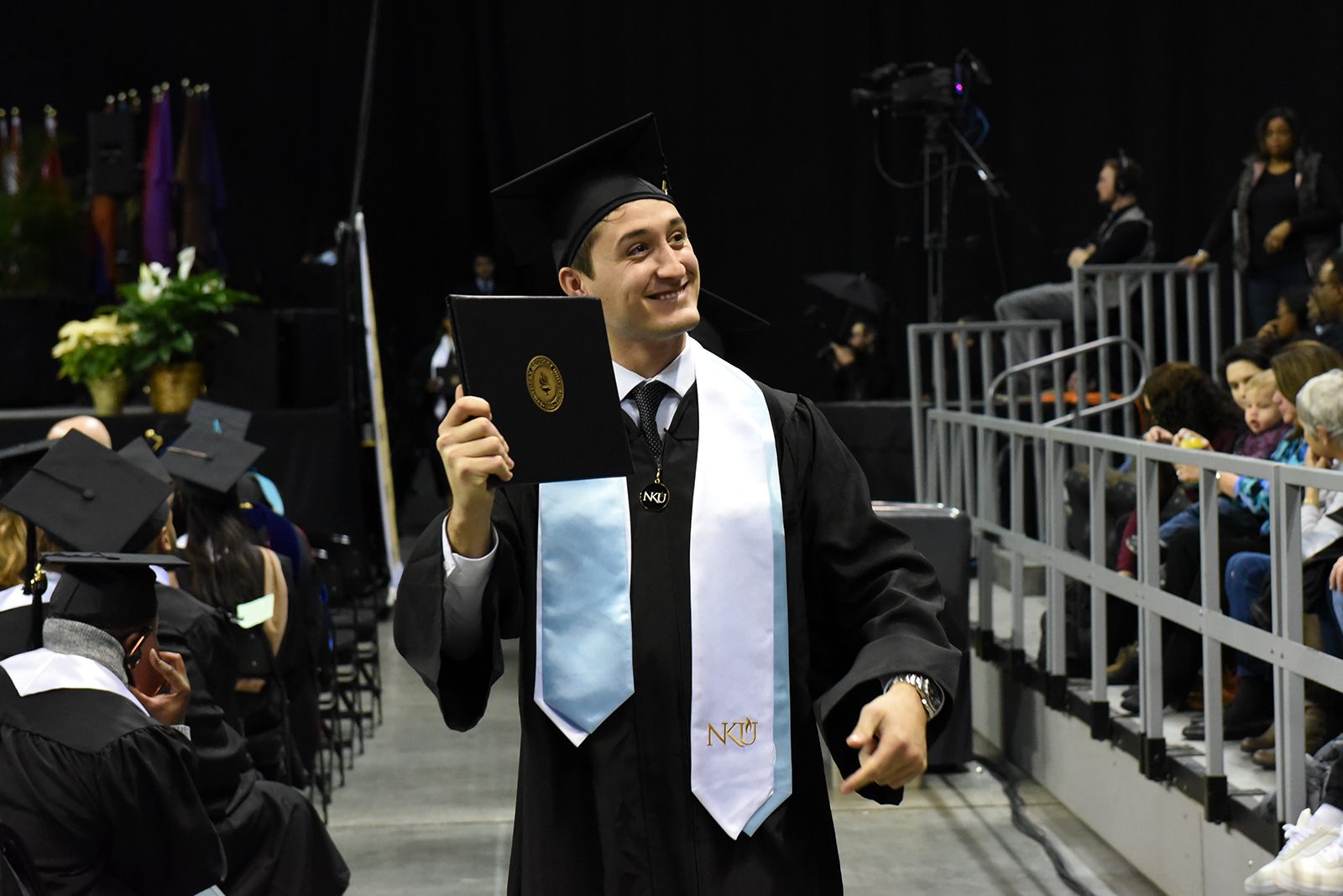 The afternoon commencement honored over 600 graduates from the College of Education, College of Health and Human Services and College of Informatics. Tierra Baldwin addressed her peers as the first graduate of NKU's Health Communication program in the College of Informatics. Baldwin was very involved on campus as a member of the Health Professions Club, NKU R.O.C.K.S, Lambda Pi Eta Honors Society and as a peer mentor for the Campbell County Drug-Free Alliance Summit. She was a featured researcher on Dr. Whittney Darnell's disability healthcare under Medicaid article that has been accepted into the National Communication Association Conference.
Dr. Debra Meyers, professor of History and the recipient of NKU's Frank Sinton Milburn Outstanding Professor Award, delivered the commencement address to both ceremonies. In all, 1,279 graduates were honored on Saturday. They include students who completed degrees in August, as well as those who completed degrees in December.
-Staff report
Photos provided