Premium Content
Holmes Rolls Over Scott, 40-0, in District Showdown
Fri, 10/22/2021 - 07:02
RCN Newsdesk
Dan Weber writes a column for The River City News. Contact him at dweber3440@aol.com.
It was the Covington city cousins versus their Taylor Mill country cousins. Two teams right next to each other from places not all that much alike.
Holmes is as big city as it gets – in Northern Kentucky, anyway. Scott is big country, or at least as much exurban as suburban.
So far apart and yet actually so close in Kentucky's Class 4A District 6 that the Bulldogs did their pre-game warmups at home, then jumped on the buses, arriving barely 15 minutes before kickoff Thursday night at Scott.
"We're just 8-10 minutes away, from the bottom of the hill to the top," Holmes coach Ben Nevels said of the trip out Madison to Winston Avenue then to Taylor Mill for a bit before jumping on to Pride Parkway.
Two teams so close that while the KHSAA RPI ratings had Holmes five spots above Scott going into the district showdown, the AP had eighth-ranked Scott three spots ahead of 11th-ranked Holmes. One local media panel this week had five of its six predictors selecting a 6-3 Scott team with a win over district opponent Rowan County, a team that beat 6-2 Holmes.
And the Eagles (3-0 in the district) were at home. A Holmes win could set up a three-way tie depending on Friday night's Rowan County-Boyd County outcome.
So this one should have been close.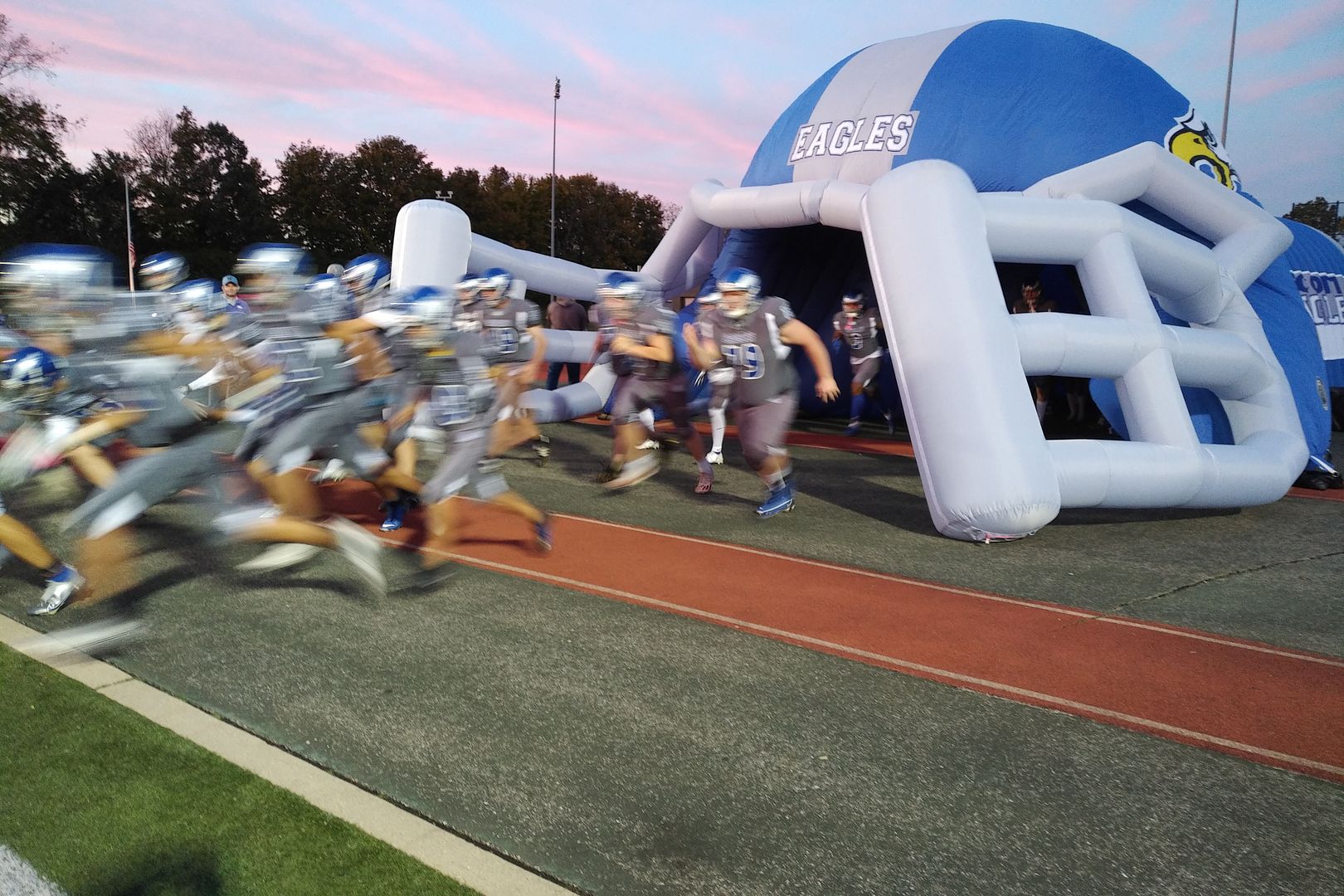 And a 40-0 romp either way would have been the last result anyone would have been looking for.
Except for Holmes' Nevels. He was not surprised how his Bulldogs totally dominated Scott's Eagles in every way a team can – on offense, on defense, with hitting and speed and size and strength.
"This is what I expected all year," Nevels said. It was just a matter of time for his team to get it together.
The Bulldogs have a lot of weapons, Nevels admitted with the way 220-pound power back Emauryon Arnold has stepped up for the tough yards with tough defender Miguel Garcia moving into quarterback as a facilitator for the Calloway twins, Tayquan and Quantez, and all-purpose Curtez Hill.
And if this Holmes team does anything, it spreads the ball around as it pounds it on the ground. In the first half alone, which ended up with Holmes leading 28-0, the hard-running Tayquan scored the first and the fourth TDs, one from 13 yards out, the other from 18.
In between, Curtez hit it quick inside from the 17 and then Emauryon pushed the pile in from the 2.
The same could be said on defense. Asked to name the leader there, Nevels could not. "I can't single one out . . . we play as a unit."
And that unit made life difficult for Scott's strong-armed scrambler at quarterback Gus Howlett, who was often unable to have enough time to find a target much less hit him.
Although he did avoid the blitzing Bulldogs – "Beware of the Dogs" it says on the back of their pads – for long tosses of 67 and 40 yards early and late although neither produced a score.
But mostly he was running for his life. "Leave no doubt," Nevels said again and again as the running clock wound down and his defenders pursued the scrambling Howlett.
In the second half, with the game decided and Holmes keeping things buttoned up, the power game saw Emauryon score twice – from 18 yards out and then a final scoring blast from the 14 leaving a trail of bodies and helmets in his wake.
Arnold's emergence and that of Garcia as the quick distributor who is a threat to keep it and go makes Holmes a tough team to defend as the Eagles discovered. They'd been allowing just 16.4 points a game, had allowed no one to score more than 28 points on them and now this.
Also thanks to a Thursday night game because the officials association here doesn't have the numbers to cover all games Friday if everyone plays, they get to wait and see what happens with the Rowan County at Boyd County game. If Rowan wins, there's a three-way tie at 3-1 in the district.
Holmes lost to Rowan but beat Scott. Scott beat Rowan but lost to Holmes. "I'm going to have to check with my athletic director," Nevels said of how this might all work out. But if Rowan loses, Holmes is the No. 1 seed and in a district with downstate teams like Morehead's Rowan, avoiding that long first-round trip is something Northern Kentucky teams strive for.
Holmes finishes up next week with a one-sided matchup against struggling Class A Bellevue. Scott finishes up with another non-district opponent, Class 6A Dixie Heights.
And while nothing much went well for Scott during the game, the pregame and halftime were major pluses. Before the game, despite the wind gales that had the five-man crew getting the giant inflatable helmet that the entire Eagle team can emerge from, no one got blown away although there was talk of them possibly ending up "flying over I-275," one said.
And at halftime, Scott honored more than a dozen teams of young cheerleaders and peewee football players. "Future Eagles," they called the couple of hundred youngsters marching across the field.
--Dan Weber