Premium Content
Restoration of Historic Newport Properties is Goal of Grant Application
Tue, 07/25/2017 - 10:46
RCN Newsdesk
The Newport City Commission on Monday voted to submit the application, seeking $640,000 in the state's share of the federal CDBG funds, so that the project can move forward.
The properties are found in Newport's West End, at 712, 910, 925, and 934 Columbia Street and 224 West 10th Street.
Two of the buildings are on the verge of being demolished, but will be saved, said Thomas Guidugli, Sr., executive director of Neighborhood Foundations. The vacant lot was the result of a fire eight years ago.
"It's exciting to do four rehabs in one area over there and new construction so close together," Guidugli said. He expects the project to cost, in total, $1.4 million. Currently, the Campbell County Property Value Administrator has the properties assessed at $82,000, but Guidugli expects that the value would reach $700,000 post-renovation and construction.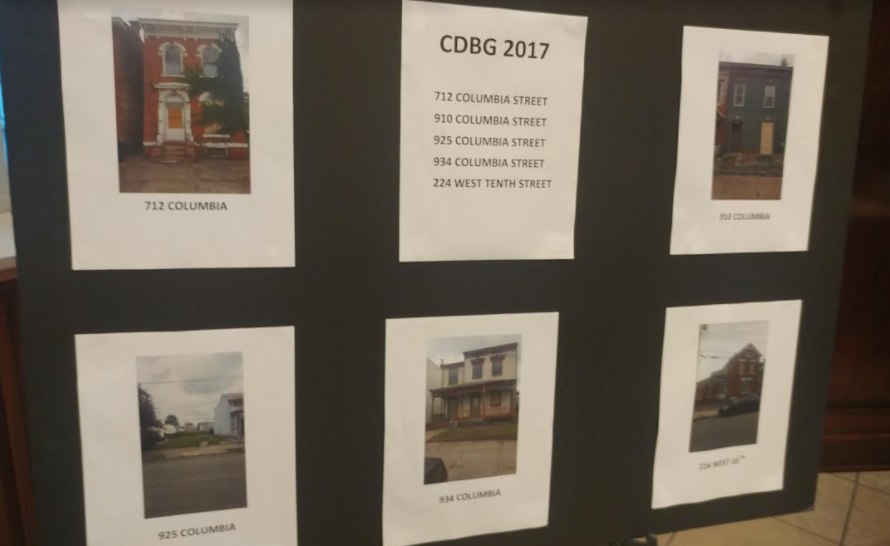 Guidugli, a former mayor and the father of current city commissioner Thomas Guidugli, Jr., pointed to Neighborhood Foundations's work over the years in boosting blighted blocks, and how the work then attracts private investment. The organization, formerly known as the Newport Housing Authority, improved Hamlet Street and is now attracting private investment along the 900, 1000, and 1100 blocks of Washington Street, he said.
Targeting redevelopment in the West End is new, Guidugli said.
"There has not been much investment in the West End. We've done several buildings on Isabella and all of them sold," he said."There's a kind of excitement here that we think will come of this and I'm excited about being able to do the rehabs in that area."
If the city is unsuccessful in securing the grant, Guidugli said that Neighborhood Foundations would "chug along" with the funds it receives from other home sales and perhaps pick one of the five properties to develop.
The project was not without criticism. Kyle Randall, a resident in the West End, criticized Elrod & Atkins, the law firm that administers the city's grant process, for holding the public hearing about CDBG funds at 9 a.m. on a Monday, a time that Randall said was inconvenient. 
"There are significantly more people here tonight than there were at 9 a.m. on a Monday," Randall said. He urged the city commission to mandate a more convenient time for such hearings. "You are in a position to have control in this. They are applying on behalf of the city."
Dennis Elrod, of Atkins & Elrod, said that he would be willing to have the hearings whenever the city deemed appropriate.
City commissioners fought back against Randall's suggestion.
"The tone in your voice, it almost sounds like you're opposed to this project," Mayor Jerry Peluso said, "and I'm a little perplexed by that because I mentioned earlier, a year and a half ago, we did a walk and you were a part of that group and you pulled me to the side and said we have to save these buildings, they can't be torn down."
"I'm interested in learning more about the project happening in my neighborhood," Randall said. "Mr. Elrod knows I have interest in these sort of things. I have emailed more than once asking to be included in future public hearings so I know when they are. That has occasionally happened, but there's not been consistency with it.
"I think the way it's been conducted has been fine," the mayor said.
City Manager Tom Fromme said that staff would evaluate ways to better advertise the public hearings.
Historic preservation officer Scott Clark was supportive of the project, which will pay Neighborhood Foundations a 15 percent developer's fee. "Working with Neighborhood Foundations on other rehabs, they have done an excellent job of maintaining the historic integrity," Clark said. "All five of these properties will be located within the new Buena Vista National Register Historic District which is coming up in 2018. When that happens, that will help us with development in the neighborhood because it will make those properties eligible for historic tax credits."
712 Columbia is also located in the new York Street Historic District, and Clark called it a "significant property" with the potential to help the rest of the street.
One project that did not win unanimous praise from the city commission was one that will result in the demolition of multiple historic structures on the southwest corner of 9th & Saratoga Streets. Dubbed "The L&N Lofts", the project, which is still being ironed out, required a zoning change from Residential-3 to Central Business District. The commission voted 4-1 to allow the change, supporting the planning & zoning board's unanimous approval back in May.
Commissioner Beth Fennell objected.
"The building itself, at four stories, is one to three stories taller than anything around it. In addition, it's a modern-style building, so one of my concerns is that if the project doesn't go forward and the buildings are torn down, we have a blank slate," Fennell said. "But if it's built, it doesn't really relate to the block. That's a key entry point being on Saratoga."
City Manager Fromme expects a full development plan on that project soon.
Written by Michael Monks, editor & publisher