Premium Content
Apartment Development May Claim Another Historic Building
Tue, 10/10/2017 - 08:45
RCN Newsdesk
It managed to be spared during the first and second rounds of demolitions related to downtown Covington's Duveneck Square apartment project, but now a towering historic structure that was once part of a distillery may come down.
The LLC associated with the Duveneck Square developer, Cincinnati-based NorthPointe, is requesting permission to demolish the building. Phase one of the sprawling 4-acre project is deep in progress along Washington Street between Pike and Eighth Streets. The development will include market-rate apartments, and as of this past summer, an unidentified restaurant.
A second phase will include a parking garage and more residential and mixed-use opportunities across the street.
The buildings along Washington Street were always slated to be removed but when properties previously owned by Steffen's Rental became available on Pike Street, NorthPointe bought them and tore them down, also, expanding the potential footprint of the apartment development.
The old distillery's tower that sits tucked along Eighth next to the CSX railroad overpass was not slated for demolition at that time, and was still included in subsequent renderings of the project.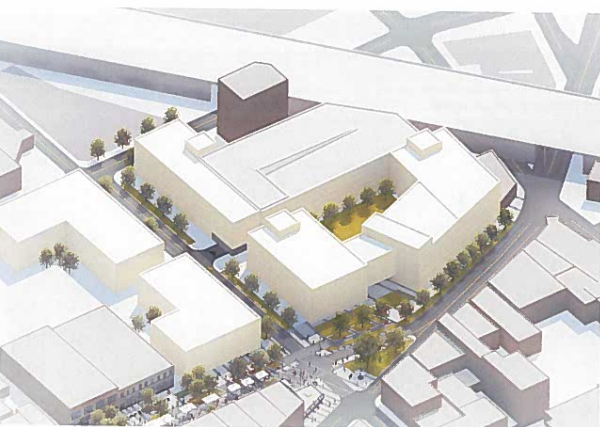 According to documents submitted by the developer to the City of Covington, obtained by The River City News by request, suggest that the building would cost to much to develop.
An email to NorthPointe's project manager on Monday afternoon was not immediately returned. This story will be updated when more information is known.
The request will be considered at next Monday's meeting of Covington's urban design review board.
Historic preservation officer Emily Ahouse said that she is still working on her staff report and her recommendation. However, the building is part of the site that was part of a new development agreement reached with the City of Covington in the spring. That agreement allowed for demolition of the Pike Street buildings, and possible the Eighth Street one since it was also owned by Steffen's, contingent upon the filing of historical records of the buildings with the Commonwealth of Kentucky.
An updated rendering appears to show the forthcoming parking structure to be built close to Eighth Street, requiring the removal of the building at 110-112 Eighth Street.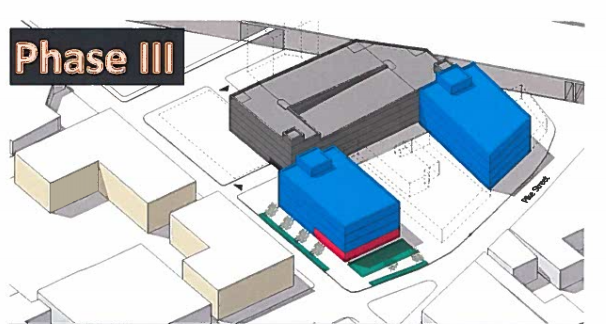 The documents indicate that Duveneck Square's future phases will be determined based on market conditions.
-Michael Monks, editor & publisher