Premium Content
Zoning Administrator Faces Firing After Speaking Out at Council Meeting
Mon, 11/06/2017 - 17:18
RCN Newsdesk
"The possible redevelopment of the Kent Building in Bellevue may cost the city's zoning administrator his job.
Scott Enns went way off script at the October 10 city council meeting and his remarks earned him a suspension, and possibly a termination of his employment. He faces a disciplinary hearing on Thursday, Mayor Ed Riehl said.
"Under (state statute) he has the right to a hearing, basically, a disciplinary hearing," Riehl told The River City News. "He can have an attorney present and we'll air our differences.
"I really can't discuss any of the details until that hearing."
The River City News was present for the October 11 city council meeting where Enns spoke at length during the period allotted for his staff report, typically a routine update on zoning issues, potential projects, and recaps of any meetings of the planning commission or board of adjustment.
Word of his suspension days later reached RCN but because of the sensitive nature of employment issues, details were scant.
Riehl did not say whether Enns would be fired or what the possible outcome of Thursday's hearing might be. It is a private meeting and not open to the public.
He did say that he was surprised by Enns's presentation at the council meeting.
"When the staff gets ip and gives their report, I follow along with what's in their staff report because that's what they are supposed to be reporting on and he chose not to report on his staff report but to babble on about whatever," Riehl said. "It's not what he was supposed to be giving a report on."
Enns's frustration during the meeting stemmed from a meeting of the planning commission two days prior in which he was tasked with creating a new zone for the proposed redevelopment of what has been called the Kent Building. Covington-based Orleans Development wants to repurpose the old industrial warehouse to be home to more than sixty upscale loft apartments, but based on the City of Bellevue's zoning code, there were issues related to density and local concerns over parking.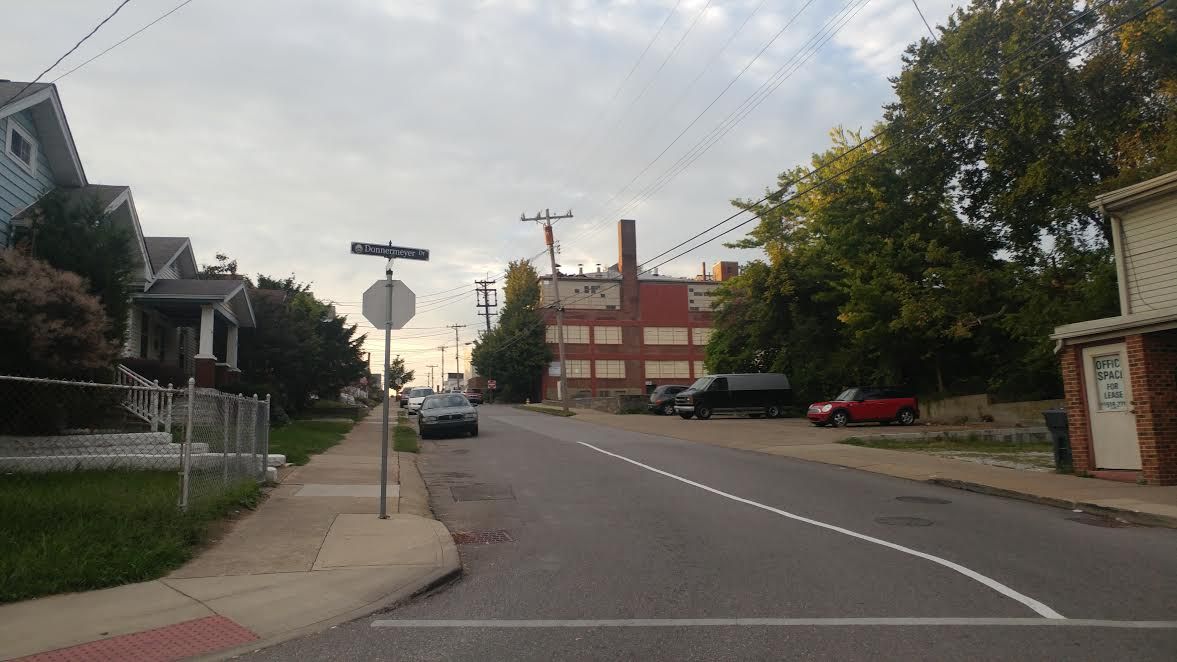 Enns said that his position and that of the planning commission were misrepresented and that someone from council publicly distributed a draft of his staff report, something he called "very unfortunate." Then, he said that his internal investigation narrowed the suspects from council down to two members.
"I grew up in a family with politics," Enns told council during the meeting. "My dad was a mayor. I worked directly with the mayor in the City of Cincinnati and the president of the University of Cincinnati, and all the neighborhoods. I get politics. I get posturing. It's unfortunate. It provides no context and provides people opportunities to make very poignant and critical statements such as, what universe of possibilities is the zoning administrator looking at?
"In the universe of possibilities that I work from is, I went to an architect's planning office at the age of 17. I came to this city with a planning degree and some almost twenty years of specific planning and zoning work in Kentucky and many states and internationally. I didn't come to learn on the job. I came equipped. So, my realm of possibilities, my universe of possibilities come from that experience."
Enns spelled out his credentials and his resume, and noted some of the people he's worked with. He also said that he has worked on cleaning up issues in the city's zoning code, and worked closely with members of the planning & zoning commission and the board of adjustment to resolve issues.
It was not about the Kent Building development, he said. 
"For anyone to imply that the zoning administrator or the planning commission simply didn't like the project is very unfortunate," he said.
The project has been hammered by misinformation since it was first announced.
Orleans Development president Tony Kreutzjans is well known for a portfolio of high-profile redevelopments of historic buildings in Covington and Newport, all of which are sold as market-rate condos or rented as market-rate apartments. In August, when the Kent Building first came on the public's radar, unofficial notices were sent to neighbors of the building, alerting them to the prospect of section-8, low-income housing being placed at the site.
That was never the case, Kreutzjans said at public meetings afterwards.
An appearance before the board of adjustment in early September was eventually canceled because it was determined that the zoning administrator had erred and the issues that needed to be addressed were better suited for the planning and zoning commission later in the month. Kreutzjans hosted a public meeting to address concerns from neighbors, moderated by Southbank Partners president Jack Moreland. 
The project is now tasked with submitting a stage one development plan while Enns was to create a new zone to accommodate the project.
That issue may now be taken on by someone else if Enns does not return to work.
The change in zoning administrator comes at a time when the city is dealing with a few issues. In addition to the Kent Building, a new Waffle House is set to open on Donnermeyer Drive, and Enns was working with that company and Kroger to get an easement from the grocery chain so that a new curb cut would not be necessary to accommodate vehicular traffic (Waffle House customers would use a Kroger curb cut). Enns was also looking into establishing rules for mobile food vending (food trucks).
Mayor Riehl said that the city has been relying on the Campbell County Planning, Zoning, & Building Inspection department. Its neighboring city of Dayton, which is the same size as Bellevue, uses the county's services exclusively while Bellevue has maintained the position in-house. That could change, too.
"We'll look at all options," Riehl said. "If we want to keep it in house or go to the county, we haven't thought that far ahead. I'm always looking for the best and most efficient way to administer that part of the city's function."
Any zoning report at Wednesday regularly scheduled city council meeting will likely be handled by city administrator Keith Spoelker, Riehl said.
Response from council on the Enns issue may be divided. At the last meeting, council member Steve Guidugli told Enns that his concerns should have been presented to the mayor and city administrator in private, but council member Dave Slater disagreed.
Others have also weighed in.
"The mayor is responsible for personnel and I support the mayor in that capacity," council member Ryan Salzman said.
Council member Rodney Poynter, disagreeing with Enns's suspension, posted to Facebook last week in the Bellevue Alliance group, "I believe this action is not in the best interest of the citizens of Bellevue. (Enns) needs and deserves support from our citizens at this time."
Written by Michael Monks, editor & publisher
Photo: Scott Enns talks to Bellevue city council during the October 11 meeting (RCN)