Premium Content
Proposed Apartment Building Sparks Concern in Ft. Mitchell
Wed, 08/29/2018 - 14:23
RCN Newsdesk
Plans to develop a new mixed-use apartment building with roughly 115 units and commercial space drew a large crowd to the Ft. Mitchell city building Monday night.
Developers Paul Darpel and Dave Noll presented their preliminary plans for the 12-acre site on Grandview Drive. Rumors and concerns have swirled around town as word of the apartment building got out. At the previous city council meeting, members of council said that they had been contacted by the developers to discuss the merits of the project.
Darpel told the crowd that he and Noll have a contract to purchase the acreage.
Mayor Jude Hehman said that the land had not been developed in thirty years and that many developers had come to the city with ideas or plans, and that all had been turned away.
Darpel and Noll's plans call for a mixed-use development, with residential and commercial on the site that is currently zoned strictly commercial.
"They didn't have to come here tonight," Hehman told the crowd gathered at the city building before Darpel and Noll began their presentation.
Darpel said that the plan is to follow trends like what is happening in Covington, Newport, and downtown Cincinnati, with a development that attracts both millennials and empty-nesters. Sixty to seventy percent of the units would be studio or one-bedroom apartments in order to attract tenants without children.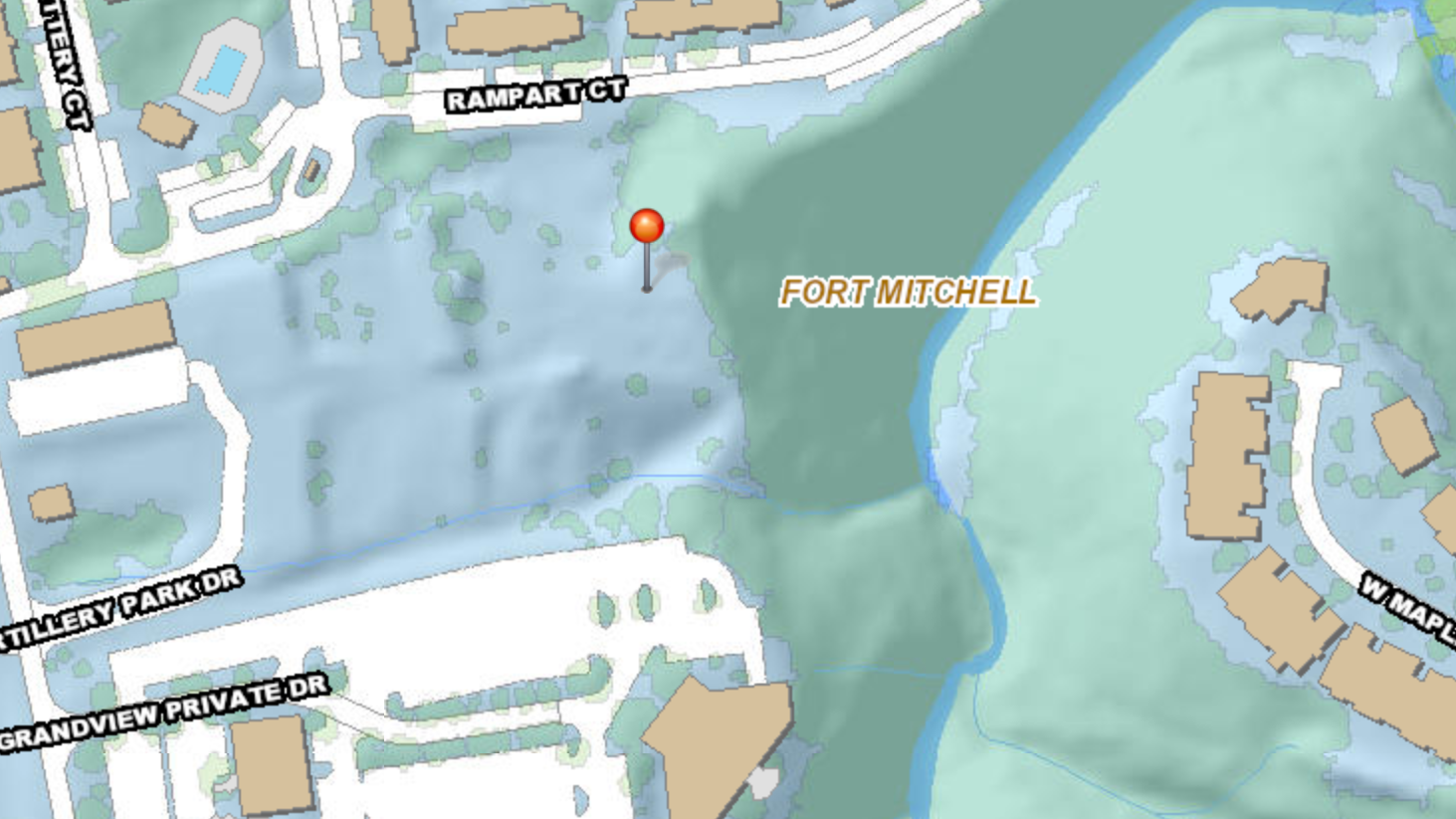 Location of the proposed development in Ft. Mitchell (via PDS)
That is a key component of the concern in Ft. Mitchell: that Beechwood Schools are at capacity and that more families would mean more students.
"The bottom line is that we understand that you are worried we will create more students," Darpel said. "We know there is an issue."
Darpel said that he spoke with Beechwood Superintendent Dr. Mike Stacy who confirmed that the school wouldn't have room for many more students.
The developers reiterated that the plan is for smaller, high-end units that appeal to single people or couples without children. The studio units are expected to be 600 to 700 square feet and would rent for around $1,100 per month. The largest units would be around 1,200 square feet with two bedrooms and one bath, and would rent for closer to $2,000 per month. The project would include a common entertainment area and possibly a pool.
But residents remained concerned about the schools' growing population.
One question for the developers was whether a family would rent an apartment and not live in it, only to have the address in the Beechwood school district so that their children could attend.
Darpel said there would be an apartment manager on site to make sure the units were occupied and if any tenant were using the space only for a Beechwood address, the tenant would be in violation of the lease. That information would then be provided to the school district.
Superintendent Stacy said that because the district does not generate a lot of tax revenue to use for new construction, it would have to use learning cottages or trailers in front of the schools to accommodate any significant growth in student population. New students will be coming to Beechwood already due to construction on Floral Avenue.
As for alternative uses at the site, Darpel contends that the acreage is not suitable for a commercial development due to the location making it virtually invisible to traffic. Because the proposed project, which still has not been submitted for full consideration by the Kenton County Planning Commission, is a planned unit development, the city council would have the final vote.
"Even with all the good intentions, what happens in ten, twenty, or thirty years, none of us can control," said Mayor Hehman. "That's what scares me."
"We have come to the meeting because we are trying to be 100 percent transparent," said Darpel. "We don't want people thinking we're cramming anything down their throats. We're telling you what we would like to do, and we are hoping you guys don't really want to beat us up."
Written by Patricia A. Scheyer, RCN contributor