What's Covington Selling on Craigslist? Trade Ya Furniture for a Car
Mon, 08/12/2013 - 08:16
RCN Newsdesk
Every Monday The River City News will take a look at some of the more unique items that Covington residents are selling on Craigslist. Here is this week's round-up:
TRADE: MID-CENTURY FURNITURE FOR A RUNNING VEHICLE
This guy is up for a trade of his mid-century furniture set: "will trade for running vehicle".
Very nice Mid-Century furniture set that includes 6 chairs, table, hutch, and a buffet. Asking $1700 or best offer and it is all in great shape. No deliveries, pick up only. Can also txt or call at five one three, three five three, eight nine nine six.
The set is pictured at left with more at the link.
AUTOGRAPHED VINYL OF "NOT FADE AWAY" SOUNDTRACK
Director David Chase signed this vinyl copy of the soundtrack to his film, "Not Fade Away":
Here's a collector's edition movie soundtrack to 'Not Fade Away' autographed on the cover by the director David Chase. 2 vinyl discs and insert. The tracks on this double vinyl are the same as the CD that I've linked from Amazon except for 2 tracks.
A YEARBOOK AUTOGRAPHED BY JOE NUXHALL
If looking at your own yearbook isn't depressing enough, why not look at the Old Lefthander's? Someone is selling an autographed copy (Nuxhall's brothers' yearbooks are also available):
Joe Nuxhall signature's in the book asking 75 dollars *Red
Orville Nuxhall yearbook *Grey asking 20 dollars
Robert Nuxhall Senior yearbook *Blue asking 25 dollars
pick up only
TURN THE RADIO UP!
"2 good radio's (sic)" the headline reads. And they're for "ur" car:
One dual and one kenwood for ur car. Have the plugs with them to. 50 for both call 8594095046 or text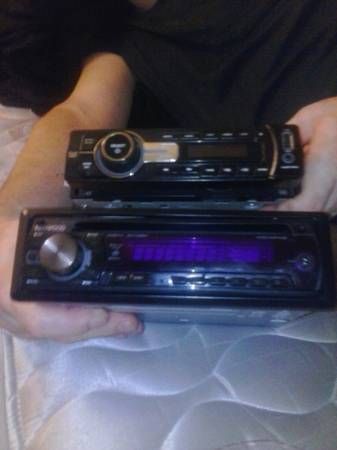 CHEAP WASHER & DRYER
This washer & dryer set is in everyone's price range:
Little tikes washer/ dryer with ironing board. Hard to find. $40
A Covington slumlord will pick these up and advertise a unit as "washer & dryer included" in 3... 2...