Non-Religious Group to Creation Museum: Looks Like We Sunk Your Ship
Wed, 12/10/2014 - 22:17
RCN Newsdesk
Earlier this week, Answers in Genesis, the Christian group behind Boone County's Creation Museum, launched a billboard campaign targeting detractors of its plan theme park in Grant County inspired by Noah's Ark.
"To all of our intolerant liberal friends: Thank God you can't sink this ship," read the billboards placed near the offices of the daily newspapers of Louisville, Lexington, and Frankfort, and closer to AiG's home in Northern Kentucky, as well as Times Square in New York City.
On Wednesday, the Kentucky Tourism Development Finance Authority declined to award more than $18 million in a state tax incentive program to the Ark Encounter project, citing the planned hiring practices that the state claims could be a violation of religious freedom.
"State tourism tax incentives cannot be used to fund religious indoctrination or otherwise be used to advance religion," Tourism Secretary Bob Stewart wrote in a letter as reported by the Courier-Journal. "The use of state incentives in this way violates the separation of church and state provisions of the Constitution and is therefore impermissible."
Fundraising for the Ark Encounter project has proved troublesome. Ark Encounter first won approval of tourism tax credits for the $172.5 million project three years ago, but it later withdrew that application. This year, it asked for tax incentives on a $73 million portion of the overall project.

The current problems started during the summer, when the Kentucky Tourism Development Finance Authority gave preliminary approval to an incentive package which allows a 25 percent sales tax rebate for approved tourism sites.

But state officials paused after Americans forthe Separation of Church and State pointed out language in job postings for the park requiring "salvation testimony" and a "Creation belief statement."
The news inspired a response from at least one national group that advocates for the separation of church and state. "To our misinformed friends at Answers In Genesis, looks like we sunk your ship," read a graphic created and posted Wednesday to the Facebook page of Americans United for Separation of Church and State".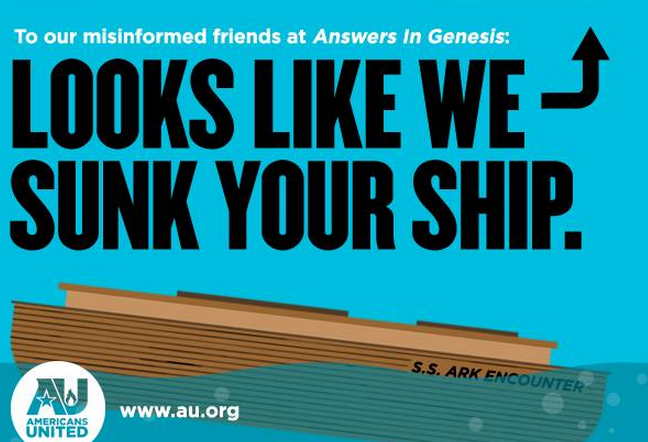 Ark Encounter had received preliminary approval for the tax incentive, which offers recipients a rebate of sales tax up to 25% of a project's capital costs over ten years. Hotel projects in Covington and Newport were recipients this year, and on Wednesday, an award was given to a hotel project in Somerset a Jim Beam project in Louisville. The Answers in Genesis website explains the State of Faith this way:
In order to preserve the function and integrity of the ministry in its mission to proclaim the absolute truth and authority of Scripture and to provide a biblical role model to our employees, and to the Church, the community, and society at large, it is imperative that all persons employed by the ministry in any capacity, or who serve as volunteers, should abide by and agree to our Statement of Faith, to include the statement on marriage and sexuality, and conduct themselves accordingly.
Attorney James Parsons, who represents the group behind Ark Encounter, said legal options are being explored, according to the Courier-Jounrnal.
Follow The River City News on Facebook, Twitter, or email us!
Photo: Ark Encounter rendering